UEFA CHAMPIONS LEAGUE GROUP H
MATCHDAY FIVE
TUESDAY 21st NOVEMBER, 2017
(8.45pm C.E.T)
BORUSSIA DORTMUND 1(1) TOTTENHAM HOTSPUR 2(0)
Dortmund scorer:-
Aubameyang, 31
Spurs scorers:-
Kane, 49
Son, 76
Attendance:- 65,849
Referee:- Clément Turpin (FRA)
Assistants:- Nicolas Danos (FRA) & Cyril Gringore (FRA)
Additional assistants:- Ruddy Buquet (FRA) & Nicolas Rainville (FRA)
Fourth official:- Hicham Zakrani (FRA)
Teams:-
Borussia Dortmund (4-2-3-1):- Burki (sub Weidenfeller, 90 +2); Toljan, Bartra, Zagadou (sub Toprak, 78), Schmelzer (Capt.); Weigle, Kagawa (sub Castro, 66); Yarmolenko, Gotze, Guerreiro; Aubameyang
Subs not used:- Sahin, Dahoud; Phillipp, Schurrle
Booked:- Schmelzer (foul on Aurier), Toljan (foul on Rose)
Spurs (3-4-2-1):- Lloris (Capt.); Dier, Sanchez, Vertonghen; Aurier, Winks, Dele (sub Dembele, 81), Rose; Eriksen (sub Sissoko, 85), Son; Kane (sub Llorente, 86)
Subs not used:- Vorm; Trippier, Foyth, Davies
No bookings
Mighty Spurs feared across Europe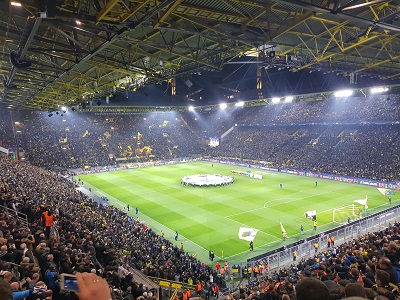 There are reports in today's papers stating that no second placed team in the Champions League Group stages will relish a Round of 16 tie against Tottenham Hotspur. Three weeks after bagging the biggest European scalp of all – 12 time Champions Real Madrid – Spurs last night defeated another former European Champion Borussia Dortmund in the magnificent Westfalenstadion. They went behind to a quality goal finished inevitably by Aubameyang, only to respond with a truly professional and competent performance, scoring two quality goals to secure a much-deserved win in Germany, and to seal top place in Group H. Real Madrid might have won 6-0 in Cyprus last night, but they are still three points behind us and Spurs will top the group whatever happens on Matchday 6th in two weeks' time.
In truth, no first placed team will relish the prospect of facing Group H runners-up Real Madrid. Spurs have not only qualified but won the "Group of Death", when their chances had not been highly rated back in August when the draw was made.
It was a great atmosphere and a great night for the army of Spurs fans at Signal Iduna Park. The home side sang "You'll never walk alone" and waved their flags and banners before the game. We sang our whole repertoire of Spurs anthems before the game, and throughout.
Clearly Mauricio Pochettino had selected his "horses" for this meeting with more than due diligence. Danny Rose played as left wing-back, and arguably was the Spurs man of the match, but I know there are other contenders, not least of whom was once again the magnificent Davinson Sanchez. Sanchez was given the main task of policing Aubameyang, who served a club ban of one match last Friday night, and although he hadn't scored in his previous five games, he is always a danger, and so it proved last night when he did score the one home goal, and had other chances too.
Spurs matched BVB for possession and defended as a team like tigers, not just at the back, but all over the pitch. In a match featuring two fine teams (despite Spurs' derby defeat on Saturday, and Dortmund's recent disappointing form), it was inevitable that both teams would produce chances.
Dele Alli was nominally the midfielder alongside Harry Winks, who never fails to impress these days with his array of successful and stylish passes, but later in the game, I noticed that Dele switched with Eriksen, and of course they both supported Son and Kane. The fact is that Pochettino's Spurs produced a full repertoire of skills and strategy. A long ball from defence for a runner here; lengthy diagonal balls to the wing-backs; clever one-twos in the middle of the park; piercing through balls, and yes, even once a decent Hugo Lloris clearance!
After only two minutes Dele intercepted a midfield ball and sent Son away on a run that took him into the Dortmund box, only to see his shot blocked and firmly deflected over the bar for a corner. Spurs won several corners and following one of these a Danny Rose cross passed tantalisingly across the goal area without a touch. The home side demonstrated some clever quick passing skills around the spurs area and this passage of play ended with a Yarmolenko shot being held by Lloris.
After 18 minutes, Aubameyang looked offside to me, as he raced onto Yarmolenko's through ball, and had the goal beckoning. Lloris closed him down and the striker pushed the ball outside Lloris's left-hand post. Aurier received the first of a series of really good balls, and got in a good cross, intended for Harry Kane but collected by the goalkeeper. Minutes later Aurier collected a great diagonal ball from Eriksen. Aurier's cross won a corner after which Son got half a chance trying to flick the ball over Burki, but the keeper held the ball.
Spurs had been more than holding their own, but were caught out after more clever passing play by the home side outside our area, finished when Yarmolenko (again) picked out Aubameyang with a clever pass. Aubameyang did not pass up this opportunity to beat Lloris with his right footed shot across the keeper. I noticed that Aubameyang did not over-celebrate his goal, which was perhaps an indication of his current feelings about the club. Spurs had gone behind to a quality goal, and they just had to dust themselves down and get on with the game. That they did, in a highly competent and professional manner.
Firstly Aurier was one of those battling for the ball in Dortmund's final third of the pitch. The ball came out for Eriksen, who ran across right to left and hit a left footed shot, which was too weak. Danny Rose crossed to Eriksen from the left and Eriksen had a decent shot on goal, but Burki saved this. In a following play after a corner Eric Dier had a header from a corner on the right also saved.
So, Spurs ended the half strongly, and they continued in this nature after the break, making the home side and the officials wait before they re-appeared. Within minutes, Spurs were level. The goal followed great battling play by Danny Rose, with the ball running out nicely to Dele Alli, who passed inside to Kane. Harry took the ball along the edge of the area to his right and beat Burki low to his right with a very well placed shot. It was Kane's sixth Champions League goal of the season (in 5 games). Only Ronaldo (also in the same Group H of course) is ahead of him at the time of writing.
Spurs were gaining in style and confidence all the time. Yes, there was still some of the re-cycling involved, but as previously mentioned, a full array of attacking strategies were demonstrated. Dele Alli hit a right footed shot wide having started a clever passing move which also involved Eriksen and Kane. Kane was almost onto a great through ball by Eriksen, and when Dortmund failed to clear properly, Dele picked up the ball and pushed it through to Son who was closed down by the keeper, but also offside.
Spurs went ahead with a great team goal. Danny Rose sent the ball down the line and Dele won it rather than received it simply, working his way inside with a couple of tricks and a couple of defenders beaten. As he went down under a challenge, Dele passed the ball back to Son, who was lurking on the edge of the area and who finished off in typical style with a well placed right footer to the left of the keeper's dive.
Eriksen started a good attack after 80 minutes, passing forward to Son. Son had Danny Rose on his left and used him. Rose crossed and Eriksen now finished the move with a header placed just outside the keeper's left post.
Dele was replaced by Dembele, and Eriksen was replaced by Sissoko. Subsequently Fernando Llorente replaced Harry Kane. Spurs had retained control as well as the lead, but Llorente had a glorious chance to score his first Spurs goal after 88 minutes when Son put him through on the run, with only goalkeeper Burki to beat. Burki came out to challenge, but Llorente had over-run the ball and missed his chance to score. The keeper suffered injury in his brave challenge, and was warmly applauded by both sets of fans before and as he was stretchered off. Luckily Dortmund had not used all three of their substitutes and could bring on their replacement keeper.
Naturally, all the Spurs heroes were rapturously applauded by their fans, including the manager, and the appreciation was reciprocated in full. Despite defeat, the Borussia Dortmund team again assembled in a line at the edge of the penalty area in front of the hard-core support in their single tier stand, and also shared mutual affection.
In the bar I visited in Dortmund – Ludke Eck – they serve 20 ml bottles of 15% proof shots in a branded BVB-09er bottle. Once emptied an inscription on the inside label shows various scorelines, 99.9% recurring of which favour the home side. We did find, and retain the solitary bottle which showed a 1-2 scoreline! This was another great European trip on the social side and for the football!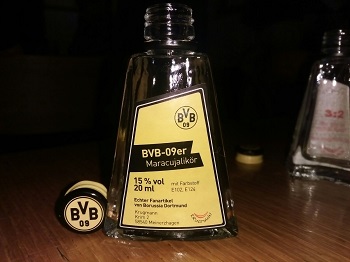 Group H Table 
                P  W  D  L  F-A  GD  Pts

1. Spurs        5  4  1  0 12-4   8  13
2. Real Madrid  5  3  1  1 14-5   9  10
3. Dortmund     5  0  2  3  5-10 -5   2
4. APOEL        5  0  2  3  2-14 -12  2 

· John Ellis's account of the game.
· See the exclusive "Spursometer" and have your say regarding the performances of the team, individual players, manager and officials.
· Squad numbers,appearances,bookings & goalscorers
· Read the preview for this game.
· All the Spurs Stats you could hope for here! THFC6061 Sports Stats