John Ellis is known to many Spurs fans and we have no less than 454 mutual friends on Facebook. This figure is rising, and I am pleased to add this third feature article written by "El Gringo". This time John offers his thoughts on our away victory over Borussia Dortmund .
John invariably comments after every Spurs game on his Facebook page, and I usually agree with everything he writes. That applies to John's detailed eye-witness report on this game, which is published below, with kind permission:-
Borussia Dortmund 1-2 Tottenham Hotspur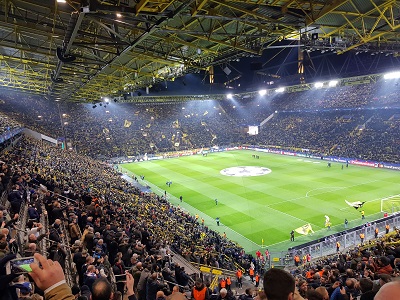 Just 20 months ago, Spurs endured a chastening night in the intimidating Westfalenstadion. German might and power was very much in evidence that night. As players and fans we were blown away by the whole experience.
We returned to our beloved 36,000 White Hart Lane coming to terms, in all respects, with just how far we were behind Europe's elite - and that was in a 3-0 Europa League last 16 defeat.
Last night (Tuesday 21st November, 2017) a very different Spurs returned to the Westfalenstadion. A Spurs team now playing in a bigger home stadium, proudly sitting on top of Champions League Group H and having already qualified for the last 16 knock out stages.
Unlike last time and somewhat surprisingly, Pochettino picked a very strong team.
This time rather than being in awe of the noise emanating from the Dortmund fans, the Spurs fans having been moved to an en bloc corner, created their own mini wall.
Our fans were in fine voice, mighty loud and really made themselves heard in a 65,000+ crowd. There is something very authentic in the way in which English fans spontaneously create their own atmosphere and noise compared to the manufactured megaphone led orchestra of the German fans.
Although it could be taken as a form of flattery, it also somewhat irks that the Dortmund club and fans use the Liverpool anthem of "You'll never walk alone. Surely they can create their own anthem rather than resorting to plagiarism. As is often the case on European trips, our fans sing one song over and over and over again. Lazio away will forever be remembered for the United, West Ham, Liverpool song.
Last night, it was "We sang in the sun and we sang in the rain...." - to the extent that even some of our own fans were getting fed up with it! This is though the benefit of repetition, it must also get to the home fans who unsuccessfully tried to drown us out with their whistles and failed miserably.
On the pitch, unlike at Wembley, Spurs didn't invite Dortmund forward to hit them on the break. This was a complete change in tactical approach. Spurs came out to play and after an edgy ten minutes or so began to take the game to their illustrious opponents and in their own backyard.
Spurs attacked down both flanks and looked to be slightly edging proceedings. Aubameyang though missed a glorious chance, put clean through he somehow contrived to miss the target altogether. Other than that, Lloris only had to gather a weak shot at his knees and the defence was largely untroubled.
At the other end, the ball rolled across the box begging to be tapped in, agonisingly close for one of a number of Spurs players to tap home but none were able to do so. Eriksen brought a great save from the keeper and Spurs continued to press for that elusive first goal.
It never came though and a moment of inspiration from a player we had often been linked with and who had also scored a screamer at Wembley, Yarmolenko, split the Spurs defence for our nemesis Patrick Aubameyang to yet again score against us. We went in 1-0 down at half time but the fans had seen enough to believe we could get something from the game.
Four minutes into the second half, the Dele and Kane combination did it again for Spurs with a neat finish from the edge of the box. We really did believe now!
With Winks dominating the midfield, Rose marauding up and down the left flank, Sanchez, Dier and Vertongen looking imperious at the back, Eriksen prompting and probing, Son zipping about and the continued threat of Kane with Dele in support, Spurs looked excellent.
Also a word for Aurier who fitted in as a team player and did well without the game being centred on him - let's hope this is a sign of things to come.
As the game moved into the final 15 minutes, Dele jinked clear of a couple of Dortmund defenders down the left and into the penalty area, pulled the ball back for Son who majestically fired home to put Spurs 2-1 up! Son is an ever bigger nemesis for Dortmund and long may it continue!
Eriksen nearly scored with a header and there was one fine high tempo interchange of passes which just lacked the final end product.
Dembele came on and was in beast mode with Dortmund struggling to dispossess him. Sissoko came on for a small cameo and is a man mountain when holding the ball by the corner flag. Llorente came on and... probably wished he hadn't as did the Dortmund keeper... Sadly Llorente seems to be heading the same way as Soldado and Janssen. Through on goal with the opportunity to kill the match off with a third goal, he was a rabbit caught in headlights, showed the touch of a rhinoceros and in trying to retrieve the position, clattered into the Dortmund keeper who had to be carried off on a stretcher. He must now be totally bereft of confidence which is a worry with the number of games coming up in the next few weeks.
The final whistle blew and the cockerel let out a mighty crow which bellowed across Europe. Tottenham are not just in the competition to make up the numbers. Spurs fans sang "We are top of the league!" 13/15 points and having won such a tough group with a game to go is an admirable achievement.
However come February, we all start again with a clean slate and there are some devilishly challenging opponents lurking in second place in their respective groups. The draw will be very exciting as is the journey we are on under the wonderful leadership of Mauricio Pochettino.
A special note for Danny Rose who also had a very good game and especially in the second half. A little more confidence and he would have taken on the shot rather than squaring the ball. It was also good to see his prolonged applause to the Spurs fans at the end of the game in appreciation of their support for him and then the hugs from his team mates.
A final word on the magnificent Westfalenstadion. The "Wall" is a magnificent sight and incredible to imagine within a few months, our new stadium will have such an imposing new Park Lane. The "shelfs" either side of the Wall make it even more imposing and give the stadium a fantastic old school feel. The yellow lighting of the roof supports gives the stadium a real home match feel. It really is a great place to watch football.
Also - the Police gave a relaxed feel to proceedings and in showing their understanding of football fans, allowed a good atmosphere outside as well as inside the stadium. It would be nice to become accustomed to the recently found sensation of the football not being the worst part of a European tour!
All in all it was another very enjoyable trip with great friends. #Coys
Ps Of the many statistics including Kane having scored 39 goals in 38 games, the most surprising statistic I heard at the airport is that Spurs have accumulated more points in their five Champions League matches than West Ham United have in their Premier League season to-date:)
· You can always find more Spurs match analysis when you visit this page.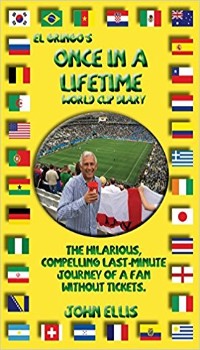 El Gringo's Once in a Lifetime - John Ellis's account of the 2014 World Cup in Brazil