CARABAO CUP SEMI-FINAL (First Leg)
TUESDAY 8TH JANUARY, 2019
(8pm – at Wembley)
TOTTENHAM HOTSPUR 1(1) CHELSEA 0(0)
Scorer:-
Kane (pen), 26
Attendance:- 44,371
Referee:- Michael Oliver
Assistants: Simon Bennett and Michael McDonough
Fourth Official : Kevin Friend
VAR: Chris Kavanagh
AVAR: Steve Child
Teams:-
Spurs (4-3-1-2):- Gazzaniga; Trippier, Sanchez, Alderweireld, Rose; Sissoko, Winks (sub Skipp, 89), Eriksen (sub Llorente, 90); Dele; Son (sub Lamela, 78), Kane (Capt.)
Subs not used:- Lloris; Walker-Peters, Foyth, Davies
Booked:- Winks (foul on Hazard), Sanchez (foul on Hazard), Lamela (foul on Hazard)
Chelsea (4-3-3):- Kepa Arrizabalaga; Azpilicueta (Capt.), Rudiger, Christensen, Alonso; Kante, Jorginho, Barkley (sub Kovacic, 75); Hudson-Odoi (sub Giroud, 79), Hazard, Willian (sub Pedro, 63)
Subs not used:- Caballero; Zappacosta, David Luiz, Ampadu
Booked:- Arrizabalaga (foul on Kane, conceding penalty)
Captain Marvel Kane gives Spurs a slender lead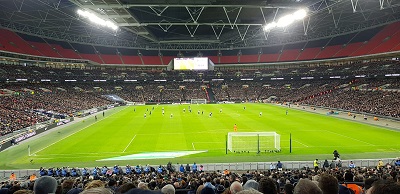 Spurs have a lead, albeit one of slender proportions, to take into the second leg of this Carabao Cup semi-final, which will be played at Stamford Bridge on Thursday January 24th. They have that lead thanks to their captain on the night – ace goalscorer Harry Kane, whose cool penalty took him to 160 Spurs goals, thus going ahead of Cliff Jones, who was among the first to congratulate this modern-day goalscoring machine. Cliff also recently tweeted about the fact that he had the privilege to have played with the remaining three top scorers above Kane – Greaves, Smith and Chivers. That says so much about the quality of our sides of the 60s and 70s under legendary manager Bill Nicholson. You have to go back to those early 60s days too to find the last time Spurs beat Chelsea in three consecutive games. This tie isn't over yet, of course.
Last night's win also came courtesy of the much maligned VAR. After 24 minutes, Kane had run onto Toby Alderweireld's long ball, bursting towards the Chelsea area where he was upended by goalkeeper Kepa Arrizabalaga. An offside flag had been raised. Referee Michael Oliver indicated that VAR would consider the penalty, but of course it would also consider that offside flag. There was an on-screen message about the fact VAR was under way, but it seemed to take an age before the decision, in Spurs' favour, was made. Up stepped Mr. Cool – Kane – to plant his penalty kick beyond Arrizabalaga's outstretched hand in side his right post. Spurs had their lead.
The game had been even up until the goal with forays at either end, but after the goal, Chelsea dominated possession with Spurs defending stoutly, goalkeeper Gazzaniga holding virtually everything that came his way, and making one particularly crucial and athletic save in first half added time. Gazzaniga, who had played in all three previous Carabao Cup games, held his place in favour of substitute and club captain Hugo Lloris. The new Spurs' "Gazza" has played 7, and won all 7 of his club games this season with clean sheets now in his last three games. This figure of 7 wins includes the penalty shoot-out win at Milton Keynes against Watford. Add last season's one game against Crystal Palace (won 1-0) and the 27 year old has quite a record. The early indications of the Spurs Odyssey poll are that he will comfortably win the man of the match vote.
Spurs had what Chelsea lacked – a cutting edge. Morata was apparently injured after his two FA Cup goals against Nottingham Forest at the weekend, and Giroud stayed on the bench until late in the game when Hazard was relieved of "false nine" duties. Chelsea pressed high and Spurs were pinned in their own half for much of the time after the break, making it an uneasy watch for any Spurs fan.
Maurizio Sarri gave Callum Hudson-Odoi another game on the right wing. Hudson-Odoi is being targeted by Bayern Munich no less and Chelsea are certainly trying to convince the 18 year old that his future is in West London.
Mauricio Pochettino played Dele Alli in a deep role behind Son and Kane and it was an early long ball by Dele that sent Son away down the right channel with Christensen on his back and arguably nudging Son to the floor as he approached the Chelsea area. Spurs fans bayed for a foul. Referee Michael Oliver wanted none of it, and that seemed to be the story of the relationship between the referee and Spurs fans for most of the night. Son was away again two minutes later, this time further towards the right flank. He crossed and Kane tried a scissor kick, which was held by the Chelsea keeper.
Willian got the better of Trippier and crossed deep where Hudson-Odoi got a shot in versus Danny Rose. Gazzaniga held the shot cleanly. It was a while before further meaningful action and after Hudson-Odoi passed inside, Hazard hit a shot on 20 minutes, which Gazzaniga again held cleanly. Barkley stumbled in the midfield, but on this occasion Harry Winks did not make the best of his passing opportunities.
Then came the VAR offside/penalty decision. Once it was made the Chelsea goalkeeper was shown a yellow card for his reckless challenge in upending Kane. Most of those in the stadium roared when Kane scored!
Kante had a shot held by Gazzaniga, and a Barkley effort, following Willian's cross from the left, was blocked. Harry Kane seemed to be subject of a Chelsea sandwich at the halfway line but got nothing from Mr. Oliver. The home crowd bayed its disapproval. Chelsea forwards were starting to get too much space for my liking with Spurs not closing down enough. Alonso's cross from the left was met by Kante, but hit the outside of the post. Hudson-Odoi had a left foot shot from the right side of the area pass wide across the goal, and in added time his cross took a deflection from Danny Rose, before Gazzaniga got enough on the ball to push it against his back post after which it was cleared by Alderweireld.
In the first minute of the second half Ross Barkley hit a poor pass into the middle which was seized upon by Kane sending Dele into the box. Spurs won a corner after which Eriksen had a left footed shot held by Arrizabalaga. After 51 minutes, Spurs had a good attacking move. Kane passed forward to Son who found Sissoko on his right. Moussa passed inside to Dele, who teed up Harry Kane for a driven shot which the Chelsea keeper saved, diving to his right. A corner resulted, but nothing came of that.
Gazzaniga then made a clean save from Hazard's right foot effort and then parried a Kante effort, low to his left. Chelsea had a corner after 57 minutes from the right, flicked on by Barkley, but Christensen hit his shot the wrong side of Gazzaniga's right post. I thought Sissoko was getting his first booking of the season, but it turned out to be shown to Sanchez for a foul on Hazard, who was the target for all three of Spurs' bookable offences. Hazard's right footed shot on 61 minutes took a deflection for another corner. Three minutes later Harry Kane was down and needed treatment, but he recovered.
Sissoko led a break-out for Spurs after 65 minutes chipping a pass to Kane then running forward to receive from Son on the edge of the Chelsea area. Sissoko was ultimately forced out by the Chelsea defence. Alderweireld hit aa trademark long ball and Trippier was on the end of it, but failed to make good use. "Sonny" – approaching his last game before his enforced departure for the Asia Cup next week – was replaced by Lamela who soon saw yellow for his challenge upon Hazard. Chelsea had a free kick, but nothing came of it, and the next threat to Gazzaniga's goal came from a powerful Alonso cross which the keeper simply plucked out of the air. After 85 minutes the Spurs keeper was down to a Hazard shot and Sanchez booted the loose ball clear.
Kane sent Lamela away, and Erik got into the box but had fouled Alonso to get there. Gazzaniga again showed good clean hands to hold a cross by Pedro. Mauricio Pochettino made two late substitutions, showing confidence in Oliver Skipp for Winks and also putting Llorente on for Eriksen. Spurs saw out the three minutes of added time and we go again on January 24th with thee tie in the balance, but with Spurs holding what we all hope will be the crucial advantage.
Next up at Wembley are Manchester United, and I hope for a little more freedom for our forwards in that game, and of course another win!
· See the exclusive "Spursometer" and have your say regarding the performances of the team, individual players, manager and officials.
· Spurs' record in recent London Derby matches
· Squad numbers,appearances,bookings & goalscorers
· Read the preview for this game.
· All the Spurs Stats you could hope for here! THFC6061 Sports Stats