PREMIER LEAGUE
SUNDAY 1ST SEPTEMBER, 2019
(4.30pm)
ARSENAL 2(1) TOTTENHAM HOTSPUR 2(2)
Arsenal scorers:-
Lacazette, 45(+1)
Aubameyang, 71
Spurs scorers:-
Eriksen, 10
Kane, 40 (pen)
Attendance:- 60,333
Referee:- Martin Atkinson
Assistants:- Lee Betts, Constantine Hatzidakis
Fourth official:-
Andre Marriner
VAR:- Paul Tierney
Assistant VAR:- Stephen Child.
Teams:-
Arsenal (4-3-3):- Leno; Maitland-Niles, Sokratis, David Luiz, Kolasinac; Torreira (sub Ceballos, 63), Xhaka (Capt.), Guendouzi; Pepe, Lacazette (sub Mkhitaryan, 67), Aubameyang
Subs not used:- Martinez; Chambers; Ozil, Nelson, Willock
Booked:- Lacazette (foul on Eriksen), Sokratis, Xhaka (foul on Kane)
Spurs (4-2-3-1):- Lloris (Capt.); Sanchez, Alderweireld, Vertonghen, Rose; Sissoko, Winks; Lamela (sub Dele, 60), Eriksen, Son (sub Lo Celso, 79); Kane
Subs not used:- Gazzaniga; Aurier, Davies; Skipp; Lucas Moura
Booked:- Rose (foul on Lacazette), Lamela (foul on Sokratis), Eriksen (foul on Xhaka), Winks (foul on Guendouzi), Sanchez (foul on Ceballos)
Satisfaction – but no glory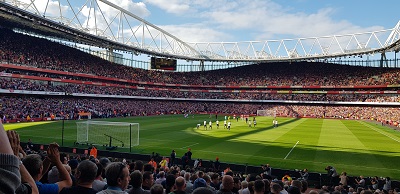 It was honours even at the end of a typically frenetic and feisty derby match. Non-partisan TV viewers probably enjoyed the game more than the 60,000+ nervous attendees at The Emirates Stadium. Spurs fans were delirious at a 2-0 lead in the first half which was reduced in first half added time by Lacazette, who took great pleasure in gloating about his goal in front of the Spurs fans. It was the travelling fans who were more nervous in the second half when their team suffered a barrage of attacks from the home side. Hugo Lloris made two excellent saves but Spurs did succumb to an Aubameyang equaliser.
Last year, we also led 2-1 at the interval, but lost 4-2. Whilst we had chances to win this game, so did Arsenal, and looking at the bigger picture having gained a point at two top six venues, we can surely be optimistic about the season ahead despite that horrible glitch last week at home to Newcastle. It was also pleasing to see Eriksen and Vertonghen in the starting line-up, which hopefully indicates we have no fears in the direction before the European transfer window closes at 5pm today.
The game was played in early September sunshine. One surprise in the Spurs set-up was Davinson Sanchez at right back. No doubt his pace was the desired attribute against the forays of Aubameyang in the first half and Pepe in the second. I felt that Davinson did okay, but I have seen other comments to suggest this should b e a one game experiment. Danny rose had a gutsy performance on the other flank and won plenty of cheers from the travelling fans. As many know, visiting fans at the Emirates are accommodated in the lower tier and on this occasion, more than any other I can recall, fans in front of me were regularly being bombarded from above by missiles which I think were predominantly water bottles. That indicated the frustration of the home fans, and those I overheard leaving the ground were upset by the loss of five points in their last two games. Spurs have had the same experience of course, but we do have two important away points under our belt.
Spurs kicked off and played away from their fans. However, Arsenal were on the attack early with Kolasinac crossing from the left, but Lacazette hit his shot wide. Danny Rose cleared a cross by Aubameyang, following which Arsenal won a corner from which Maitland-Niles hit a shot from outside the area which was blocked and cleared. Spurs took a welcome lead in the tenth minute and it came from a long clearance by Lloris! Kane headed the ball onto Son, who moved to the right and fed the ball to the advancing Lamela. Lamela hit aa right footed shot, which had no great power but caught Leno out so he could only ;parry the ball to the feet of the advancing Eriksen who scored to the dismay of home fans and heartfelt joy of the away end! Spurs fans in that lower section do like to race down to a point from which they view and taunt those home fans above them!
After good work by Kane and Son down the left flank the ball was crossed and Sissoko tried to find Spurs feet from the far side of the area, without success. Toby Alderweireld hit a ball which Kane fielded and fed to Winks, who released Eriksen. Eriksen raced forward and tested Leno with a right foot shot just inside his left post. Spurs defended an Arsenal attack well and Eriksen sent Son away down the left side with a great pass. Son came inside and hit a right foot shot which Leno saved with a push around the post.
After 22 minutes Danny Rose headed an Aubameyang cross clear and when the ball was returned again by Aubameyang, it was Rose who prevented Pepe scoring with a header at the back post. From the corner the diminutive Torreira fired wide. Referee Martin Atkinson did not seem to be finding much in Spurs' favour but he did give several free kicks against us just outside the Spurs area. Both Danny Rose and Erik Lamela took first half bookings.
After 35 minutes, Kane hit a right foot shot which Leno could not hold and the ball ran out to Son on the left of the area. "Sonny" returned the ball inside, but Spurs could not get a shot in. Lamela was fouled needlessly by Lacazette and Eriksen hit a free kick from 22 yards which Leno saved well, diving to his right. Spurs tried to follow-up with Winks feeding Son, who was taken out by Arsenal skipper Xhaka. Mr Atkinson awarded Spurs a penalty and Harry Kane made no mistake from the spot with an emphatic shot deep into the right corner of Leno's goal. 2-0 and the Spurs end was crowing! This was Harry's 10th goal in North London Derby matches drawing him level with the great Bobby Smith.
After 42 minutes, Pepe had a shot from 15 yards having been fed the ball by Maitland-Niles. Lloris was down to save and hold the shot with his second touch. Sissoko had an abysmal effort after an Eriksen corner from the left. Sissoko did some great work in his own half and the middle, but he should not be allowed near the final third. His shot passed wide near the edge of the area. Sissoko would miss a glorious opportunity to win the game for Spurs late in the game.
In added time, Arsenal got a precious psychological lifeline. Lacazette hit a free kick from 25 yards, which Lloris saved. Instead of booting the ball down the line, Danny Rose hesitated and had the ball nicked off his feet by Torreira and David Luiz. The ball was returned to the Spurs area in a following attack and Lacazette scored after a couple of touches which beat our defenders before he fired home. Lacazette then stood and gloated.
At half-time Willie Young was interviewed. I say interviewed, but it seemed to me that he had to be constantly fed his answers by the interviewer. Young was a centre back signed by Arsenal from Spurs in 1977. He went on to play for Brian Clough's Nottingham Forest – post-European Cup winning days.
Arsenal kicked off the second half, and unlike Spurs went straight for the jugular with Lloris having t dive low to his right to hold Lacazette's header. Spurs had an attack which stemmed from good defensive work on the right from Sissoko and Sanchez. Sanchez sent Lamela away down the right. Erik cut the ball back to Son, whose shot passed just outside Leno's post. Son's shot had taken a touch or two on its way and Spurs had a corner, but nothing came of that. Son would have other second half opportunities and would frustrate with either a failure to shoot early enough or pass to a player in a better position.
Hugo Lloris made a great reaction save, diving low to his left to push out Guendouzi's shot from within the area. Guendouzi was on his knees in despair. From the corner, Lacazette headed across goal from the near side but the ball passed wide of thee far post with Arsenal feet approaching. Harry Kane hit the post after 58 minutes. The move followed a Spurs throw on the right with Son and Lamela operating together. It was Eriksen who fed the ball to Harry though. He was on the right side of the area and hit his shot from a sharp angle across Leno only to see the ball rebound firmly off the inside of the post.
Dele Alli replaced Lamela for his first Premier League appearance of the season. I don't feel that dele quite matched the pace of the game, although he was fully immersed into the nature of the competition! Ceballos came on for Torreira and it wasn't long before he was forcing Hugo into another good save as the keeper pushed over his right footed shot for a corner. Ceballos has been influential in Arsenal attacks so far this season, and I was surprised that he did not start this game. Emery obviously fancied the combative Torreira for this game.
Lacazette was replaced by Mkhitaryan. This was not a popular decision for the home fans, but apparently Lacazette had an injury. Arsenal got their equaliser in the 71st minute. Aubameyang reacted fastest to Guendouzi's pass and scored from close range. There was a VAR check but the goal stood. The sense was that Spurs needed to hold on for 20 minutes, but there was chances at either end. Lloris had to push away a shot by Xhaka, and Pepe hit a shot wide following an Arsenal corner on the right.
Son was replaced by Lo Celso for his first NLD taste. Lo Celso showed some clever touches too. Arsenal did have the ball in the net after 79 minutes when, following a free kick Kolasinac crossed from the left and Sokratis put the ball in the net, but the flag was already up and a VAR review confirmed that Kolasinac had been offside. Dele was involved in a tangle with Ceballos in and around the area at the time of an Eriksen free kick, but Mr. Atkinson was not interested. There did not seem to be any VAR review of this incident.
Sissoko won the ball in his own half down the left-hand side and his power enabled him to carry the ball deep into the Arsenal half. He tried, but failed to put the ball to the feet the advancing Kane. In added time, Kane went down in the area under the challenge of Sokratis. There was no penalty, no card and again seemingly no VAR. In fact a free kick was given Arsenal's way. Sissoko's chance for glory came in the last minute of added time. Dele sent Kane away down the left and both Eriksen and Sissoko made runs to the right of the box. Kane passed to Sissoko and his shot was not far off target, but if only it had hit the top corner of Leno's net and Sissoko would have his moment of history.
At least with a draw we can go into the International break with our heads held high, and (hopefully especially after 5pm Monday!) approach our next home game against Palace with optimism.
· See the exclusive "Spursometer" and have your say regarding the performances of the team, individual players, manager and officials.
· Spurs' record in recent London Derby matches
· Squad numbers,appearances,bookings & goalscorers
· Read the preview for this game.
· All the Spurs Stats you could hope for here! THFC6061 Sports Stats