PREMIER LEAGUE
SATURDAY 7TH DECEMBER, 2019
(3pm)
TOTTENHAM HOTSPUR 5(3) BURNLEY 0(0)
Scorers:-
Kane, 4, 54
Lucas Moura, 9
Son, 32
Sissoko, 74
Attendance:- 58,401
Referee:- Kevin Friend
Assistants:- Adrian Holmes, Mark Scholes
Fourth official:- Robert Jones
VAR:- Lee Mason
Assistant VAR:- Dan Robathan.
Teams:-
Spurs (4-2-3-1):- Gazzaniga; Aurier (sub Skipp, 80), Sanchez, Alderweireld, Vertonghen; Sissoko, Dier; Lucas Moura (sub Sessegnon, 75), Dele (sub Parrott, 85), Son; Kane (Capt.)
Subs not used:- Whiteman; Rose; Lo Celso, Eriksen
Booked:- Dier (foul on Hendrick)
Burnley (4-4-2):- Pope; Lowton, Tarkowski, Mee (Capt.), Pieters; McNeil, Hendrick, Cork, Brady (sub Lennon, 71); Rodriguez, Wood (sub Vydra, 65)
Subs not used:- Hart; Glennon, Gibson; Goodridge, Drinkwater
Booked:- Lowton (foul on Son)
"Sonsational" goal grabs the headlines!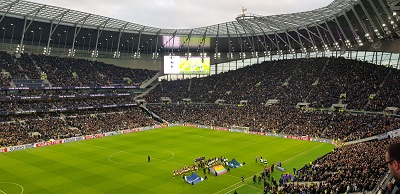 When Harry Kane put Spurs in the lead in the fourth minute, I described it as the best goal seen in the new stadium yet. It was also one of Kane's best goals, ranking alongside his curler against Arsenal when he ripped off his protective mask in celebration. Later in the first half, Kane's goal was "Sonsationally" topped when Son Heung-min ran the full length of the pitch leaving six Burnley players in his wake to score what will quite probably be the Premier League goal of the season, let alone Spurs' best goal. Son's goal put us three up, after Lucas Moura had added to Kane's opener. Why, even Moussa Sissoko scored a second goal in a week and Kane added another in the second half. We had cracking goals, a cracking win and a clean sheet! Jose Mourinho subsequently described Son as "Sonaldo"! It was quite a day.
Burnley turned Spurs round at the kick-off, so we were playing towards the South Stand. Quite what opposition teams hope to achieve through such action I don't know. I suppose it is to seek a psychological advantage as teams like to play towards their own fans in the second half. The move certainly backfired on Sean Dyche's team, who soon found themselves trailing.
Spurs took the game by the throat from the outset with clear intentions to put Wednesday night's defeat at Old Trafford behind them. They played with pace and skill. The only change to the team had been Dier for Winks, who apparently had picked up an injury, as had Tanguy Ndombele. Spurs kicked off and after a throw on the right the ball was moved diagonally through Dier and Vertonghen to Son on the left. Son's cross was cleared, but it wasn't long before Serge Aurier was testing goalkeeper Pope with a left footed shot which was held. Then came the first goal. Toby Alderweireld hit one of his long passes over the defence to Son, who was placed deep on the left. "Sonny" immediately passed the ball back to Kane who whacked an unstoppable right footed shot from fully 25 yards.
Soon after his goal, Harry had another shot heavily deflected wide for a Spurs corner. The Burnley defence was at sixes and sevens. The second goal came in only the ninth minute. Son threatened again with a shot from the left of the area. It took a deflection and a save from Pope before Dele got a touch as the ball looped up (and importantly backwards, I felt) where Lucas Moura stabbed the ball home at the back post. The goal (as all goals are) was reviewed and there was a slight delay before our 2-0 lead was confirmed.
Burnley were not sitting back and did give their full contingent of fans early hope when Rodriguez tried a shot from outside the area which Gazzaniga held. There was a one minute applause to mark the tragic death this week of 12 year old Spurs fan Harley Watson, so cruelly run down outside his school at Debden, near Loughton.
Moussa Sissoko almost added to his goal tally after 15 minutes. He advanced with Kane, before passing to Son on his left whilst continuing his run to take the return pass. Moussa's shot hit Pope's right post. "He scores when he wants" rang out from the South Stand – except he hadn't this time. Dele and Son advanced on goal together, but somehow failed to forge an attempt on the goal. In another move Aurier fed the ball to Dele who ran at goal, but in the end could find neither a shot or pass in a situation where he ought to have scored.
At the other end, Mc Neil, who had started on the right for Burnley, crossed from the left. Brady's header hit the Spurs bar and Wood tried to follow up, but Sanchez won that battle. Spurs made a break out of their box and had possession when referee Kevin Friend halted play. "Sonny" was down and needed treatment. Eric Dier lost possession in midfield allowing another Burnley attack with Pieters crossing and a header by Rodriguez which was held by Gazzaniga.
The "Sonaldo" goal came after a Burnley free kick and a tackle by Jan Vertonghen, who gets the assist for the goal which followed. Son collected just outside his own area towards the left, and as he made a bee line for the opposition half, "Sonny" had four Burnley players in his wake. Another two tried to stop (except they didn't hinder him at all really), as Son simply raced towards goal before coolly firing a right footed shot past Pope to lead to a wonderful ovation for a memorable goal. It was the distance covered and the pace at which "Sonny" advanced that sticks in your mind. It certainly destroyed the Burnley team, for whom there was now no way back.
Shortly after his goal, Son hit a free kick in from the left but Harry Kane headed this over the target. Rodriguez had another chance for the visitors, but headed McNeil's cross wide. Burnley had the ball in the net after 42 minutes, but Gazzaniga had been fouled by Rodriguez and there was no goal. It was Cork who had hit the shot. In added time, Spurs had a free kick taken by Son and seemingly handled by Hendrick, but the referee and VAR decreed otherwise. The Spurs front four were then all involved in a move which ended in an attempt by Dele being blocked by the defence.
Inevitably with a three goal lead there was a dip in the pace of the game. Harry Kane needed treatment after 51 minutes, but then three minutes later he had doubled his personal tally for the day (179 club goals now). It was another excellent goal. Dele advanced down the left-hand side before passing inside to Kane who moved across towards the goal and beat Pope with a right foot shot hitting the net beyond the keeper. At 4-0 down it was inevitable that Burnley fans would trickle away and as the half progressed fewer and fewer were present to see their team totally destroyed.
Aaron Lennon was being prepared to come on and there were chants from the Spurs fans of "One Aaron Lennon". When he replaced Brady, Aaron was given a rousing reception. His team were soon five down though, and this was another great goal. Sissoko had made a good run, passing to Kane on his left before taking a return pass and scoring with his right foot as if he could do it every week. Of course, he has done it every week over the last two Saturdays! Out rang more "He scores when wants!" chants.
Ryan Sessegnon made his home debut, replacing Lucas Moura, but he didn't see much of the ball. Jose Mourinho also used Oliver Skipp and gave a home Premier League debut to 17 year old Troy Parrott, who also did not see too much of the ball. Oliver Skipp was involved and according to Jose all three will be taking part in next Wednesday's Champions League "dead rubber" match with Bayern Munich, who incidentally lost yesterday to German Bundesliga leaders Borussia Monchengladbach.
Dele had a shot held by Pope after Son had fed him the ball from the right. After Aurier was replaced by Skipp, Sissoko took over at right back. "He plays where he wants!" Harry Kane tried a shot from almost the halfway line, but had no joy.
At the end of the game Jose Mourinho took the ball off "Sonny" and presented it to Troy Parrott to mark what was not only his home debut, but also his first appearance in the Premier League. There will be more!
I had a wonderful day at Tottenham, before travelling across London to Wembley Arena where I enjoyed the sights; the lights; the sounds and the wonderful atmosphere of Underworld live.
· See the exclusive "Spursometer" and have your say regarding the performances of the team, individual players, manager and officials.
· Squad numbers,appearances,bookings & goalscorers
· Read the preview for this game.
· All the Spurs Stats you could hope for here! THFC6061 Sports Stats