PREMIER LEAGUE
SUNDAY 19TH JULY, 2020
(4pm)
TOTTENHAM HOTSPUR 3(3) LEICESTER CITY 0(0)
Scorers:-
Justin (o.g.), 6
Kane, 37, 40
Attendance:- 0
Referee:- Anthony Taylor
Assistants:- Gary Beswick, Adam Nunn
Fourth official:- Graham Scott
Replacement official:- Steven Meredith
VAR:- Stuart Attwell
Assistant VAR:- Scott Ledger
Teams:-
Spurs (4-2-3-1):- Lloris (Capt.); Aurier, Sanchez, Alderweireld, Davies; Sissoko, Winks (sub Skipp, 90+2); Lucas Moura (sub Bergwijn, 77), Lo Celso (sub Lamela, 77), Son (sub Gedson, 89); Kane
Subs not used:- Gazzaniga; Vertonghen, Foyth, Tanganga, Sessegnon
Booked:- Lucas Moura (foul on Tielemans), Sanchez (foul on Hirst)
Leicester (3-4-3):- Schmeichel; Bennett (sub Gray, 46), Morgan (Capt.), Evans; Justin, Ndidi (sub Mendy, 70), Tielemans (sub Praet, 70), Thomas; Perez (sub Iheanacho, 59), Vardy, Barnes (sub Hirst, 83)
Subs not used:- Ward; Johnson; Choudhury, James
Booked:- Evans (foul on Kane)
Hit man Harry leads Spurs on their path to Europe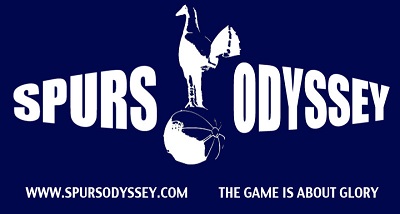 THFC would not allow me the fly the Spurs Odyssey flag in the stadium for these behind closed doors games but it will feature in my match report!
Spurs hit man Harry Kane loves a goal against Leicester. Just the other day at Newcastle Harry passed the 200 club goals landmark. Two of his 201 goals were scored for Leicester when he was there on loan in 2013. He scored two more today – both fine goals – to make that club goal total 203 and his Premier League total (all for Spurs) to 142. Harry scored his first Premier League hat-trick against Leicester in March 2015, and I well remember the four goals he scored in the May 2017 6-1 away win. When we beat the "Foxes" 5-4 at Wembley two years ago, Harry had to settle for two, but he has now scored 16 goals in 14 games against Leicester in all competitions. His goals today moved us closer to a Europa League place, whilst Leicester have worries about holding their top four place with just one game to go – against their competitors for that position Manchester United.
Statistically Spurs have been one of the best performing teams of this post-lockdown period having won 5 drawn 2 and lost just 1 of the seven games played. Statistically today the figures were in favour of Leicester who had 71% of the possession, 24 shots to Spurs' 7, 6 on target to Spurs' 3, and 13 corners to Spurs' 4. The statistic that told though was that Spurs scored three times (one of their scoring shots was not on target!) and got the win. It seems that Jose Mourinho has finally got this Spurs team to play his way. That is to soak up opposition pressure and win on the break. Spurs certainly did that very effectively. The game was won in the first half, and Mourinho's men "managed the game" very well indeed in the second half. There were other excellent performances such as those of centre backs Davinson Sanchez and Toby Alderweireld, but Hugo Lloris made at least four excellent saves to preserve the clean sheet.
Jose again fielded an unchanged side. The formation differed with a standard 4-2-3-1, although most of the team were required to defend as a unit a lot of the time. Brendan Rodgers won against Sheffield United without the suspended Soyuncu, and the injured Ricardo, Chilwell and Maddison. Rodgers again played a 3-4-3 formation with young players at wing-back left and right.
Leicester kicked off and played towards the South Stand. Within a minute Lucas Moura was struggling with a pain in his side, apparently suffered in a clash with 19-year-old Luke Thomas. Lucas was able to continue and played an important part in our win. After a foul by Sissoko Leicester had a free kick taken by Tielemans out on the left of the area. The ball came back to him and tried a lobbed shot which Lloris held comfortably. Spurs took an early lead, breaking from their own half. Son was just inside his own half when Harry Kane sent a pass for him to chase down the left flank. Son took the ball on and Harry (looking super-fit now) raced ahead of him. "Sonny" got to the left edge of the area and hit a right foot shot that was missing the far post. The unfortunate 22-year-old James Justin diverted the ball into his own net with Schmeichel wrong-footed. Kane had actually run into an offside position, but VAR confirmed the referee's view that he was not interfering with play. The goal stood!
Leicester were as desperate to win this game as were Spurs. Their top four place was at risk otherwise. The three man attack out pressure on Spurs and our defence blocked two shots, one of which was from Vardy – also keen to retain his lead in the race for the "Golden Boot". Alderweireld blocked a shot by Perez too. After the second of this series of Leicester corners, Lloris and his defence were alert to an attempted back-heel shot by Vardy after Morgan had headed down. Spurs were under some pressure and the only moment of uncertainty from our captain came from a cross from the right which went beyond his right post.
After the drinks break Leicester had a corner from the left which was well controlled by Perez before he unleashed a strong left-footed shot well saved by Lloris, diving to his left. Spurs made a break after that corner with Lucas Moura feeding the ball to Aurier (once again courageously playing bearing his bereavement). Aurier's cross was cleared and Spurs had a corner, although nothing came of that. Son ran onto a lovely long ball by Harry Winks, but Schmeichel saved the shot. From the corner, Leicester nearly scored another own goal with a header glanced across Schmeichel's goal but thankfully wide.
Spurs went two up in the 37th minute, breaking from a Leicester corner. Lo Celso passed to Lucas Moura on his left. Harry Kane made a good run. Lucas passed into the are and Harry scored with his left foot inside the far post. There was a VAR review, but Harry had been played on by Harvey Barnes and the goal was good. So was Spurs' lead!
Three minutes later it was 3-0. Again we had broken out of our own half, but this time Lucas passed from right of centre and probably hit the ball too far, as it went outside the left of the area. Harry retrieved the ball and then cut inside hitting a glorious shot across the goal hitting the net inside the back post. It was a goal similar to that against Arsenal in March 2016 and one I recall from last season, although I cannot place the game. Spurs were 3-0 up in a crucial game!
Perez had another decent effort before the break, which Lloris pushed wide competently.
At half time Rodgers replaced Bennett with Gray and Justin moved to the right of what remained a back three. Later in the game the Leicester manager would adjust his formation. The story of the second half was really how Spurs managed to defend stoutly to defend their lead with occasional forays into opposition territory. Harry Kane sent Son away with a lovely reverse pass from the right of midfield, but "Sonny" tripped at a crucial moment outside the area.
Referee Anthony Taylor had not issued a card in his previous match seemed reluctant to do so in this one, having words with Lucas Moura after delayed the taking of a Leicester free kick. Lo Celso had also got away with a strong first half challenge. Lucas led another Spurs break with a long ball to Kane who got his shot in, but it was deflected out for a corner by Wes Morgan who just got a foot in. Lucas did then get booked for a foul on Tielemans. Gray took the free kick and hit a powerful right footed shot which took a deflection off the wall and was then subject to an excellent save by Lloris.
Serge Aurier cleared the ball from in front of advancing Harvey Barnes t the cost of a corner. There was some nice play going forward by Lo Celso on the right of midfield. Gio passed to Harry who lifted a ball to Son, whose shot was saved, but he was offside anyway.
Hugo got down to a decent Harvey Barnes shot. As the drinks break was called VAR checked out a challenge by Sanchez upon Evans inside the Spurs area at a corner, but found no offence. Evans got Leicester's only yellow card for halting a Harry Kane advance down the right flank. At the other end Gray had a shot go over the target. Harry Kane was on the ground at the time following clip by Evans.
Lo Celso and Lucas Moura were replaced by Lamela and Bergwijn whose task was to continue "managing the game". Harry Kane received a long ball and was flagged offside, but put the ball in the net. He was hoping for a hat-trick of course, but VAR confirmed he was offside.
Leicester's final substitute was 21-year-old George Hirst, making his Premier League debut. Hirst is the son for former Sheffield Wednesday striker David. Another Gray free kick was blocked by the Spurs wall, and another substitute – Iheanacho worked the ball to his left finding space for a 25 yards shot which was nicely saved by Lloris, diving to his right. From the corner Hirst had a good chance at the back post, but fired high. In added time Harry Winks made a poor pass in midfield and Leicester went forward with Hirst getting another chance. This effort went wide.
Leicester have retained their top four place on goals scored at this time but Manchester United will take that place with a point at home to West Ham on Wednesday. Leicester and United face decider for fourth place next Sunday. Spurs must aim to win at Selhurst Park, whilst hoping that Wolves drop points against Palace (tomorrow) and or next Sunday when Nuno's team visit Stamford Bridge. Spurs are in a strong position, but we must also hope that Arsenal do not win the FA Cup Final against Chelsea on August 1st. Even if we get sixth place an Arsenal Cup win would give us extra qualifying games to play in the Europa League.
Today was an excellent day. It was our last home game and Son Heung-min won all the end of season awards which included goal of the season (Burnley) plus members' and junior members' player of the season. Much as I like "Sonny" he will not be the Spurs Odyssey player of the season winner (assessed by votes cast all season), which will be decided after next week's game.
Have a good week Spurs fans!
· See the exclusive "Spursometer" and have your say regarding the performances of the team, individual players, manager and officials.
· Squad numbers,appearances,bookings & goalscorers
· Read the preview for this game.
· All the Spurs Stats you could hope for here! THFC6061 Sports Stats