· Last season's game - Spurs 3 Leicester 1, 10.02.19
· This season's away game - Leicester 2 Spurs 1, 21.09.19
· This week - last year
· What happened in the Premier League on Matchday 37 2018-19
· See the current injury list for all Premier League Teams
· All the Spurs Stats you could hope for here! THFC6061 Sports Stats


Full Record of Spurs -v- Leicester City

Premier       Pl  W  D  L   For- Ag Pts
Home          13  6  3  4   27 -23  21
Away          14  5  2  7   22 -23  17
======================================
Total(Prem)   27 11  5 11   49 -46  38
======================================
Football Lge
Home(Div 1)   29 13  6 10   64 -46  34
Away(Div 1)   29 16  4  9   53 -54  40
======================================
Total(Div 1)  58 29 10 19  117 -100 74
======================================
Football Lge
Home(Div 2)    7  3  3  1   12 - 7   9
Away(Div 2)    7  4  1  2   14 -13   9
======================================
Total(Div 2)  14  7  4  3   26 -20  18
======================================
Total(Prem)   27 11  5 11   49 -46  38
Total(Div 1)  58 29 10 19  117 -100 74
Total(Div 2)  14  7  4  3   26 -20  18
======================================
Grand Total   99 47 19 33  192 -166 128
======================================

Last Six Premier League results:-

Spurs      -    WLWDWW
           
Spurs      2-0    West Ham
Sheff Utd  3-1    Spurs
Spurs      1-0    Everton
B'mouth    0-0    Spurs
Spurs      2-1    Arsenal
Newcastle  1-3    Spurs

Leicester  -    DLWDLW

Leicester  0-0    Brighton
Everton    2-1    Leicester
Leicester  3-0    C. Palace
Arsenal    1-1    Leicester
B'mouth    4-1    Leicester
Leicester  2-0    Sheff Utd

Pos           P  W  D  L   F-A   GD  Pts
4. Leicester 36 18  8 10  67-36  31   62
7. Spurs     36 15 10 11  57-46  11   55 

A milestone game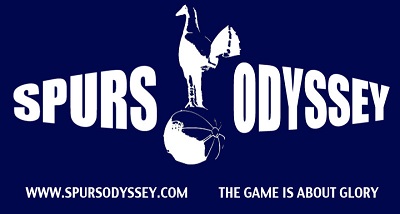 THFC would not allow me the fly the Spurs Odyssey flag in the stadium for these behind closed doors games but it will feature in my match report!
This will be the 100th Football/Premier League game between Spurs and Leicester. The first such meeting took place in September, 1919 when Spurs won 4-0. The away game was also played in September at Filbert Street. Spurs scored four goals again, winning 4-2. These were Division Two games and Spurs led the table all season before winning a convincing promotion (along with Huddersfield that year). Leicester Fosse (as they were then known) finished 14th.
Leicester did have one season in the First Division (1908/09) but had to wait till 1925 for a return to the top flight. The "Foxes" have been an "up and down" side ever since, but of course they had a great success with their Premier League win four years ago as their fans love to remind us. Luckily, those fans will not be in our stadium on Sunday for our last home game of this interrupted season. Before the Covid-19 lockdown Leicester looked hot favourites for another season of Champions League football, but now they have to sweat on that achievement with a last day home game against Manchester United possible deciding the issue. That's a hot favourite for high profile live TV!
In this season's away game we were the victims of a VAR decision at the King Power Stadium that surely led to us losing the game and impetus that would have given us an away win.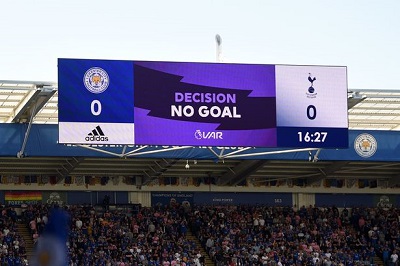 Harry Kane gave Spurs a 29th minute lead with a quite incredible goal. Lamela had hit a good ball from just inside the Leicester half to Son, who flicked it to Kane. Harry was under pressure from three defenders and was actually falling down with the ball seemingly slipping away from him. Somehow, Harry managed to hook the ball as he was on the ground past Schmeichel. It was a great goal.
We thought we had gone 2-0 up in the 64th minute when Serge Aurier fired a right footed shot into the net, but eventually VAR decided that Son had been marginally offside in the build-up to the goal. The next question has to be how many steps back from a "goal" do you have to go for such a decision? The sequence was that Ndombele had put Son through and he had been successfully tackled with the ball cleared to Kane's feet. Kane had then passed the ball to Aurier to his right outside the Leicester area. This was definitely an occasion when VAR was not on our side. A 2-0 lead would surely have secured the game, but goals by Pereira and Maddison secured Leicester a win that put them in the top four at our expense. We haven't been in the top four since, whereas "the Foxes" have been in residence for the rest of the season, even spending a number of weeks in second place above Manchester City.
Last season's home game heralded a couple of milestones. This game was Spurs' last league win at Wembley. One of our goals was scored by Davinson Sanchez, and that was his only goal for the club to date. We did play two more games at the National Stadium, beating Borussia Dortmund 3-0, and drawing at home to Arsenal.
Over the 27 Premier League games we have played the record is even (W11 D5 L11). We do have a marginal home advantage in those games.
Jose has said that Dele will not be ready for this game, although he might make our last game away to Crystal Palace. Tanguy Ndombele sustained a knee injury in training earlier this week and will not feature in our last two games. Eric Dier has to sit this game out but will also be available for the Palace game. Hopefully, Jan Vertonghen can play some part in this game. It is a shame there will be no crowd present to bid "Super Jan" farewell. Jan has been one of my favourite players throughout his time with Tottenham for whom he has made 232 Premier League appearances prior to this game. He's been our player of the season twice as well.
Leicester managed a crucial 2-0 win over Sheffield United on Thursday night without the suspended Soyuncu, and the injured Ricardo, Chilwell and Maddison. They seemed to have recovered their momentum after an uncharacteristic performance at Bournemouth last week. In addition to the three mentioned players, Rodgers is also unable to select Albrighton, Fuchs, or Amartey.
Jamie Vardy leads the Premier League scorechart and is three goals ahead of Danny Ings and Pierre-Emerick Aubameyang. Vardy recently scored his 100th Premier League goal (all with Leicester) and if he succeeds this would be a first Golden Boot.
It's a must-win game for both sides, and this should be a good game, despite the empty stadium. I'm backing Mourinho to have another plan and Spurs to win 2-1!
Tomorrow's match referee will be Anthony Taylor, who has not been in charge of a Spurs game since we lost at home to Chelsea in December. We also lost the only other game when he was in the middle for us this season, and that was at Anfield. Unusually for any referee, since that Chelsea game there have been three matches in which this referee did not show a single yellow card. The last of these was Thursday's game between Everton and Wolves.
Did you know? Spurs reached 100 league points against Leicester when David Ginola scored the only goal of the game at Filbert Street in April 2000.
Les Ferdinand scored a hat-trick in our next meeting at White Hart Lane. It was "Sir Les's" first hat-trick in our colours, and one of only two Spurs hat-tricks for the former QPR and Newcastle striker. The other was a first-half triple scored in a 6-0 League Cup quarter-final win against Bolton Wanderers. Bolton were one of four clubs for whom Les played after leaving Tottenham.
The very first "spursometer" was published on the day of that Leicester game on 25th November, 2000. The form indicator was a far less sophisticated version than the current format with many more contributors to the assessment of performances of the players, manager, and officials.