PREMIER LEAGUE
SATURDAY 21ST SEPTEMBER, 2019
(12.30pm)
LEICESTER CITY 2 (0) TOTTENHAM HOTSPUR 1(1)
Leicester scorers:-
Pereira, 69
Maddison, 85
Spurs scorer:-
Kane, 29
Attendance:- 32,129
Referee:- Paul Tierney
Assistants:- Scott Ledger, Matthew Wilkes
Fourth official:- Robert Jones
VAR:- Chris Kavanagh
Assistant VAR:- Andy Halliday
Teams:-
Leicester (4-3-3):- Schmeichel (Capt.); Pereira, Evans, Soyuncu, Chilwell; Tielemans (sub Choudhury, 84), Ndidi, Maddison; Perez (sub Praet, 67), Vardy, Barnes (sub Gray, 82)
Subs not used:- Ward; Justin, Morgan; Albrighton
Booked:- Gray (foul on Rose)
Spurs (4-3-3):- Gazzaniga; Aurier, Alderweireld, Vertonghen, Rose; Sissoko (sub Wanyama, 67), Winks, Ndombele (sub Lucas Moura, 86); Son, Kane (Capt.), Lamela (sub Eriksen, 79)
Subs not used:- Whiteman; Dier, Davies; Skipp
Booked:- Sissoko (foul on Maddison), Wanyama (foul on Pereira)
Your application failed Spurs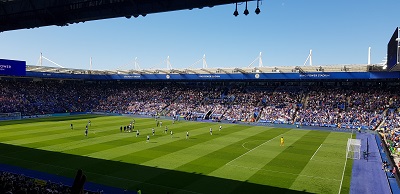 It's another game in the new Premier League era that will be remembered as much for the VAR decisions as anything else, but this was also a game where Spurs lost yet another lead, and where they surrendered a top four place to Brendan Rodgers' Leicester. It's a result I suspect Leicester fans enjoy more than any other in their current Premier League programme. "Champions of England, you'll never sing that!" was one of their chants, and they seem to have conveniently forgotten the pre-Premier League era but then, so do a lot of people, including statisticians these days. I think a draw would have been a fair result today, but if I am brutally honest, Leicester looked sharper and quicker than did Spurs on many occasions. Spurs had their chances, as well as an Aurier "goal" disallowed apparently because of a so so marginal offside against Son Heung-min in the build-up, and whilst various Spurs fans will have their own theories, I hold Son as the most culpable of our players for failing to score with two excellent opportunities.
Late team news for Spurs fans came in the fact that Hugo Lloris had not travelled as his wife was due to give birth. Gazzaniga stepped up but will get mixed reviews. I do wonder how deep was Hugo's focus as Captain for the midweek trip to Greece with his imminent addition to the family. However, good luck to Hugo and his entire family, of course. Pochettino matched Leicester's 4-3-3 formation with Sissoko, Winks and Ndombele behind Son, Kane and Lamela. Ndombele showed some clever flicks in the middle at times, but still does not appear to be up with the pace of our game.
It was a warm, sunny late September day, and of course Spurs had been at a disadvantage because of the lunchtime kick-off following a Wednesday night Champions League game in Athens. I tried to get a "Champions League, never again" chant going against the Leicester fans with limited success.
Leicester kicked off and were on the front foot with Jamie Vardy being caught offside early on and Maddison feeding Harvey Barnes, whose shot was comfortably held by Gazzaniga, as it carried little strength. At the other end Son had a shot go wide across the goal, and Kane had a shot held by Schmeichel. Spurs had a good attack featuring Aurier, Kane, Son and Lamela, but no shot was forthcoming and the ball went out to Rose, whose cross was cleared. Maddison had a shot at the other end. He was fed the ball by Tielemans, but hit his shot from inside the area wide of Gazzaniga's left post. Maddison had another shot saved by Gazzaniga getting down to his left. This time Harvey Barnes had been Maddison's provider.
Leicester had the ball in the net in the 16th minute. Tielemans hit a shot from outside the box following a Maddison corner and Gazzaniga could only parry the shot to the feet of two lurking Leicester players. Perez had the first touch but in the scramble it was Ndidi who put the ball in the net and celebrated the "goal". VAR disallowed the goal, and at least three players, including Perez and Ndidi had been offside when Tielemans hit his shot. "VAR my Lord" sang Spurs fans, not for the first time. They wouldn't be singing its praises later.
Sissoko got an early yellow card for an offence upon Maddison spotted by referee Paul Tierney. Toby Alderweireld hit a long ball to Harry Kane after 20 minutes. Kane fielded the ball but Lamela rescued it near the touchline. He passed to Winks who sent a good ball to Danny Rose, who raced into the box, went down, but the referee waved away any Spurs appeals.
Gazzaniga held a shot by Harvey Barnes after 26 minutes. Vardy had a chance from a tight angle after Perez fed him the ball inside the Spurs area. A goal kick was the result. Harry Kane gave Spurs a 29th minute lead with a quite incredible goal. Lamela had hit a good ball from just inside the Leicester half to Son, who flicked it to Kane. Harry was under pressure from three defenders and was actually falling down with the ball seemingly slipping away from him. Somehow, Harry managed to hook the ball as he was on the ground past Schmeichel. It was a great goal. After Leicester's kick-off Lamela provided a ball for Kane to the right of the area, but Harry hit this shot wide across the goalmouth.
After 38 minutes, Perez had a shot saved by Gazzaniga at his left-hand post at the expense of a corner. Danny Rose, Ndombele and Lamela combined down the left-hand side to give Kane another chance but his right foot shot was held by Schmeichel.
Leicester kicked off the second half and Barnes was looking dangerous on the left of the Spurs area. A cross by Ben Chilwell passed all the way across the Spurs box. After 54 minutes, Aurier passed inside to Son, who passed the ball onto Lamela, whose shot from some 25 yards was well over the target. Gazzaniga made a good save from Vardy after 56 minutes with his outstretched left hand. Danny Rose hooked the ball clear for a corner. After the corner, Spurs made a good break from the back with Winks involved at the start and towards the end of the move which advanced down the left channel through Lamela, Son and Winks again. Son was given the ball and was inside the area with only Schmeichel to beat but hit his shot, such as it was, across the goal. It was such a poor effort.
Barnes had a soft header go over the target following good work by Maddison and Perez on the right of the area. Lamela and Kane gave Son another chance deep inside the Leicester area, but Son was closed down before hitting his shot. It was good defending, but Son should have at least got his shot on goal, in my view. We thought we had gone 2-0 up in the 64th minute when Serge Aurier fired a right footed shot into the net, but eventually VAR decided that Son had been marginally offside in the build-up to the goal. The next question has to be how many steps back from a "goal" do you have to go for such a decision? The sequence was that Ndombele had put Son through and he had been successfully tackled with the ball cleared to Kane's feet. Kane had then passed the ball to Aurier to his right outside the Leicester area. By now, most of you will have seen the pictures and will have seen just how close the margin was. This was definitely an occasion when VAR was not on our side. A 2-0 lead would surely have secured the game, but different events were to follow.
Sissoko was replaced by Wanyama, who in no time at all had made a mistake that gave Leicester a chance, and he also got a quick yellow card. It was the mistake that gifted possession to Leicester with Maddison passing to Barnes, his pass to Vardy on the left and a cross which was converted from the back of goal by Pereira with his right foot. Leicester had their tails up and Maddison offered a ball to Vardy who fired a right footed shot over the bar.
At the other end a cross/shot by Son from the right passed across the area safely (from the Leicester point of view). Eriksen came on for Lamela but it was Danny Rose who was the provider for Aurier with a deep cross. Aurier pulled his shot wide of Schmeichel's right post. Son passed to Kane on his left, but Harry's left footed shot was parried by Schmeichel then cleared. Spurs' day was made all too painful when Leicester scored the winner in the 85th minute. Substitute Choudhury was the provider and Maddison beat Gazzaniga from over 22 yards with a right footed shot inside the keeper's right post. There were 6 minutes of added time, but that wasn't enough for Spurs to at least level the scores which I would have thought most people would say was a fair result.
It is of course a tough league, and it is also still very early in the season. Leicester are a good side and will be challenging for one of the European spots. Spurs need to get their act together quickly if they are not too fall away from a realistic challenge for the top four. They have not won an away Premier League game now since Fulham in January, and that was with a last minute goal by Harry Winks. Perhaps we can have some focus on Tuesday's League Cup game at Colchester. We might have a chance at that trophy!
· See the exclusive "Spursometer" and have your say regarding the performances of the team, individual players, manager and officials.
· Squad numbers,appearances,bookings & goalscorers
· Read the preview for this game.
· All the Spurs Stats you could hope for here! THFC6061 Sports Stats