PREMIER LEAGUE
WEDNESDAY 19TH MAY, 2021
(6pm)
TOTTENHAM HOTSPUR 1(1) ASTON VILLA 2(2)
Spurs scorer:-
Bergwijn, 8
Villa scorers:-
Reguilon (o.g.), 20
Watkins, 39
Attendance:- 10,000
Referee:- Craig Pawson
Assistants:- Ian Hussin, Richard West
Fourth official:- Simon Hooper
VAR:- Kevin Friend
Assistant VAR:- Simon Beck
Teams:-
Spurs (4-2-3-1):- Lloris (Capt.); Tanganga (sub Doherty, 83), Alderweireld, Dier, Reguilon; Winks (sub Ndombele, 74), Hojbjerg; Bergwijn (sub Bale, 72), Dele, Son; Kane
Subs not used:- Hart; Sanchez, Aurier; Lamela, Lo Celso; Lucas Moura
Booked:- Hojbjerg (foul on Grealish)
Aston Villa (4-2-3-1):- Martinez; Konsa, Hause, Mings, Targett; McGinn, Nakamba (sub Chukwuemeka, 89); Traore (sub Philogene-Bidace, 90+3), Grealish (Capt.) (sub Douglas Luiz, 73), El Ghazi; Watkins
(Armband to Mings)
Subs not used:- Steer; Taylor, El Mohamady; Ramsey, Barkley; Wesley
Booked:- McGinn (foul on Ndombele)
Meek surrender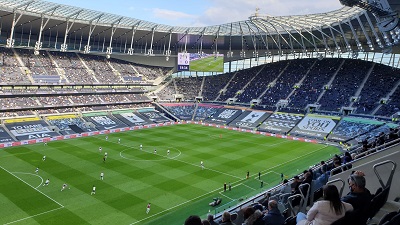 10,000 Spurs fans were allowed into the stadium for this last home game of the season, but it was not a happy occasion. Spurs, in their wisdom left the lower sections of the ground unoccupied and with the crowd spread around the vast stadium the atmosphere did not reach the level experienced in other grounds in this round of games. Mind you, those Spurs fans were not served up the standard of football worthy of enthusiasm.
Spurs started well enough with Steven Bergwijn (starting for the first time since February) scoring his first club goal of the season. Disaster soon came, and Sergio Reguilon has to take most of the blame for that. We had seen the best of Reguilon on Sunday when his determination in winning a tackle near the corner flag and subsequent cross enabled our second goal against Wolves. Today we saw the worst of Sergio, firstly when he shanked a harmless Nakamba cross past Lloris's right hand into his own net. Secondly he twice failed to clear when Spurs were trying and failing to play out from the back. His second attempt was blocked and fell to the feet of Ollie Watkins who gleefully accepted the chance to fire low inside Lloris's left post.
Before the game, we had our European destiny in our hands, or at least at our feet. After the meek surrender we fell back below West Ham, level again on points with Everton and ominously only one point above Arsenal. With Leicester desperate for a win on Sunday with Champions League football to play for and Arsenal at home to Brighton I'd better delete that "St. Totteringham Day" story off my home page, and we'd better prepare for a first season out of Europe for 12 years. Still, it could be worse. We could finish seventh and have to fly to far-flung Eastern European locations.
Ryan Mason had both Doherty and Aurier on the bench but chose Tanganga. That says something about two players who cost us fees as compared to an Academy student. In his end of season statement Daniel Levy defended his transfer policy stating the club had spent £250 million on players since the Champions League Final defeat of two years ago. As well as Doherty, a lot of that money was on the bench in the shape of Lo Celso and Ndombele. Lo Celso didn't get off the bench but the much-maligned former Academy player Harry Winks (also now surely a former England player) did start. For some reason he seemed to predominantly play to the right of Hojbjerg. Perhaps Winks' role was to police Villa's talisman Jack Grealish. If so, he failed dismally as Grealish was pulling the strings for his side at will.
I haven't mentioned our talisman yet – Harry Kane. I fear that the stories of his impending departure are true. To be honest I won't blame him for seeking a trophy-winning side. Spurs will not be that for the foreseeable future. Perhaps the players know he is going, and perhaps that affected their performance tonight. I didn't stay for the "lap of appreciation" after the game, but I understand a significant number of fans did, almost demanding to see the players who had let them down so badly. There have been plenty of pictures of Harry left on his own with those fans, seemingly in a last goodbye. It is so deeply depressing to be a Spurs fan at this time.
I felt there was a mixed reception for "the knee" which after all has gone on in front of no fans for most of the time.
Spurs kicked off, playing towards the North Stand. Bergwijn's goal was the first significant action and followed a mistake by Nakamba with Bergwijn racing goalward before scoring with a powerful right foot shot high into the net to the left of Martinez.
There was a delay after 11 minutes as VAR took its time to review a potential penalty incident when Watkins and Lloris collided. The review was not communicated to the fans, but "no penalty" was the decision. The warning signs had already been laid for Spurs as Grealish teed up Watkins, but thankfully the striker put his shot wide. Then came Reguilon's disastrous and quite shameful own goal. I used to play golf shots like that, but at least I tried to hit them in the right direction .
El Ghazi was next to tee up Watkins with a ball from the left. Watkins' effort was blocked but then Grealish hit a shot over the target. Villa broke forward after Bergwijn might have been fouled and this attack ended with another Grealish shot, held by Lloris inside his right post. McGinn had a shot from distance, but this was also off target. Spurs were showing nothing going forward, and apart from the goal certainly hadn't bothered Martinez in the Villa goal.
The second Villa goal came in the 39th minute and it wasn't long before chants of "We want ENIC out" were heard. There was little encouragement by the team to chant something positive. We fell into the old passing backwards routine and El Ghazi should have scored in first half added time, but thankfully curled his shot wide. Dier was as culpable as any other defender in this period.
Spurs did manage an attack early in the second half after Winks successfully pushed a ball out to the advancing Reguilon. After his cross the ball was knocked about the Villa area two or three times before Bergwijn's shot was saved and Spurs had a corner. They had a couple of corners actually because a Winks shot was deflected out of play for the second. Son might have been fouled on the left but managed to get the ball to Kane who in turn passed to Bergwijn to his right. Again, Martinez saved.
Bergwijn returned the compliment passing to Kane whose first time shot was high. Winks tried to send Tanganga away on the right, but the move failed, and in truth these are second grade players. Villa offered more danger with McGinn offering the ball to Bertrand Traore whose shot was just wide of the post.
Spurs fans started to call for Bale, who had not apparently been fit enough to start, but was seen warming up on the touchline. The fans would have to wait a while. Hojbjerg passed forward to Dele who went down in the box, but was signalled offside. Dele had not been successful with much of what he tried tonight.
Bergwijn was the man to go off for Bale, whilst Villa took off Grealish for Douglas Luiz. Ndombele replaced Winks.
Spurs hardly threatened goal again. Perhaps the nearest they came was after Bale passed to Kane to his right who tried a shot from a sharp angle which was saved. Tanganga needed lengthy treatment and was replaced by Doherty making his first club appearance for two months.
Douglas Luiz crossed into the area from the left and both Traore and Watkins were successfully blocked. Ndombele and Son were involved in a move which ended with a Reguilon pass to Kane, but his shot was blocked too. Ndombele led another attack, passing to Bale who again fed the ball to Kane who shot from an even tighter angle. Martinez saved again. Dele passed to Bale, who showed skill before trying a shot but that passed over the target.
Villa coach Dean Smith even gave a couple of youngsters outings in the closing minutes. One of them – 17-year-old Carney Chukwuemeka – even hit the post with a right foot shot in added time.
As the final whistle approached there were more chants of "We want ENIC out" and I understand that after the game when fans could not be encouraged to leave the stadium, music levels were set very high to drown out the negative chanting. It's just over 20 years since ENIC took over the club, and it is very depressing how as a club we have gone full circle. Currently we are a club without a leader – a rudderless ship in the ocean of football.
· See the exclusive "Spursometer" and have your say regarding the performances of the team, individual players, manager and officials.
· Squad numbers,appearances,bookings & goalscorers
· Read the preview for this game.
· All the Spurs Stats you could hope for here! THFC6061 Sports Stats