PREMIER LEAGUE
SUNDAY 28TH FEBRUARY, 2021
(2pm)
TOTTENHAM HOTSPUR 4(3) BURNLEY 0(0)
Scorers:-
Bale, 2, 55
Kane, 15
Lucas Moura, 31
Attendance:- 0
Referee:- Kevin Friend
Assistants:- Simon Beck, Adrian Holmes
Fourth official:- Simon Hooper
VAR:- Martin Atkinson
Assistant VAR:- Andy Halliday.
Teams:-
Spurs (4-2-3-1):- Lloris (Capt.); Aurier (sub Doherty, 81), Sanchez, Alderweireld, Reguilon; Ndombele, Hojbjerg; Bale (sub Lamela, 70), Lucas Moura (sub Dele, 66), Son; Kane
Subs not used:- Hart; Dier, Davies; Sissoko, Winks; Vinicius
No bookings
Burnley (4-4-2):- Pope; Lowton, Tarkowski, Mee (Capt.), Taylor; Brownhill, Westwood, Cork (sub Stephens, 81), McNeil; Vydra (sub Wood, 73), Rodriguez (sub Richardson, 88)
Subs not used:- Peacock-Farrell; Bardsley, Long, Dunne; Benson, Driscoll-Glennon
No bookings
Bale to the fore as Spurs score four!
It was a great day for Gareth Bale today as he scored not once, but twice as well as getting the assist for Harry Kane's goal with a superb long pass. The tension for Spurs fans was eased in only the second minute as Bale timed his run to score from a cross by Son. In truth there would have been an almighty inquest if Spurs had not beaten this Burnley team, but win they did with some slick and stylish football.
Bale started only his third Premier League game of the season and his first since a dismal defeat at Brighton a month ago. Gareth has been man of the match in two of his last three appearances (runner-up in the other) and he is the hot favourite to win the award for this game. Jose Mourinho had hardly any injury issues, with Giovani Lo Celso back in training, but not fit for matches yet. Serge Aurier returned at right back. There was no place for Joe Rodon in the team, or on the bench, which is something of a mystery. However, it has to be said that Jose's choice of Sanchez and Alderweireld at the back worked admirably, with Davinson having one of his best games n a Spurs shirt. That said, it has to be acknowledged that Sean Dyche had to play a second string front two with Vydra and Rodriguez getting the nod. Chris Wood has been injured and was on the bench, but another of Burnley's absentees was Ashley Barnes.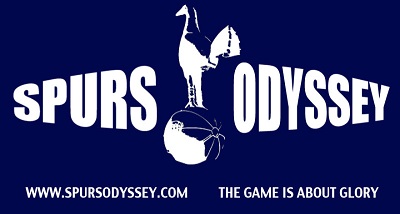 THFC would not allow me the fly the Spurs Odyssey flag in the stadium for these behind closed doors games but it will feature in my match report!
We didn't quite get the front four that had been urged by many fans, with dele on the bench, but Lucas Moura got the nod for the position between Bale on the right and Son to his left. When we last played Burnley at home (and beat them 5-0) we had a dream start with the first goal scored inside four minutes. This start was even better. Spurs had kicked off, playing towards the North Stand and after only one minute Tanguy Ndombele brought the ball forward from his own half. The ball was fed to the left where Son continued the forward momentum before sending a cross into the danger zone. The Burnley defence and goalkeeper Pope seemed to stand still as Bale jumped the defensive line and scored with a simple touch from Son's cross. He had been onside. It was Gareth's seventh goal of the season, but only his second in the Premier League this season. The first had been a precious winner in the home game against Brighton.
Lucas Moura brought the ball further forward than had Ndombele with a good run from left of centre. The move continued through Bale and Aurier before Gareth Bale hit a left-footed shot which was blocked. Harry Kane was next to try the "through the middle" advance, finding a position to hit a right-footed shot which passed just wide of the post.
Burnley were keen to try and get back on terms, and Brownhill tried a long distance shot which passed outside Hugo's right post. Sanchez did well to force Rodriguez away from a shooting position, despite being inside the area, and the Burnley forward ran the ball out of play. After 8 minutes Rodriguez met a Lowton ball, but headed it into Lloris's arms.
Toby Alderweireld hit a typical long ball forward to Son, who was in an inside right position. Son passed inside to Lucas who got past one defender before his shot was saved by Pope. I felt that Lucas had to score here. The move deserved a goal, exemplifying the fast slick football we were playing. Bale, Kane and Son moved the ball forward with style and after "Sonny" fed the ball to his right for Bale, Gareth's cross missed everyone.
Spurs went two goals up inside 5 minutes with a great goal. Bale had been deep in his own half and hit a sumptuous long pass to Kane down the left flank in the Burnley half. Harry came in side before despatching an unstoppable right foot shot inside Pope's right post for club goal number 210. The shot took a slight deflection, but was goal-bound all the way.
Spurs, through Kane, Son and Bale, continued to play quality football. I wondered why we had seen so little in this fashion all season. Good passes were being played and the recipients were controlling them very well indeed. Sanchez was to the fore again at the back, with his pace preventing Vydra from getting goalside to cause danger. Vydra did stab at a ball crossed from the right, but the shot was always going wide.
Spurs had a very good move from their own half, fired by Reguilon, Lucas Moira and Son, before a pass to Bale towards the right of goal. Bale skied this effort. Spurs went three up in the 31st minute after Reguilon crossed from the left. Tarkowski might have got a slight headed touch on the ball, but it continued on its path to Lucas Moura who scored with his left foot shot after taking one touch.
Almost everyone was getting in on the act for Spurs and Serge Aurier showed great skill and determination on bringing the ball forward diagonally from the right flank. Serge gave the ball to Lucas, whose shot was way too high. Another good Spurs move started in their own half with Lucas and Son playing well to bring the ball forward. T the end of the move Son teed up Aurier, but he skied his shot. Burnley had a free kick in added time and this move ended with a shot on target by Rodriguez, held comfortably by Lloris.
Burnley kicked off the second half and early on Spurs made heavy weather of playing the ball out from the back with short passes to players under pressure from Burnley's pressing forwards and midfield. It wasn't too long though (55th minute) before we added to our tally in superb fashion. Reguilon released Son on the left flank. "Sonny2 moved inside and found Bale in space on the right of the area. Son's pass was perfect and Bale's execution was supreme as Pope was again left standing and a spectator as Bale hit his left-footed shot inside the right post.
Spurs had their first corner of the game after 61 minutes. This was taken by Son, and , met by Reguilon who tried a difficult volley, hitting the ball way too high. At the other end, Toby Alderweireld closed down his opposite number four – Jack Cork – on the edge of the Spurs area. Tanguy Ndombele had been playing an effective role next to the industrious Hojbjerg, but he made a mistake and lost the ball which led to another threat by Vydra who was closed down well by Sanchez, who cleared the danger.
Dele Alli replaced Lucas Moura and for a couple of minutes at least we had the "Fab four" of Bale, Dele, Son and Kane on the pitch. That didn't last long though, as Bale was soon replaced by Lamela. In between the substitutions, Vydra had had a shot on target following a Burnley free kick, but Lloris had saved that without trouble.
"Sonny" passed to Kane from the left and Harry hit a powerful right-footed shot which Pope saved well with his swinging left hand. Pope's next save was low to his left from Son after a good ball by Dele.
Chris Wood had replaced Vydra and his height and heading ability led to a chance for McNeil from an angle on the left where Lloris again saved comfortably at his right post. Dele passed to Kane on his left and Kane passed for Son, but the shot was skied. Rodriguez had a header hit the bar at the other end from a ball crossed from the right, but referee Kevin Friend had spotted a foul in the build-up. Mr Friend booked nobody today, and I felt was generally "invisible". He is an official who likes to let the game flow.
In the dying minutes, Sean Dyche, who was short of resources, gave a debut to 18-year-old striker Lewis Richardson, who quickly won a corner. Burnley had two corners, the second of which was held by Lloris who released Kane who made a bee-line for the opposite area. Harry passed to Son to his right, who returned the ball, but Harry pulled his shot wide of the far post.
Pierre-Emile Hojbjerg needed treatment to his ankle in the last minute of added time, which might be a concern for our upcoming games. Spurs started this game in 10th place, after Arsenal had beaten Leicester away, but we finished 8th, going above Villa on goal difference. Next up are Fulham on Thursday when similar high energy will be required. Whatever the opposition, this was a very refreshing performance and a vital win.
· See the exclusive "Spursometer" and have your say regarding the performances of the team, individual players, manager and officials.
· Squad numbers,appearances,bookings & goalscorers
· Read the preview for this game.
· All the Spurs Stats you could hope for here! THFC6061 Sports Stats