∑ Last season's game - Spurs 5 Burnley 0, 07.12.19 - Son scored the Premier League's goal of the season.
∑ This season's away game - Burnley 0 Spurs 1, 26.10.20 - Son scored the winner to go top of the goal-scorers' list.
∑ Premier League Matchday 26 - last year
∑ See the current injury list for all Premier League Teams
∑ All the Spurs Stats you could hope for here! THFC6061 Sports Stats


Full League Record of Spurs -v- Burnley
 
Prem          Pl   W   D   L   For- Ag  Pts
Home           6   5   1   0   16 -  3  16
Away           7   3   2   2   10 -  7  11
==========================================
Total(Prem)   13   8   3   2   26 - 10  27  Pts per game 2.08
==========================================
Football Lge
Home(Div 1)   34  17   7  10   75 - 44  41 
Away(Div 1)   34   6  10  18   44 - 74  22
==========================================
Total(Div 1)  68  23  17  28  119 -118  63
==========================================
Football Lge
Home(Div 2)   10   8   2  0    34 -  7  18 
Away(Div 2)   10   1   3  6     6 - 13   5  
==========================================
Total(Div 2)  20   9   5  6    40 - 20  23 
==========================================
Total(Prem)   13   8   3   2   26 - 10  27
Total(Div 1)  68  23  17  28  119 -118  63
Total(Div 2)  20   9   5   6   40 - 20  23   
==========================================
Grand Total  101  40  25  36  185 -148 113 
==========================================

Last Six Premier League results:-

Spurs      -    LLLWLL
           
Spurs      1-3    Liverpool
Brighton   1-0    Spurs
Spurs      0-1    Chelsea
Spurs      2-0    West Brom
Man City   3-0    Spurs
West Ham   2-1    Spurs

Burnley    -    LLDWDD

Chelsea    2-0    Burnley
Burnley    0-2    Man City
Burnley    1-1    Brighton
C. Palace  0-3    Burnley
Burnley    1-1    Fulham
Burnley    0-0    West Brom

Pos           P  W  D  L   F-A   GD  Pts
 9. Spurs    24 10  6  8  37-27  10   36
15. Burnley  25  7  7 11  18-30 -12   28 

First things first
Spurs have learnt who their Europa league opponents will be (Dinamo Zagreb) with the first leg on March 11th, but before that they have three crucial Premier League fixtures against Burnley(H), Fulham (A) and Crystal Palace (H). Ideally, we want maximum points from those games to get back in the domestic hunt for a European place next season. So, first things first, we play Burnley on Sunday, kicking off at 2pm.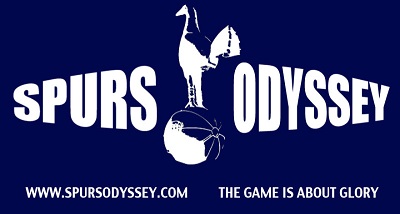 THFC would not allow me the fly the Spurs Odyssey flag in the stadium for these behind closed doors games but it will feature in my match report!
We have a better points per game record against Burnley than against any other current Premier League team (2.08) in that competition. Our overall record, especially away from home, is not so good. We did win this season's away game 1-0 thanks to a Son goal laid on by Harry Kane, of course!
We have not lost a home Premier League game against Burnley, whose last win of any nature at White Hart Lane was a 5th round League Cup tie in January 1983. Graham Roberts had the misfortune to score two own goals in a 4-1 defeat. Terry Gibson scored our goal, and we did have a decent team out that night.
There were two own goals (by Mike England and John Pratt) when Burnley last beat us on our ground in a League match. That was a 3-2 defeat in October 1974. By a strange quirk of fate, having scored own goals in the first half, both England (80) and Pratt (78) scored our late goals to draw us level before Leighton James scored an 89th minute winner. Phil Beal was sent off in that game to add to our day of misfortune.
100 years ago, Burnley won the League Championship, although they failed to win any of their last 6 games. Spurs, of course, won the FA Cup and the Charity Shield (between the two sides) was played at the end of the 1920-21 season on Monday May 16th at White Hart Lane. Spurs had won the FA Cup on April 23rd, and also suffered mixed form, winning just one of their five league games which followed. We won that Charity Shield though, with goals by Bert Bliss and Jimmy Cantrell.
Burnley's one other top flight title was in the 1959-60 season, the year before our glorious double. The two teams were great rivals in this period, meeting in the 61-62 Cup Final.
Last seasonís game played in December 2019 featured Son's box-to-box run and goal which won him several awards including the FIFA 2020 Puskas award. "Sonny" was especially pleased to score our first goal against Wolfsberger last Thursday in the Puskas Stadium, Budapest. I remember David Pleat used to describe Ferenc Puskas as possessing the greatest left foot in football history. Mind you, I am quoting him from nearly 20 years ago. Puskas was a member of the famous Hungary team that beat England at Wembley 6-3 in November 1953. Puskas scored two of those goals. One of the England goals was a penalty scored by our own Alf Ramsey. Another Spurs player - George Robb was in the England side that day.
Unencumbered by any distraction of Cup Football (they lost 2-0 at home to Bournemouth in the FA Cup 5th round), Burnley's one remaining objective is to ensure an eighth Premier League season. Sean Dyche has been Burnley's manager since November 2012 and has therefore given the club six of their seven Premier League campaigns to date. By finishing seventh in 2017/18 they even had a chance of Europa League football, but they fell foul of Olympiacos in the play-off round.
Burnley are only 8 points behind Spurs, but closer to the bottom three with Fulham six points behind going into this weekend's games. Burnley's recent results include draws with three teams below them - Brighton, Fulham and West Brom. With difficult games to come (they face Arsenal, Everton, and Leicester after us) Dyche might rue the failure to beat the teams in his "mini-league".
Burnley have been missing some of their key players recently and both Gudmundsson and Ashley Barnes have been ruled out of Sunday's game. There will be late fitness tests for no less than five players, Chris Wood, Erik Pieters, Dale Stephens, Robbie Brady, and Jay Rodriguez. Wood, Rodriguez, and Stephens are said to have a 75% chance of being ready.
Spurs, of course, would be grateful for a league win against anybody. Their form over the last 6 league games, which include 5 defeats, does not compare favourably with that of Burnley, who have lost two of their last six. The good news is that everybody is back in training for Spurs. Even Giovani Lo Celso is training with the other players, but he is not expected to be available for at least a week. Serge Aurier could play on Sunday, but more certainly next Thursday against Fulham.
After their performances this week against Wolfsberger there is a clamour for both Dele Alli and Gareth Bale to be involved from the start of this game. We'll have to wait and see. Hojbjerg wasn't on Wednesday night's bench. Harry Kane, Heung-min Son and Sergio Reguilon didn't get involved, so there's four names on the team sheet plus of course Hugo Lloris. I'd like to see Rodon given an outing, perhaps next to Toby Alderweireld. I'm going for a good Spurs win - 3-0.
This will be match referee Kevin friend's second game in charge of Spurs this season. His last game was our away draw against Crystal Palace, after which stood top of the league until we were beaten in midweek at Anfield. How we have fallen in 12 games and less than three months!