PREMIER LEAGUE
THURSDAY 4TH FEBRUARY, 2021
(8pm)
TOTTENHAM HOTSPUR 0(0) CHELSEA 1(1)
Scorer:-
Jorginho (pen), 24
Attendance:- 0
Referee:- Andre Marriner
Assistants:- Scott Ledger, Simon Long
Fourth official:- Andy Madley
VAR:- Stuart Attwell
Assistant VAR: Adam Nunn.
Teams:-
Spurs (4-2-3-1):- Lloris (Capt.); Aurier, Alderweireld, Dier, Davies; Sissoko, Hojbjerg; Bergwijn (sub Lucas Moura, 69), Ndombele (sub Lamela, 69), Son; Vinicius
Subs not used:- Hart; Doherty, Sanchez, Rodon, Tanganga; Winks, Bale
Booked:- Alderweireld (foul on Mount); Hojbjerg (foul on Jorginho)
Chelsea (3-4-3):- Mendy; Azpilicueta (Capt.), Thiago (sub Christensen, 36), Rudiger; James, Jorginho, Kovacic (sub Kante, 74), Alonso; Hudson-Odoi (sub Pulisic, 65), Werner, Mount
Subs not used:- Arrizabalaga; Chilwell, Emerson; Ziyech; Abraham, Giroud
Booked:- Pulisic (foul on Hojbjerg), Kante (foul on Lucas Moura), Azpilicueta (foul on Son)
Spurs have the losing habit.
Spurs have the losing habit. The team that in November was being spoken of as potential champions has fallen seven points behind the top four, and fourteen points behind the league leaders. Our default direction on the pitch is backward. Our default direction in the table is downward. Players' confidence is low. Entertainment value for the fans is currently nil. It is not good to be a Spur at this time.
How and why has our club dropped to such depths? We know about the absences of key players such as Kane and Reguilon through injury. We also have Lo Celso and Dele injured, although of course Dele doesn't get much game time under Mourinho anyway. Heung-min Son looks like a lost boy on the pitch at the moment without Harry to feed him the number of chances he has earlier in the season. "Sonny" hasn't scored in six games now. I don't know if Son's father still lives with him (as depicted on a recently shown documentary), but the extra practice is not working.
We played a back four today, but that back four became a back six too often with Sissoko and Hojbjerg required to assist the defence. So, back three or back four, we still end up playing a back six. I was envious of Chelsea's total control, their desire and movement. The average position of virtually all Chelsea players must have been in our half for the first half of the game. I spotted two of their centre-backs there at the same time, and not for a dead ball situation.
A lot of the blame has to fall at the feet of the manager, surely. In the second half Spurs at least showed more desire to get forward and to chase the game. Perhaps if they had played in that fashion in the first half, they might have got something out of the game. In some regard the statistics might be kind to Spurs insofar as both sides had two shots on target. Chelsea had far more shots; far more possession and more corners though. In simple terms we lost the game because of a silly penalty given away by a desperate Eric Dier, but let there be no mistake, we have looked second best in each of the three consecutive games we have just lost, all in the space of 8 very depressing days.
At this rate by the time we are allowed back in the stadium, we won't want to go. Chelsea were in total control. We have no confidence whatsoever. Where does Harry go in the summer?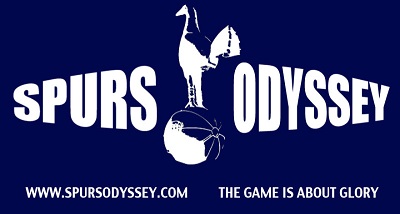 THFC would not allow me the fly the Spurs Odyssey flag in the stadium for these behind closed doors games but it will feature in my match report!
My predicted team was almost right. Spurs played a back four and Carlos Vinicius made a first Premier League start. He got little service in the first half. Serge Aurier was reprieved after his shenanigans last week and made his 100th club appearance. Thomas Tuchel made one change in personnel with James starting instead of Abraham, but there was a change of position too with Hudson-Odoi playing as one of the front three.
The whole match was played in teeming rain, but the surface held up very well. Chelsea kicked off and within 12 seconds Azpilicueta hit a long ball towards Werner whose header thankfully passed wide. Oh for such direct football! Spurs would have passed the ball back to Lloris and after playing it out would lose it at the half-way line. After 56 seconds, Ndombele fouled Werner and Mason Mount's free kick was thankfully cleared. Ndombele suffered some retribution when James trod on his foot. That's the third time in two games I think Ndombele has suffered that treatment. He doesn't have a good pain threshold and always has me worried about his fitness to continue.
Chelsea had their first corner after three minutes, taken short and coming to nought. Spurs had a nice move after 5 minutes with Son carrying the ball to the right of Chelsea's area. After passes by Bergwijn and Aurier, "Sonny" did get a left foot shot on target, but this was easy for Mendy. There was also some good play by Bergwijn bringing the ball out of defence and successfully carrying it forward down the right flank. When he passed inside to Vinicius, I am afraid our reserve striker over-ran the ball.
After 10 minutes, Chelsea had had three corners. We had none. They were more or less camped in our half, remember? After 19 minutes (and another Chelsea corner), Vinicius fielded and controlled a long ball forward, passing it to his left to Ndombele who hit a cross/shot which was collected by the goalkeeper.
After 22 minutes, Dier made at least three attempts to clear the ball from the feet of Werner inside the area, but towards Spurs' left edge. After Werner went down with Dier's third desperate hack at the ball, referee Andre Marriner pointed to the spot and Jorginho planted the ball in the net, to the right of Lloris, without so much as his usual skip. The statistics won't tell you that we gifted them their solitary goal, but Eric Dier, Jose's "favoured one" did that. (He speaks Portuguese, you know).
Bergwijn made a very good tackle to deprive Rudiger of the ball, only just outside our area. All three of Chelsea's centre-backs got deep into our area at times. Mason Mount had room and time to pick a good spot for a shot, but hit it wide across the goal. Thiago went down injured and had to be replaced by Christensen. Chelsea were in total control. They had corner number 5, taken by Mount, but that was wasted.
Spurs had a free kick just before the break after Aurier was fouled. "Sonny" took the kick and Aurier was in the middle to put a header wide of Mendy's left post.
Spurs kicked off the second half and played towards the south Stand. We actually won an early corner (our first I am sure) after a cross by Davies. Nothing came of that, but Spurs had clearly been given the proverbial kick up the backside, as they were getting forward, playing with the sot of desire that we fans expect all the time.
Toby Alderweireld was booked for a foul on Mount near the half-way line, which seemed a bit unnecessary, but Mount was a constant danger, feeding a ball to Hudson-Odoi who pulled a right-footed shot wide. Mount hit a longish ball into the area from the right and Aurier made an important tackle on Werner as he pulled the trigger. Now Hojbjerg was shown his fifth league yellow of the season for fouling his opposite number in the Chelsea half. Hojbjerg is a fighter but that was indiscipline.
That early second half form by Spurs had faded and the visitors were threatening us again. James cut a ball back from the right of the area and Alonso fired high and wide. Eric Dier over-hit a back pass to Lloris (of course it was a back pass!) and Hugo managed to head the ball away just enough from the feet of Mount, although it took Spurs a while to totally clear the danger. Hugo was brave to dive and save at the feet of Chelsea substitute Pulisic who did get a touch on Mount's pass. Make no mistake. Hugo was our best player.
Spurs lost the ball in the middle and Kovacic was allowed a run from halfway to the edge of our area, but thankfully put his shot wide. Tuchel was livid. I am livid that Spurs allowed that to happen, and that was not the only instance either. I am also livid that we showed no such threat.
Eric Lamela and Lucas Moura were introduced for Ndombele and Bergwijn respectably. Lamela in particular had a positive influence on our efforts, I feel. Hugo made a good left handed save from a shot by Mount after Werner's pass. At the other end, Lamela forged a path to a shooting position and Mendy also had to make a good save, diving to his right. Hojbjerg and Son had been involved in the move before Erik's shot. Lucas Moura also tried a shot from 25 yards but this passed well over the bar.
Spurs had a genuine good chance to equalise after 86 minutes when Aurier crossed and Vinicius rose to head, but put it wide of the back post. Dier hit a rather poor free kick wide after Son had been fouled by Azpilicueta. At the other end Dier made a vital block from a shot by Werner. There were three minutes of added time and Spurs' last chance to steal a draw came at the end of a move involving Hojbjerg, Son and Lucas Moura, before son's right foot shot passed over the target.
Next up are West Brom on Sunday, and no Spurs fan can have faith in their team on current form. We are in a League Cup Final in April, but let's face it on current form, we will lose that. On current form we will be knocked out of the FA Cup next Wednesday at Goodison Park. Europa League? Come off it. My biggest fear is that the confidence levels in our players are as low as those of the fans. If we were in the ground, we would be urging them on. They desperately need us, whatever you might feel about them.
· See the exclusive "Spursometer" and have your say regarding the performances of the team, individual players, manager and officials.
· Spurs' record in recent London Derby matches
· Squad numbers,appearances,bookings & goalscorers
· Read the preview for this game.
· All the Spurs Stats you could hope for here! THFC6061 Sports Stats