· Last season's game - Spurs 0 Chelsea 2, 22.12.19
· This season's away game - Chelsea 0 Spurs 0, 29.11.20
· Premier League Matchday 22 - last year
· See the current injury list for all Premier League Teams
· All the Spurs Stats you could hope for here! THFC6061 Sports Stats

Full League Record of Tottenham Hotspur -v- Chelsea

Premier      Pl   W    D    L    For-Ag  Pts
Home         28   6   10   12    34- 47  28
Away         29   1   10   18    21- 55  13
===========================================
Total (Prem) 57   7   20   30    55- 102 41  0.719 Pts per game
===========================================
Football Lge
Home (Div 1) 42  20    9   13    79- 57  51
Away (Div 1) 42  19    6   17    63- 50  46
===========================================
Total(Div 1) 84  39   15   30   142-107  97
===========================================
Football Lge
Home (Div 2)  2   1    1    0     7-  4   3
Away (Div 2)  2   0    1    1     1-  4   1
===========================================
Total(Div 2)  4   1    2    1     8-  8   4
===========================================
Total (Prem) 57   7   20   30    55- 102 41 
Total(Div 1) 84  39   15   30   142-107  97
Total(Div 2)  4   1    2    1     8-  8   4
===========================================
Grand Total 145  47   37   61   205-215 142
===========================================

Last Six Premier League results:-

Spurs      -    DWDWLL
           
Wolves     1-1    Spurs
Spurs      3-0    Leeds
Spurs      1-1    Fulham
Sheff Utd  1-3    Spurs
Spurs      1-3    Liverpool
Brighton   1-0    Spurs

Chelsea    -    DLWLDW

Chelsea    1-1    A. Villa
Chelsea    1-3    Man City
Fulham     0-1    Chelsea 
Leicester  2-0    Chelsea 
Chelsea    0-0    Wolves
Chelsea    2-0    Burnley

Pos           P  W  D  L   F-A   GD  Pts
7. Spurs     20  9  6  5  34-21  13   33 
8. Chelsea   21  9  6  6  35-23  12   33 

No good reason to change my prediction made on Sunday night.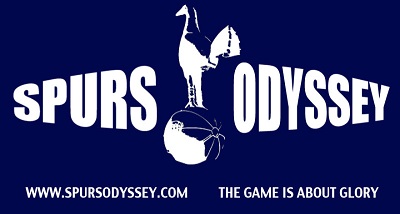 THFC would not allow me the fly the Spurs Odyssey flag in the stadium for these behind closed doors games but it will feature in my match report!
There is no good reason to alter the prediction I made when reporting on Sunday night's defeat at Brighton. That was to anticipate defeat tomorrow night against Chelsea. We go into the game above the side which remains our greatest nemesis in terms of points gamed in 57 Premier League meetings so far. As can be seen in my match statistics above, that points per game ratio is a paltry 0.719. In 57 attempts, we have won just 7 times, 6 of which have been at home. We've had a couple of significant League Cup wins of course, one in a semi-final and one in our last trophy-winning match in 2008. That's 13 years ago.
Since we won that 2008 Carling Cup Final, Chelsea have won no less than 11 major trophies. Since the Abramovich era began in 2003, this club has gone through no less than 14 managers, including the appointment and sacking (twice) of our current head coach. The latest casualty of the ruthlessness of the Chelsea executive was of course Frank Lampard, who was sacked on 25th January after a run of only one win in five league games and a drop to 9th place in the table. Chelsea had suffered five defeats in their previous eight league games, as many as they had in the preceding 23. Thomas Tuchel, latterly of PSG and previously Borussia Dortmund (and a Spurs fan!) was confirmed as Chelsea's new head coach the day after Lampard's departure.
Tuchel's first two games have been at home and his team drew 0-0 with Wolves before beating Burnley 2-0 on Sunday lunchtime. Tuchel's managerial career started with Mainz in Germany before he moved to Borussia Dortmund for the 2015/16 and 16/17 seasons. We were beaten at home and away in the Europa League in his first season, and by the time we played them again, he had moved on to PSG where he spent two and a half seasons before this latest move.
In his two games in charge of Chelsea Tuchel has already had a good look at 18 of his players as follows:-

                            Mendy

              Azpilicueta   Thiago      Rudiger

    Hudson-Odoi   Jorginho     Kovacic   Chilwell/Alonso

      Ziyech/Mount    Giroud/Abraham     Havertz/Werner

     Subs used:- Pulisic, Abraham, Mount, James, Havertz,

Azpilicueta, who has now made 282 Premier League appearances for Chelsea, made just seven starts for Lampard. Alonso, who scored on Sunday against Burnley, hadn't played since September. Rudiger has played in both Tuchel's games but was hardly getting a look-in for the former coach. Tuchel knows Thiago Silva very well, of course. Hudson-Odoi has started and impressed in both these recent games, and he too was not getting many games. Tuchel clearly favours the solidity of Jorginho and Kovacic in front of the defence. The thing about Chelsea, of course, is that they have so many players to choose from. They also have no injury issues for this game.
We do go into this game above Chelsea, but after Everton's win at Leeds, both teams have dropped a place. West Ham won at Villa and sit five points above us. Now that is depressing, isn't it? If we lose tomorrow, the top four will look even more distant.
Spurs do have injury problems, with Harry Kane out. However, in his press conference today, Jose Mourinho said that Harry is hopefully going to be back next week. Perhaps not for Everton, but maybe for Man City. Sergio Reguilon, Giovani Lo Celso and Dele Alli are not available. Jose made encouraging noises about Dele in the press conference, even suggesting that with Ndombele's increased stamina, there could be room for both in the team. Serge Aurier is back in the squad, and whilst Jose was not going into details, his absence at Brighton must have been for disciplinary reasons I feel.
"Spurs world" is in deep depression following our last defeats, in which we have seen a failed defensive strategy along with too much inability to pass and move to good effect. That does not end the list of defects. Having said there is no good reason to alter the prediction I made when reporting on Sunday night's defeat at Brighton, I have to confess that in my prediction league I have gone for a (hopeful) draw. I hope to be wrong in that too, and to see a win which would boost our morale, and that of the team immensely. We surely have to adopt a positive, not shell-like defensive attitude. Let's see our team going toe-to-toe, and let's see them give Chelsea something to worry about. I'd go with Lloris; Aurier, Alderweireld, Dier, Davies; Sissoko, Hojbjerg; Lucas Moura, Ndombele, Son with Vinicius to lead the line. Somehow, I suspect we'll see something different.
We waited all season until our win at Sheffield United last month to see referee Andre Marriner in the middle, and now we have him again. This will be Mr. Marriner's 45th game in charge of Spurs. Mr. Marriner averages a respectable 5.84 out of 10 over all the games he has refereed Spurs. One of his worst ever assessments from Spurs Odyssey voters came in a 2-1 defeat to Chelsea in April 2011 when a Frank Lampard equaliser on the stroke of half-time was shown not to have crossed the line. Those were days before even goal-line technology.
· Spurs record in recent London Derby League matches