PREMIER LEAGUE
SUNDAY 22ND DECEMBER, 2019
(4.30pm)
TOTTENHAM HOTSPUR 0(0) CHELSEA 2(2)
Scorer:-
Willian, 12, 45 (+4) (pen)
Attendance:- 61,104
Referee:- Anthony Taylor
Assistants:- Gary Beswick, Adam Nunn
Fourth official:- Andre Marriner
VAR:- Paul Tierney
Assistant VAR:- Eddie Smart.
Teams:-
Spurs (4-2-3-1):- Gazzaniga; Aurier, Sanchez, Alderweireld, Vertonghen (sub Rose, 74); Sissoko, Dier (sub Eriksen, 46); Lucas Moura (sub Ndombele, 74), Dele, Son; Kane (Capt.)
Subs not used:- Vorm; Foyth; Winks, Lo Celso
Booked:- Dele (unsporting conduct), Gazzaniga (foul on Alonso), Sissoko (foul on Willian), Alderweireld (handball)
Sent off:- Son, 62 (Violent conduct)
Chelsea (3-4-3):- Arrizabalaga; Rudiger, Zouma, Tomori; Azpilicueta (Capt.) (sub James, 80), Kante, Kovacic (sub Jorginho, 68), Alonso; Mount, Abraham (sub Batshuayi, 80), Willian
(Armband to Jorginho)
Subs not used:- Caballero; Christensen; Hudson-Odoi, Pulisic
Booked:- Zouma (preventing free kick being taken after foul on Kane), Kovacic (unsporting conduct), Rudiger (foul on Sanchez)
Spurs attract all the wrong headlines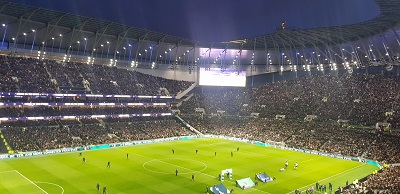 My report of this miserable performance and result for Spurs was going to be different, but one or perhaps more Spurs fans (and we should add "allegedly" at this time) have besmirched the name of the club we all love because of reported racist behaviour (monkey chants) towards Chelsea defender Antonio Rudiger. The behaviour followed Rudiger being the victim of a petulant kick to the chest by Son Heung-min who was sent off for a third time in 2019. One of those cards was rescinded, but there will be no appealing this one, and Son will miss the next three games. The alleged racist incident has attracted all the wrong headlines for Spurs (but of course the right headlines regarding what is truly disgusting behaviour), who were the number one story on TV news programmes and in all the sports pages.
Following the incident, Spurs followed an agreed protocol by broadcasting the following message three times during the remainder of the game: - "Racist behaviour amongst spectators is interfering with the game. Please remember in football there is no place for racism."
So, as a result of the behaviour of perhaps one individual in the 61,104 crowd (the largest so far at the new stadium), all Spurs fans will now be besmirched with racism allegations. That should make our return visit to Chelsea in February a wonderfully hospitable affair. Thanks a bunch to the person(s), who if found and if proven should be named, shamed and of course banned.
That intended headline was "Master out-shone by former pupil" for that is what Frank Lampard did here with his 3-4-3 formation (later derided by Mourinho as a Conte imitation) which truly overwhelmed Mourinho's already predictable 4-2-3-1 which included a hapless Eric Dier in midfield who was replaced at half time by Eriksen. On a day when we all hoped for a Spurs win which would have given us and not Chelsea fourth place, Lampard's team opened the gap and Spurs find themselves in seventh place below Sheffield United and Wolves. There are two recently promoted teams who have reached deserved heights in the table. Spurs are above Manchester United who failed at Watford today, but both teams face a battle to reach that top four now.
Spurs imitated the Chelsea pre-match light show with alternating dark and light, and the game was preceded by one minute's applause for Martin Peters, whose death had been announced on Saturday. I noticed that Chelsea fans joined that applause.
Chelsea kicked off and played towards the South Stand, and it wasn't long before their fans chanted "Champions of Europe, you'll never sing that". Well, yes, we certainly blew our chance this year, didn't we? Those same fans would be singing "Super Frankie Lampard" before long too.
Chelsea were camped in the Spurs half for most of the first half, but I had noted skill displayed out on the right in the Chelsea half by Aurier, Dele, Dier and Sissoko as Spurs tried to make headway. That came to nought though and Rudiger tried a long shot which passed wide after 9 minutes. After a short corner taken on the left by Willian and an exchanged pass with Mason Mount, Willian was able to advance to the corner of the Spurs area and planted a right foot shot into the far corner around Gazzaniga. My 2-1 prediction was on the cards. "F*** off Mourinho" chanted those same fans for whom he had won trophies.
Willian had started on the left side for Chelsea, but now he turned up on the right, winning another corner. Abraham had several chances, but luckily for Spurs they were not on target. Alonso had a shot blocked and Mount hit one wide with Willian prominent again. Sissoko exchanged passes with Lucas Moura on the right before hitting a short cross to Kane who put his right foot shot over the target. Over the course of the game Spurs forged so few chances and not one shot on target until the late stages of added time, by which time dear reader I had departed. Apparently that late shot was also by Kane and held by the Chelsea keeper.
Almost the only other chance of note for Spurs came when Kane crossed from right of goal to Son on the left, who also scooped over his shot. Dier hit a long ball aimed for Dele who was being watched by Rudiger, but the ball ran to the Chelsea keeper. Sissoko made a strong run receiving return passes from Lucas Moura and Kane (via a defender) before colliding with the keeper. Referee Anthony Taylor gave a free kick to Chelsea. Moore good play by Sissoko gave possession to Dele, but he was easily dispossessed by the Chelsea midfield pack of three which surrounded him. Dele and Kovacic were then both booked for a bit of "afters" I think when the ball had run away from them.
In added time a moment of madness by Gazzaniga led to a Chelsea penalty awarded not by the referee, but by VAR. Alonso was racing into the area for a Willian ball. Gazzaniga advanced and surely could have reached the ball with his hands, but hit Alonso with a reckless high kick. Willian sent Gazzaniga the wrong way. Gazzaniga was also booked. My 2-1 prediction was up the spout and so were Spurs' chances of getting back into the game.
Mourinho sent his team out early for the second half, with Eriksen in place of Dier. Chelsea had the ball in the net for a third time after 54 minutes through Abraham. Gazzaniga had parried a shot by Alonso and Abraham followed up but he had been offside when Alonso hit his shot.
The game was well and truly beyond Spurs when Son was sent off. He tangled with Rudiger as the ball ran out of play for a throw-in, and in the follow-up Son aimed his boot at Rudiger's chest. The VAR review took an age but it confirmed a red card for Son. I don't understand why Spurs fans applauded Son off the pitch for what had been an act of petulance and one which cost his side dearly in this game, and will cost us in our next three games. It was after this incident when Rudiger reported racist behaviour directed at him. I hope the perpetrator is found.
Mourinho made a double substitution after 74 minutes with Rose on for Vertonghen and Ndombele for Lucas Moura. A midfield three with Ndombele has to be on the cards for Brighton, doesn't it? Rudiger was booked for his challenge on Davinson Sanchez who had made a determined run from the Spurs half down the left flank.
Those protocol announcements were causing consternation in the crowd and quite frankly the atmosphere had long since faded, although of course Chelsea fans continued to gloat. Spurs had a free kick on the edge of the area. We all knew it was a free kick but we had to suffer another long VAR review for a possible penalty which was eventually not given. Eriksen's free kick was blocked. Chelsea broke forward, and they had been exposing space on Spurs' left flank several times in these closing stages. Willian passed to Kante who was in space and it was Eriksen who made a winning tackle. That was noteworthy!
There no less than 8 minutes of added time to endure and another Willian ball went to substitute Batshuayi whose shot passed wide.
I cannot remember the last time I walked away from a pre-Christmas game feeling so miserable about a Spurs performance and of course a result against bitter rivals. "Fortress Tottenham" is not exactly proving itself so far as we have lost virtually all the big games we have witnessed at the new stadium. Losing at home to rivals such as West Ham and Chelsea since the move has not been fun. Let's hope we do better when Arsenal come in April, and that by then our fortunes have improved.
Despite the pain of defeat, it is my privilege to wish you and all your loved ones a very merry Christmas and let's see a Spurs vision in 2020!
· See the exclusive "Spursometer" and have your say regarding the performances of the team, individual players, manager and officials.
· Spurs' record in recent London Derby matches
· Squad numbers,appearances,bookings & goalscorers
· Read the preview for this game.
· All the Spurs Stats you could hope for here! THFC6061 Sports Stats