PREMIER LEAGUE
THURSDAY 28TH JANUARY, 2021
(8pm)
TOTTENHAM HOTSPUR 1(0) LIVERPOOL 3(1)
Spurs scorer:-
Hojbjerg, 49
Liverpool scorers:-
Firmino, 45+4
Alexander-Arnold, 47
Mane, 65
Attendance:- 0
Referee:- Martin Atkinson
Assistants:- Lee Betts, Constantine Hatzidakis
Fourth official:- Kevin Friend
VAR:- Jonathan Moss
Assistant VAR: Dan Robathan.
Teams:-
Spurs (3-4-3):- Lloris (Capt.); Rodon, Dier, Davies; Aurier (sub Winks, 46), Hojbjerg, Ndombele, Doherty; Bergwijn (sub Bale, 81), Kane (sub Lamela, 46), Son
Subs not used:- Hart; Alderweireld, Sanchez; Sissoko, Lucas Moura; Vinicius
Booked:- Bergwijn (foul on Alexander-Arnold)
Liverpool (4-3-3):- Alisson; Alexander-Arnold, Matip (sub Phillips, 46), Henderson (Capt.), Robertson; Wijnaldum, Thiago (sub Jones, 78), Milner; Salah, Firmino (sub Origi, 87), Mane
Subs not used:- Kelleher; Tsimikas, Williams; Oxlade-Chamberlain, Shaqiri, Minamino
Booked:- Thiago (foul on Hojbjerg), Phillips (foul on Bergwijn)
Spurs in disarray
Several copybooks were blotted tonight as Spurs were found to be in complete disarray to lose by two goals. Personally, I was not happy with the team selection, strategy and most importantly the inability of the players to defend effectively, to penetrate and to move advantageously on and off the ball. Liverpool, allegedly in the doldrums, were dominant in all departments, and apart from our goal and disallowed goal, we failed to work their keeper, or truly bother their improvised defence.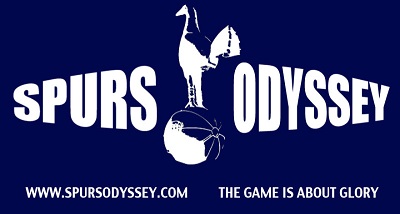 THFC would not allow me the fly the Spurs Odyssey flag in the stadium for these behind closed doors games but it will feature in my match report!
In his press conference yesterday Jose Mourinho had made clear that Lo Celso and Dele Alli would be absent through injury, whilst he also declared that that he had "some problems" in the squad, declining to elaborate. There were worries about both Ben Davies and Matt Doherty. In the intervening period we learnt from social media that Sergio Reguilon would be absent with a muscle injury – one that is likely to keep him out for about three weeks. The club haven't said anything official about this. It turned out that both Davies and Doherty were fit to start and the only change to the team which started at Sheffield United in our last league game 11 days ago was Doherty for Reguilon at left wing-back. Doherty has apparently played on the left for his country in the past.
After a bright start in which we had an early escape before having a "goal" by Heung-min Son disallowed, Spurs hardly tested the Liverpool keeper, despite Hojbjerg's power-driven goal early in the second half. On the other hand, Liverpool, particularly Mane and Salah seemed to be able to get behind the three-man Spurs defence at will. Lloris had to make two or three vital saves, but he is not immune from criticism overall. One wonders why the experienced Toby Alderweireld did not start and very sadly Joe Rodon made an elementary mistake in the second half to allow Liverpool's third goal.
During the game Dier, Kane and Bergwijn seemed to suffer injuries. Harry Kane twice required treatment, ominously to his ankle, and didn't appear for the second half. Son, playing in the middle in place of Kane, was invisible for most of the half.
Liverpool had no Fabinho and Jordan Henderson played on the left of Matip. 35-year-old James Milner was in midfield, and only towards the very end of the game did his stamina start to give out. Liverpool played far better than has been seen of late, although that might appear to be the case because of Spurs' inadequacies.
Liverpool kicked off, playing towards the South Stand. After only a minute they should have scored as Mane raced onto a long ball and passed to Salah to his right. Salah passed back to Mane who ran goalside of the defence but hit his shot wide. It looked as if Spurs had responded in the best way possible in the third minute. Ndombele was playing a deeper role but he found Son with a pass down the middle. Son exchanged passes with Kane then advanced to the left of the area before putting a low shot just inside Alisson's right post. A lengthy review decided that Son had been marginally offside when receiving the initial ball from Ndombele.
There was some good play by Ndombele and Hojbjerg (easily our best player) in midfield before the ball was played forward to Son, but he was easily dispossessed. Lloris hit a long ball and I think Son won it first, working with Kane before the ball was passed to Doherty on the left wing. Doherty tried, but failed dismally, with a pass intended for Bergwijn running to Alisson. Kane was fouled by Thiago and this was when he needed his first round of treatment. Spurs took a poor free kick.
Liverpool now started to take over. Generally they were able to press confidently with two banks of three, sometimes supported by Henderson or one of the full backs. Initially they had possession but couldn't force a shot on goal. Spurs struggled a) to get forward and b) to get past a similar barricade of red shirts at the other end. It was truly quite distressing to see how easily our opponents passed and won the ball, whilst we looked two classes below them.
Son was onto a long ball and got into the Liverpool area but Matip was too strong and won the ball with ease. Firmino hit a shot on target which Lloris saved before hitting a long ball which led to a pass to Son on the left. Son's shot was easily held by the keeper. Midway through the first half Salah clipped a ball to Mane. Mane hit a powerful shot, saved well by Lloris low to his left. There was a suggestion that had it been required, VAR might have found an offside, but that was academic anyway.
Thiago was booked for a foul on Hojbjerg with whom he was having a midfield battle. If only the rest of our team could display the same degree of determination as Pierre-Emile whose personal performance would be capped with a great goal. Dier managed to clear from a Salah threat, but Spurs were struggling to clear their lines. Aurier did hit a good ball to Kane on the right side of the Liverpool area, but Matip cleared the danger. Doherty won a corner on the left, which was taken by Son and hit straight to the goalkeeper. Hojbjerg displayed strength and skill to bring the ball forward down the right flank and he passed forward to Son, but "Sonny" failed to control his intended pass.
Dier won a challenge against Mane but was down for a little while, whilst Kane was down again in the Liverpool half after a collision with Henderson. Dier was okay, but Harry limped to the side gingerly before continuing. Ndombele found Kane with a pass and Harry fed it to Son who was confronted with Alisson on the very edge of his area. Son appealed for handball by the keeper to no avail.
Firmino sent a pass forward to Mane causing problems to both Dier and Rodon, but the two Spurs men won this fight for the ball. The same players were involved when Mane did hit a good shot on goal from the right side of the area. This was well saved by Lloris. It looked as if we would at least go into half-time on level terms but in the last of four added minutes Mane raced onto the ball down the left side. He had been played onside by Davies on the other side of the area. Mane passed hard and low to the centre of goal, where between them Dier and Lloris should have saved or cleared, but the ball reached Firmino, who could not miss. Firmino had scored the winning goal for Liverpool in our last two meetings.
Mourinho made a double change at half-time, replacing Aurier with Winks, and the injured Kane with Lamela. Lamela played in the centre of the "attacking" three (I use the term loosely). Doherty went to right back and we were 4-2-3-1 with Ndombele further forward. Although we had kicked off we soon lost possession and looked confused as Salah and Firmino caused problems in the box before Salah fired over when the goal was at his mercy. Liverpool did have a second goal a minute later. Mane fired a shot from the left which Lloris saved but could only push the ball in the direction of the advancing Alexander-Arnold who scored inside Hugo's right-hand post.
The game was looking lost already but we did get a goal back quickly. Steven Bergwijn passed from the left to Hojbjerg who hit a wonderful 20 yard shot which curved away from Alisson's left hand and hit the net.
There was a collision between Rodon and Thiago in midfield. Rodon recovered quickly, but Thiago had to go off to be bandaged and Liverpool played with ten men for a couple of minutes. Spurs could not take advantage of that brief shortfall and it wasn't long before the Spurs defence was opened up. Thiago pushed the ball forward and Firmino took it on down the left channel before crossing to an unmarked Salah who hit the ball into the net. There was a lengthy VAR review because Firmino had handled the ball at the start of the move near the halfway line. Ultimately when referee Martin Atkinson viewed the monitor he disallowed the "goal".
The play was only going in one direction and when Harry Winks fouled Salah the referee waved "play-on" and the ball ran to Firmino who hit his shot wide. Liverpool did have a third goal in the 65th minute. The ball was crossed from the right and Rodon made an elementary mistake, failing to clear or attempt to clear the ball, which was fired into the net by Mane.
To be honest, I have nothing else of note to report regarding the last 25 minutes. Bale replaced Bergwijn, but we failed to trouble the Liverpool defence. Top four is beyond our immediate aspirations I am afraid. Why, we are even below West Ham tonight. Now that is truly depressing.
· See the exclusive "Spursometer" and have your say regarding the performances of the team, individual players, manager and officials.
· Squad numbers,appearances,bookings & goalscorers
· Read the preview for this game.
· All the Spurs Stats you could hope for here! THFC6061 Sports Stats