· Last season's game - Spurs 0 Liverpool 1, 11.01.20
· This season's away game - Liverpool 2 Spurs 1, 16.12.20
· Premier League Matchday 20 - last year
· See the current injury list for all Premier League Teams
· All the Spurs Stats you could hope for here! THFC6061 Sports Stats

Full league history - Spurs v Liverpool:-

Premier     Pl   W   D   L   For-Ag  Pts
Home        28  12   7   9   38 -38  43
Away        29   2   8  19   27 -59  14
========================================
Total(Prem) 57  14  15  28   65 -97  57  1 Pt per game
========================================
Football Lge
Home(Div 1) 49  24  10  15   71 -58  62
Away(Div 1) 49   4  14  31   38 -95  24
========================================
Total(Div 1)98  28  24  46  109 -153 86
========================================
Total(Prem) 57  14  15  28   65 -97  57
Total(Div 1)98  28  24  46  109 -153 86
========================================
Grand Total 155 42  39  74  174 -248 143
========================================

Last Six Premier League results:-

Spurs      -    LLDWDW
           
Liverpool  2-1    Spurs
Spurs      0-2    Leicester
Wolves     1-1    Spurs
Spurs      3-0    Leeds
Spurs      1-1    Fulham
Sheff Utd  1-3    Spurs

Liverpool  -    WDDLDL

C. Palace  0-7    Liverpool
Liverpool  1-1    West Brom
Newcastle  0-0    Liverpool
S'hampton  1-0    Liverpool
Liverpool  0-0    Man Utd
Liverpool  0-1    Burnley

Pos           P  W  D  L   F-A   GD  Pts
5. Liverpool 19  9  7  3  37-22  15   34
6. Spurs     18  9  6  3  33-17  16   33 

I invoke the spirit of victory!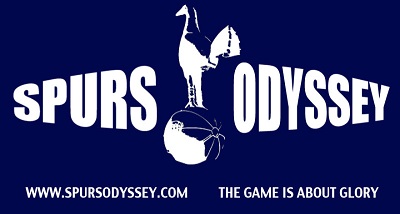 THFC would not allow me the fly the Spurs Odyssey flag in the stadium for these behind closed doors games but it will feature in my match report!
We've lost the last six games we've played against Liverpool, including the ill-fated Champions League Final of 2019. The last time we beat them was in October 2017 at Wembley Stadium when it was our temporary home. On that occasion we took the "Reds" by storm, winning 4-1 with goals by Harry Kane (2), Heung-min Son and Dele Alli. The legendary Diego Maradona was at the game and was interviewed at half-time with the assistance of interpreter Osvaldo Ardiles. The world lost Maradona in November, and since then Ossie has suffered and is thankfully recovering from the Coronavirus. Spurs were top of the league when Maradona was born in 1960, and when he died. I invoke the spirit of the victory witnessed by Maradona in 2017 to bless us this Thursday!
Firmino has scored Liverpool's winning goal in the last two games in which we have met. At < href="li161220.html"target="_blank">Anfield in December we were beaten by a late goal and our three week spell at the top of the league ended. For a while I thought we might be the team to end Liverpool's run of 65 league games at Anfield unbeaten, especially as Steven Bergwijn missed two fantastic chances to score. Heung-min Son had levelled the scores in the first half after Salah had given the home side a 26th minute lead. Incidentally, Burnley became the team to end Liverpool's unbeaten home run with their recent shock 1-0 win.
Firmino's winner in last season's home game was scored in the first half. Danny Rose made his last senior appearance for Tottenham before departing on loan for Newcastle. Whilst Danny has made a couple of appearances in the under-23 side this season (a limited number of over-age players are permitted), there is still no news of a change in Danny's circumstances. His contract ends this summer, and I suspect he is going to let that run down. Danny's decline is so very sad when you consider his sensational debut goal against Arsenal in April 2010 when my headline was "An English Rose, Welsh Wizard and Brazilian Brave". Gareth Bale was the Welsh Wizard. Heurelho Gomes – who finally retired last year – was the Brazilian Brave. As disappointing as that Champions League defeat was, Danny Rose was Spurs Odyssey voters' man of that match with a respectable 7 out of 10 score. Danny never matched that score last season and once Jose Mourinho arrived, he made only five more appearances.
Japhet Tanganga made his Premier League debut for Spurs in last season's home game against Liverpool when we missed the inured Hugo Lloris and Harry Kane.
We have a better points per game record against Liverpool in the Premier League than we had in the old League Division One. That Premier League record is only 1 point per game. We have worse records against only Manchester United and Chelsea. The two clubs have never met outside the top tier of football.
100 years ago, the two clubs met over Easter. On Good Friday 1921 we drew at Anfield and on Easter Monday we won 1-0. We won the FA Cup in 1921 and the following season finished second to Liverpool in the Football League Championship.
After West Ham's fourth successive Premier League win last night, they climbed above us into fourth place, and we desperately need to win tomorrow to reclaim a top four place. Climbing above Liverpool, still with a game in hand, would be a bonus but will be very difficult to achieve despite Liverpool's recent poor run of form and results. They have their well-known long term injury absentees such as £75 million Van Dijk, Gomez, Keita, and £45 million Diogo Jota. Jordan Henderson has missed a couple of games but could return tomorrow. He has covered as centre-back in a couple of games, and I think they have missed his midfield presence. Alexander-Arnold's form seems to have suffered a bit this season, and when Henderson is present the right back does seem to exercise a little more attacking licence. Matip has been in and out of the side with injury but could also return tomorrow. I noticed that Mane was held on the bench until the last quarter of Sunday's FA Cup defeat at Old Trafford, and I am sure he will be starting tomorrow.
Jose Mourinho has been guarded in his pre-match press conference, simply stating that he had "some problems" in the squad (I assume with injury or illness), but he did confirm that neither Giovani Lo Celso nor Dele Alli would be available because of injury. Those other doubts might include Matt Doherty and Ben Davies. Davies suffered a late knock against Wycombe. I would expect Aurier and Reguilon to start tomorrow anyway. In one respect, perhaps our last league game against Sheffield United was a rehearsal for this match. Jose deployed three at the back (Rodon, Dier, Davies) and two wing-backs to negate the known threat of Sheffield's attacking full backs. With Hojbjerg starting and a front four of Ndombele, Bergwijn, Kane and Son, Spurs can give Liverpool plenty to think about and they could add to the woes of last season's 99-point Premier League Champions. I even think we might win 2-1!
This will be referee Martin Atkinson's 45th game in the middle with Spurs, and his third this season. Previous games (both at home) were the opening day defeat against Everton and our 2-0 win over Arsenal in December. I hope for something similar to the Arsenal result then!