PREMIER LEAGUE
SUNDAY 20TH DECEMBER, 2020
(2.15pm)
TOTTENHAM HOTSPUR 0(0) LEICESTER CITY 2(1)
Scorers:-
Vardy (pen), 45 +4
Alderweireld (o.g.), 59
Attendance:- 0
Referee:- Craig Pawson
Assistants:- Simon Bennett, Eddie Smart
Fourth official:- David Coote
VAR:- Paul Tierney
Assistant VAR:- Harry Lennard.
Teams:-
Spurs (4-2-3-1):- Lloris (Capt.); Aurier (sub Winks, 64), Alderweireld, Dier, Reguilon; Sissoko, Hojbjerg; Lo Celso (sub Lucas Moura, 49), Ndombele (sub Bale, 46), Son; Kane
Subs not used:- Hart; Doherty, Rodon, Davies; Bergwijn, Vinicius (This is the first game after the Premier League agreed the naming of 9 subs, only 3 of which may be used)
Booked:- Dier (dissent), Winks (foul on Maddison)
Leicester (4-2-3-1):- Schmeichel (Capt.); Justin, Fofana, Evans, Castagne (sub Amartey, 60); Ndidi, Tielemans; Albrighton, Maddison, Barnes (sub Praet, 84); Vardy (sub Iheanacho, 88)
Subs not used:- Ward; Fuchs, Thomas; Under, Mendy, Perez
Booked:- Albrighton (foul on Kane), Ndidi (foul on Bale)
Spurs put firmly back in their place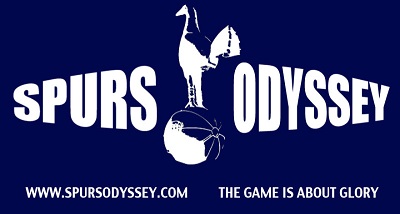 THFC would not allow me the fly the Spurs Odyssey flag in the stadium for these behind closed doors games but it will feature in my match report!
In the space of one week and three games, Spurs have dropped 8 out of an available 9 points. On Wednesday when beaten by a late goal at Anfield they lost the leadership of the league after a three week spell at the top they had not enjoyed since the 80s. After Everton's victory over Arsenal yesterday, Jose Mourinho's side started this game above Leicester, in third place. After the game when Mourinho's former apprentice Brendan Rodgers out-mastered his former master, Spurs dropped to fourth. As I write, Manchester United are three up against Leeds only midway through the first half. United will overtake Spurs and we will be down to fifth place. Spurs have been very firmly put in their place after a strange team selection, negative tactics and a very poor team performance. I struggle to name one outfield player in whom I was satisfied today.
That strange team selection was to play both Lo Celso and Ndombele, with Lo Celso to the right and Ndombele in the middle of three behind Harry Kane. It was hard to predict exactly what the formation would be. Perhaps that was part of Mourinho's strategy – to confuse Rodgers. No matter. Rodgers had a team which proved more fluid; had more movement; and basically bossed their opponents everywhere on the pitch. The best team won, although I expect Mourinho will complain about a stupid penalty conceded in first half added time by Aurier, and an unfortunate own goal. Aurier got his punishment in the second half when he was replaced by Harry Winks and Sissoko took over right back duties. Jose seems to have lost faith in one of his summer signings, who is a right back – Matt Doherty.
Jose replaced Ndombele with Gareth Bale at half time, but he offered very little. Within two minutes of the re-start Lo Celso also had to go off with what appeared to be a hamstring problem. The balance and equilibrium of the team was never right, before or after these changes.
London has moved up not one, but two tiers since Spurs last played at home, and once again no fans are allowed in our stadium. Even the virtual crowd was quietened by this team performance.
Leicester kicked off and played towards the South Stand. After only one minute, Ndombele was fouled and was hobbling for a little while, but soon seemed to recover. Neither side was being over-adventurous and there were a number of free kicks with little action for either goalkeeper. After the foul on Ndombele, Son hit his free kick over the defence and out of play. Spurs won another free kick for a foul on Kane, but this one by Son was blocked by the wall. Hojbjerg fouled Maddison at the other end. Maddison floated the free kick into the right area and Fofana headed over.
Leicester had another free kick outside the right of the area, after what looked a dodgy decision against Hojbjerg, again fouling Maddison. Maddison took the kick which was headed on towards the far post by Harvey Barnes and Fofana, giving Vardy a chance which was well blocked. At the other end the ball broke kindly for Kane, who passed to Son to his left. Son hit a ball across the danger zone, but it passed wide and there was an offside flag anyway.
Maddison had a shot from 25 yards which passed over the Spurs goal. Leicester were looking much more of a threat than Spurs. Spurs broke out after 31 minutes and Son fed the ball to Aurier who won a corner. Nothing came of that. Lo Celso won a foul off Ndidi. Harry Kane took this kick which took a deflection off the wall and required a decent save by Schmeichel, diving to his right.
Aurier sent Kane away down the right channel with a good ball. Harry crossed and "Sonny" headed down for Lo Celso whose shot did win a corner. That was taken by Son and headed over by Kane. Ndombele picked up a ball in the middle and Aurier won another corner. Kane's header was cleared, but it was probably going wide anyway. Harry didn't have his scoring head on this week.
This had not been a bad period for Spurs who had come out of their shell to a degree with the game opening up as a result. Maddison had a right foot shot deflected then saved by Lloris. Reguilon rescued an Ndombele pass which looked like going over the bye-line, but when he lifted the cross, Kane's header was cleared.
We were heading towards the end of one minute of added time when referee Craig Pawson's attention was drawn by VAR to a stupid foul by Aurier who barged Fofana just inside the Spurs area. Mr. Pawson went to the monitor and then pointed to the spot where Vardy planted a driven shot into the middle of the net with Lloris moving to his left.
Hugo had to make a save from Maddison within a minute of the re-start after the referee had waved play-on when Lo Celso challenged Barnes. Lo Celso came off worse and soon had to be replaced. He had gone inside Bale and that's where Lucas Moura started.
It looked as if we had gone two down after 48 minutes when Justin sent a good ball to Maddison who had space towards the right of the Spurs line before beating Lloris with his right-footed shot. We were reprieved by VAR and a marginal offside decision. Spurs never looked as incisive as did Leicester when going forward. Our passes were either unadventurous or in the wrong direction. Our confidence seemed to be shot.
Eric Dier hit a lovely ball with power to Aurier on the right. Aurier's cross was horrible. That, more than the penalty might have angered Mourinho more, because it wasn't long before Aurier was replaced. Sadly, by then were definitely two down. Lucas Moura had failed in a battle with Ndidi deep in the Leicester half. Leicester broke forward with speed, numbers and accuracy. Ultimately Albrighton crossed from the right and Vardy beat Sissoko to the header. He was heading across goal though, but unfortunately the ball hit the net off Toby Alderweireld.
Kane had a left foot shot from 20 yards easily held by Schmeichel. He was in space to try and do something with Lucas Moura's cross from his left, but Harry's header had no direction really. Vardy, Barnes and Maddison attacked the Spurs area and Maddison hit a shot over the target.
Spurs' best chance fell to Son at the back post after a corner by Bale from the right after 70 minutes. The ball was headed across the area and whilst Schmeichel made a terrific save from Son's rising shot, Son had not managed to hit the ball with power. Bale took a free kick after he had been fouled by Ndidi (who was booked), but he hit his shot well over the target.
After a Sissoko cross which targeted the outside of the area, Kane passed to Reguilon to his left. Reguilon hit neither a decent cross or a shot and offered no threat with his effort. Hugo held a shot by Vardy, but the game fizzled out with more threat still being offered by Leicester who had won five of the preceding six away league games. Eric Dier failed to clear properly out towards the left corner and Vardy teed up Tielemans who fired over.
We have one more game to play before Christmas, but already for most of us here in the UK Christmas has been ruined because of new Lockdown Tier structures.
Wherever you are, I hope you can make the best of this period and remember that football should come a distant second, or third even, to any other of your personal considerations. It, as well as our team, slipped down my table today.
· See the exclusive "Spursometer" and have your say regarding the performances of the team, individual players, manager and officials.
· Squad numbers,appearances,bookings & goalscorers
· Read the preview for this game.
· All the Spurs Stats you could hope for here! THFC6061 Sports Stats