· Last season's game - Spurs 3 Leicester 0, 19.07.20
· Premier League Matchday 14 - last year
· See the current injury list for all Premier League Teams
· All the Spurs Stats you could hope for here! THFC6061 Sports Stats


Full Record of Spurs -v- Leicester City

Premier       Pl  W  D  L   For- Ag Pts
Home          14  7  3  4   30 -23  24
Away          14  5  2  7   22 -23  17
======================================
Total(Prem)   28 12  5 11   52 -46  41  1.46 Pts per game
======================================
Football Lge
Home(Div 1)   29 13  6 10   64 -46  34
Away(Div 1)   29 16  4  9   53 -54  40
======================================
Total(Div 1)  58 29 10 19  117 -100 74
======================================
Football Lge
Home(Div 2)    7  3  3  1   12 - 7   9
Away(Div 2)    7  4  1  2   14 -13   9
======================================
Total(Div 2)  14  7  4  3   26 -20  18
======================================
Total(Prem)   28 12  5 11   52 -46  41
Total(Div 1)  58 29 10 19  117 -100 74
Total(Div 2)  14  7  4  3   26 -20  18
======================================
Grand Total  100 48 19 33  195 -166 131
======================================

Last Six Premier League results:-

Spurs      -    WWDWDL
           
West Brom  0-1    Spurs
Spurs      2-0    Man City
Chelsea    0-0    Spurs
Spurs      2-0    Arsenal
C.Palace   1-1    Spurs
Liverpool  2-1    Spurs

Leicester   -   WLLWWL

Leicester  1-0    Wolves
Liverpool  3-0    Leicester
Leicester  1-2    Fulham
Sheff Utd  1-2    Leicester
Leicester  3-0    Brighton
Leicester  0-2    Everton

Pos           P  W  D  L   F-A   GD  Pts
2. Spurs     13  7  4  2  25-12  13   25 
4. Leicester 13  8  0  5  24-17   7   24 

Unpredictable Leicester pose a threat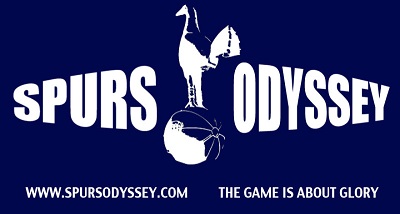 THFC would not allow me the fly the Spurs Odyssey flag in the stadium for these behind closed doors games but it will feature in my match report!
With 33-year-old Jamie Vardy still banging in the goals and once again near the top of the Premier League goal-scorers' chart and midfielder James Maddison back in favour and back in form, Leicester pose a threat to Spurs in another crunch game tomorrow afternoon. However, which Leicester will turn up? Will it be the team which so emphatically beat Manchester City 5-2 away in September and Leeds 4-1 away in November, or will it be the outfit which has lost two of their last three home games to lowly Fulham and to a back-in-form Everton side? There is only one way to find out - by watching the game tomorrow afternoon which kicks off at 2.15pm and is being shown on Sky TV here in the UK!
Brendan Rodgers' team is about far more than Vardy's goal-scoring potency and Maddison's prowess. Belgium's Youri Tielemans plays a massive part in the "Foxes" creativity and will require close attention. Tielemans has scored 5 goals for club and country this season and scored one of Belgium's goals against England last month.
The East Midlands club have had their injury problems, but always seem to find someone to cover their gaps. They signed Belgian full back Timothy Castagne from Atalanta in the summer, and he has been absent but could return tomorrow. Castagne plays on either side, as does 22-year-old James Justin. Justin has been ever-present this season and offers a lot of threat when getting forward, which he likes to do.
Leicester have missed centre-back Soyuncu at times through either suspension, or most recently injury and he is not likely to return until after Christmas, but another summer signing 19-year-old defender Wesley Fofana from Saint-Etienne has stepped up and already made 9 Premier League appearances. Turkish International Cengiz Under was signed on loan from Roma and is having some impact already. Jonny Evans served a one-match suspension and missed the Everton game but will be available tomorrow.
Leicester's Academy and recruitment programme has worked well for them and they have covered the loss in recent seasons of big names such as Harry Maguire and this season Ben Chilwell. They are due to move into a new state of the art training ground very soon.
Leicester would have gone above Spurs had they beaten Everton on Wednesday. They have yet to draw a league game this season. Let's hope they get nothing tomorrow. They will go above us if they should win. The "Foxes" topped their Europa League group and face Slavia Prague in the Round of 32. Runners-up to Leicester in their group were Sporting Braga. We played both Braga and Slavia Prague in the UEFA Cup in the 2006-07 season.
Our match against Leicester in July was our 100th league meeting and our 28th Premier League head-to-head confrontation. The 3-0 win gave us the edge over the "Foxes" with 41 points against their 38. Historically we do hold supremacy in all league games over the East Midlands side with 48 league wins and a goal difference of +29. We have also won two cup finals against this team (one in each domestic category) and in 14 cup meetings we have lost three times. Our League Cup Final win of 1999 was our only meeting in that competition.
Leicester spent most of last season in the top four but fell out when we beat them in the penultimate game of the season. The "Foxes" also lost their last game (at home to Manchester United) to finish in fifth place.
Spurs have got their own potency of course. Harry Kane has scored more league goals (14) against Leicester than against any other club. Harry is only one goal behind Vardy with 9 league goals this season, but he has 15 club goals, the same number as Heung-min Son who is level with Calvert-Lewin and Salah at the top of those Premier League scorers. This week "Sonny" won the Puskas FIFA goal of the year for his end-to-end goal against Burnley last December. Despite our narrow defeat at Anfield, morale remains high and confidence great.
There are no new injury problems for Spurs regarding this game. Gareth Bale is back in training, but I do not anticipate anything better than a bench placing for him tomorrow. I imagine that Tanguy Ndombele will start tomorrow with Lo Celso (who has had more minutes this week) on the bench. There will be opportunities for other players in our League Cup quarter-final at Stoke on Wednesday.
It will be a close game tomorrow. Both teams like to seize counter-attacking opportunities so the strategy of the managers will be interesting. I'm taking Spurs to win 2-1.
This will be referee Craig Pawson's first Spurs game this season and his 21st in charge of us since his first such game in February 2014. That was a 1-0 defeat at Norwich and we must hope for better this time. Mr. Pawson's last game in the middle for Spurs was our 2-0 home win against West Ham in June. Mr. Pawson is refereeing across Europe these days too. He has had charge of four Europa League and one Nations League game so far this season.