EUROPA LEAGUE
FOURTH QUALIFYING ROUND
THURSDAY 1ST OCTOBER, 2020
(8pm)
TOTTENHAM HOTSPUR 7(4) MACCABI HAIFA 2(1)
Spurs scorers:-
Kane, 2, 56 (pen), 74
Lucas Moura, 20
Lo Celso, 36, 39
Dele (pen), 90(+1)
Maccabi Haifa scorers:-
Chery, 17
Rukavytsya, 52 (pen)
Attendance:- 0
Referee:- Ruddy Buquet
Assistants:- Guillaume Debart & Cyril Gringore
Fourth official:- Amaury Delerue
(All officials from France)
Teams:-
Spurs (4-2-1-3):- Hart; Doherty, Sanchez, Alderweireld, Davies; Winks, Hojbjerg (sub Sissoko, 63); Lo Celso (sub Dele, 46); Lucas Moura, Kane (Capt.) (sub Reguilon, 75), Bergwijn
(Armband to Alderweireld)
Subs not used:- Lloris; Aurier; Ndombele, Lamela
No bookings
Maccabi Haifa (4-3-3):- Cohen; Arad (sub Donyoh, 71), Habashi, Planic, Menachem; Mabouka, Lavi (Capt.), Abu Fani (sub Ashkenazi, 87); Chery, Rukavytsya, Haziza (sub Rodriguez, 83)
Subs not used:- Keouf; Raz Meir, Gershon; Nachmani
No bookings
Spurs score high against Haifa!
As we reach the last stages of a hectic opening three weeks of the season during which we will have played 8 games, Spurs tonight concluded what has been a very happy 48 hours in which they qualified for the League Cup quarter-finals (where they will meet Stoke) against arch-rivals Chelsea and have now qualified for the Europa League Group phase. That will be drawn tomorrow.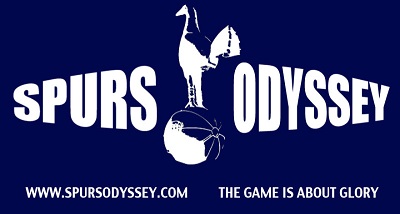 THFC would not allow me the fly the Spurs Odyssey flag in the stadium for these behind closed doors games but it will feature in my match report!
Tonight's game was a strange feast in which there were goals galore, with far too open play. There were two farcical penalty decisions. The one against us was the more ridiculous, and they were given by one man – French referee Ruddy Buquet (please don't mispronounce his name) – with no VAR in operation to review the decisions, or for us to blame. There was plenty to admire, with a hat-trick for Kane and two for the excellent Lo Celso, and not least a great piece of individual skill by substitute Dele Alli to win a penalty and from which the man in the headlines scored.
The visitors were able to plough their way too easily through our midfield, and the defence was sometimes found lacking. This was, after all, a one-match cup tie from which Maccabi had everything to gain and nothing to lose. Only when we were 4-1 up did I relax. I also relaxed a bit more when Moussa Sissoko replaced Hojbjerg, when I felt the midfield tightened up a bit. The Israeli side had lost some heart by then too.
Spurs kicked off and played towards the North Stand. We had the lead within two minutes after Davies exchanged passes with Steven Bergwijn before sending in a lovely low cross into the danger zone, where Harry Kane finished from the middle of goal within the 6-yard zone, having times his move accurately. That was Harry's 33rd European goal. His 34th and 35th would follow in the second half!
Within two minutes, Joe Hart had to make a save. It was a good one too, as he dived to his left to save from Tjaronn Chery, who had a couple of seasons with QPR between 2015 and 2017. Chery proved to b e the main danger all night, and Joe Hart got plenty of practice. Lo Celso had a chance after 8 minjtes, running into the left side of the Haifa box before hitting thee side netting with his shot. Lo Celso received the ball from the right on the other side of the area and hit a left foot shot which American goalkeeper Josh Cohen saved.
Toby Alderweireld did well to win a tackle against Rukavytsya, after an error by Hojbjerg had given the Haifa top scorer a chance inside the Spurs area. Bergwijn had a shot parried by Cohen and Harry Kane tried to follow-up, but the keeper was down to hold the ball first. Abu Fani was allowed too much space and hit a right foot shot just wide of Hart's left post. I think Joe had the shot covered. Abu Fani was the player who had made an abusive gesture and comment regarding Harry Kane for which his club had apologised.
It did however come as no surprise to see the visitors equalise in the 17th minute. The goal came from a move allowed by an inexplicable ball by Sanchez from the right of his area to Spurs' left where the ball was picked up by Haifa players and passed to Chery who hit an unstoppable left footed shot into Hart's top right corner.
Spurs regained the lead within three minutes after a corner won and taken from the left by Bergwijn. It looked as though Lucas Moura had glanced a header from the near post across the goalkeeper, but the ball had come off the top of Lucas's back Spurs had a free kick 22 yards out after a handball offence. Harry Kane stepped up and hit a right footed shot which Cohen held.
The referee had "words" with Hojbjerg over repeated challenges, but no card was shown to either team all night.
Both Kane and Lo Celso tried to put Lucas Moura in with good passes. Lucas went down inside the box the first time but there was no offence. His second opportunity outside the area towards the right was well defended. Harry sent Bergwijn away down the inside left channel with a clever back-heeled pass. Bergwijn ran across the outside of the area and when he hit his shot it took a heavy deflection looping up to allow a defender to head to the keeper.
Two goals in quick succession followed for Giovani Lo Celso. The first came from a good Spurs build-up culminating in Lo Celso pushing the ball out to Doherty who crossed. Both Harry Kane and Lucas Moura had efforts saved or blocked before Gio seized the nettle and scored from 8 yards out with a powerful left foot shot. His second goal followed a mistake about 35 yards out by centre-back Planic when the ball rolled under his feet and gave Harry a run. Harry passed to Lo Celso, who advanced into the left side of the area before finishing with a lovely dink of the ball over the advancing Cohen to make it 4-1.
Chery had another chance at the other end, hitting a rising shot from a sharp angle on the left which Joe Hart could only push clear of goal. There was still time for an excellent chance for Harry Kane who was not offside after Lo Celso passed to Bergwijn who made the final forward probing pass. Harry was disappointed with his failure as the keeper saved.
Dele Alli has been the subject of much speculation about his future, but Jose had praised his professionalism in his pre-match press conference. Dele replaced Lo Celso after the interval and had some excellent moments, capped by his goal.
However, the first incident of the second half was the farcical award of a penalty when the ball struck Matt Doherty's arm which was held close to his side and straight down. How that qualified as a penalty, only Monsieur Buquet knows, but Rukavytsya accepted the opportunity to send Joe Hart the wrong way and to hit the net. Soon after that Joe had to dive to his left and make a good save from Abu Fani.
Spurs were awarded a penalty after 54 minutes. Ben Davies had driven the ball at Mabouka who did have his arms across his chest. The referee did not hesitate to point to the spot, and Harry Kane did not hesitate to score, driving his shot down the middle with the keeper committed to his left. Spurs had regained their three-goal advantage. Maccabi Haifa were not giving up just yet and Chery hit another left footed shot just wide of Hart's post.
After another attack by Haifa, Bergwijn chased a Spurs ball sent from deep inside their half. He showed skill in winning the ball and taking it to the area, but failed badly with his shot which the keeper was able to reach. Rukavytsya had the ball in the net at the other end, but was offside. Joe hart had to race out of his area to clear from another chance for Rukavytsya. Bergwijn had another chance from the left of the area, but his right foot shot was comfortably saved.
Spurs had a corner on the right after 65 minutes, and eventually Harry Winks (who was playing a more positive part in this phase of the game) crossed. Toby Alderweireld met the cross, but Cohen saved his header. Lucas Moura showed good skill inside the box to win the ball with his back to the goal, turning and beating his defender, before his shot was saved.
Spurs had a good build-up with interplay by Bergwijn and Dele. Dele turned down a shot and passed instead to Lucas Miura who fired wide. Subsequently Lucas teed up Bergwijn whose rising shot just got a touch from the keeper.
Spurs went 6-2 up in the 74th minute. Dele made a good run through the middle just into the Haifa half and sent a good ball down the left flank for Bergwijn. Bergwijn got to the edge of the area before hitting a low pass into the 6-yard box where Kane had timed his run well to hit his hat-trick goal with his left foot. Harry immediately went off and was replaced by Sergio Reguilon, who played in front of Ben Davies.
It was time for Haifa coach Barak Bachar to throw in the towel and make his final substitutions. Hart was down to another shot by Chery, but the final piece de resistance was delivered by Dele who showed sublime skill inside the area to turn and beat Planic who fouled desperately. Dele showed no hesitation in putting the ball on the spot. Nobody else was having this! He scored with a powerful shot left of the keeper who dived the wrong way. Dele's last goal for Spurs was also a penalty in March, at Burnley. I for one hope he can continue his career with Spurs.
Tomorrow's draw takes place at 12 noon BST – full details here - https://www.uefa.com/uefaeuropaleague/news/0261-106341da6bb8-749195e9c76b-1000--europa-league-group-stage-draw-all-you-need-to-know/?iv=true.
· See the exclusive "Spursometer" and have your say regarding the performances of the team, individual players, manager and officials.
· Squad numbers,appearances,bookings & goalscorers
· Read the preview for this game.
· All the Spurs Stats you could hope for here! THFC6061 Sports Stats