PREMIER LEAGUE
SUNDAY 27TH SEPTEMBER, 2020
(2pm)
TOTTENHAM HOTSPUR 1(1) NEWCASTLE UNITED 1(0)
Spurs scorer:-
Lucas Moura, 25
Newcastle scorer:-
Wilson (pen), 90 (+7)
Attendance:- 0
Referee:- Peter Bankes
Assistants:- Peter Kirkup, James Mainwaring
Fourth official:- Mike Dean
VAR:- Lee Mason
Assistant VAR:- Andy Halliday.
Teams:-
Spurs (4-2-3-1):- Lloris (Capt.); Doherty, Sanchez, Dier, Davies; Hojbjerg, Winks; Lucas Moura (sub Lamela, 79), Lo Celso (sub Ndombele, 77), Son (sub Bergwijn, 46); Kane
Subs not used:- Hart; Reguilon, Alderweireld; Gedson
Booked:- Winks (Dissent regarding penalty decision)
Newcastle (5-4-1):- Darlow; Manquillo, Hayden, Lascelles (Capt.), Fernandez, Ritchie (sub Lewis, 69); Almiron (sub Carroll, 77), Shelvey, Hendrick (sub Murphy, 74), Joelinton; Wilson
Subs not used:- Gillespie; Krafth, Yedlin; S. Longstaff
Booked:- Shelvey (foul on Lo Celso), Joelinton (foul on Lucas Moura), Lewis (foul on Doherty), Hayden (foul on Bergwijn)
Spurs suffer another penalty "Varce". This one hurt us.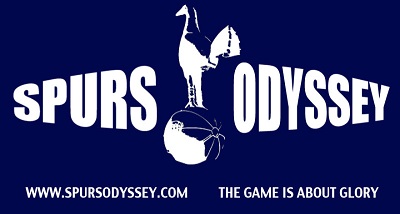 THFC would not allow me the fly the Spurs Odyssey flag in the stadium for these behind closed doors games but it will feature in my match report!
Spurs "thrashed" Newcastle 1-0 in the first half. Darlow made a number of very good saves. Son hit the woodwork twice. Newcastle did not have a shot on target until the farcical penalty converted by Callum Wilson in the seventh minute of added time. Last week we conceded a penalty under the new rules, confirmed by VAR at Southampton. That one didn't matter. Today after an Andy Carroll hit the upper arm of Eric Dier's raised at a natural height with his back to the ball, VAR eventually directed referee Peter Bankes towards the pitch side monitor and he pointed to the spot. I think Hugo Lloris got a touch as he dived to the right but Wilson's spot-kick hit the net and Newcastle had a totally undeserved point. Spurs should have been out of sight in the first half and truth be told I don't even think they tried very hard to add to their score in the second half when the "Toon" did get more possession.
Spurs' only outfield change to the starting line-up was Lo Celso for Ndombele. Sissoko was replaced on the bench by Gedson at late notice due to illness. Dele Alli didn't make the final 18-man squad. Gareth Bale was an alert observer in the stadium.
Steve Bruce played a 5-4-1 with Ritchie his left wing-back and midfielder Isaac Hayden withdrawn to be one of the three centre-backs. Joelinton and Almiron were on the flanks and often lacked defensive ability.
Spurs looked as if they could rip Newcastle apart in the early stages despite the defensive blanket. Lo Celso won and took a free kick which led to two close range shots by Harry Kane. Goalkeeper Karl Darlow (only playing because of injury to Dubravka) made a terrific double save. The first was with a dive to his left. The second was with a dive to the right for a shot that Harry did not get hold of fully. Spurs had another free kick out on the left but Son hit the first man with a poor effort.
Hojbjerg hit a ball into the box from the right and Darlow made another good close-range save from a Kane header. After 14 minutes Doherty won a corner on the right. Kane met this at the back post but Darlow managed to get hold of the ball before Sanchez could get a firm touch.
Newcastle were playing "anti-football" but it was up to Spurs to break through the defensive dome. After a cheaply conceded free kick (by Ben Davies) on Wilson, Ritchie took a kick but Spurs managed to clear that at the expense of the corner. Up to this point the possession in favour of Spurs had been something like 80%.
Spurs did score after another Newcastle venture forward, and that worked in our favour as Hojbjerg hit a ball down the middle to Son, who fed the ball to Kane towards the left of the area. Kane crossed into the 6-yard zone and Lo Celso just failed to make contact, but Lucas Moura scored at the back post.
Within a minute of the goal, Kane fed the ball to Son on his left, but Son's attempted pass to Lucas Moura was a dismal failure. After a Spurs corner Kane hit a right footed shot from the left-hand side of the area, but Darlow saved again, conceding a corner. Son hit the post with a shot after receiving a pass from Kane across the edge of the area.
Son took a Spurs corner from the left after 33 minutes but Eric Dier headed wide with the goal at his mercy. This was when the Sky commentator made his first apology for the foul language picked up in the empty stadium. Lo Celso tried an overhead kick from a Son cross, but that went over the target. Almiron gave the ball away in midfield allowing Lucas Moura and Harry Kane to break forward. They had already exchanged passes as they moved forward, but Lucas's final pass failed. The next chance fell to Kane, fed by Lo Celso. Harry hit a left foot shot well off the target.
Son then hit the bar with a left footed shot after 41 minutes after a headed pass by Matt Doherty. In my notes at the time I wrote, "I hope we don't pay for this!" Hmmm.
Shelvey got the first card of the game for a foul on Lo Celso, but in added time Spurs only half-cleared a corner from Ritchie to the feet of Shelvey who thankfully fired wide across Lloris's goal. Hugo had hardly had a touch.
Son was replaced at half-time by Bergwijn and whilst Mourinho said he was saving minutes, there has been a suggestion that Son might have pulled his hamstring. Early in the half a ball by Hojbjerg took a deflection off a defender and fell for Kane, but he could not get a proper connection on his shot. Darlow pushed round Lo Celso's effort from a Doherty corner and then saved after a second corner met by Lucas Moura's near-post header.
Winks passed forward to Hojbjerg whose shot was blocked and fell for Lo Celso who had another effort saved. Joelinton was booked for preventing a break by Lucas Moura. I thought that Lucas looked the most likely to make something happen for spurs with his second half runs, and several moments of skill to take the ball beyond a defender. At the other end Joelinton hit what should have been a dangerous cross, but it passed the Spurs goal and went out of play for a goal-kick.
Ben Davies crossed from the left and Lucas teed up Harry with a header. Kane's right foot shot was saved by Darlow, who much have been the man of the match. Almiron gave Hendrick a chance at the other end, but the former Burnley man pulled his shot wide. Lo Celso had a shot saved after Hojbjerg's pass and Harry Kane's follow-up was blocked by Lascelles, who was winded as a result. Matt Ritchie had to go off with either an arm or shoulder injury after his challenge upon Doherty. Jamal Lewis was the replacement.
There were twenty minutes left and I got the impression that Spurs were now seeking to run down the clock. After all, Newcastle were not threatening goal. I don't think we tried hard enough to score another goal and to secure the game. Doherty hit a decent low cross with Bergwijn getting a shot on target, but it was at less than full strength and Darlow held the shot. Davinson Sanchez had a header deflected for a second Spurs corner, but nothing came of that.
Andy Carroll replaced Almiron, and of course put himself about a bit. He too caused a commentator apology when an early decision did not go his way.
Lucas Moura had a shot blocked just before he was replaced by Lamela. Spurs became less and less adventurous and ultimately paid for not "managing the game". Doherty was fouled by lewis just outside the box. Lamela went for goal with his free kick, but Darlow pushed the shot over the bar. A right-footed shot by Kane was held by Darlow. This followed good work by both Ndombele and Lamela down the right channel.
Newcastle had their best chance to date after 88 minutes when Ben Davies hit an attempted clearance into the back of Hojbjerg with the ball rebounding wide of Lloris's left post for a corner. Initially the fourth official indicated 5 minutes of added time, but of course that was extended. Doherty passed inside to Ndombele, whose low cross from the bye-line was cleared.
Andy Carroll had already appealed for one handball by Eric Dier which was turned down by the referee and VAR, but there was another incident when Carroll rose and the ball hit Dier's arm when Eric had his back turned. His arm was in what I would describe as a natural horizontal position. Lamela and Kane broke forward and Kane's effort won a corner, but play was stopped while VAR reviewed this latest Carroll appeal. Once the TV screen indicated they were checking for offside before the "handball" incident you knew the decision was not going our way. That's what happened. Jose Mourinho stomped down the tunnel before the end. Callum Wilson fired right of Lloris, who I am sure did get a touch.
In the aftermath Harry Winks was booked - I assume for dissent – and whilst it was initially feared and reported that Harry Kane had been shown a red card, this was Jose's golkeeping coach Nuno Santos. Jose did not want to talk about the incident after the game, but did mysteriously refer to "Spurs special box". Analyse that!
Sadly I am now convinced that VAR will drive fans away from the game whenever they might be allowed to attend games again.
At the end of the day, we just have to dust ourselves down and get ready for Tuesday's Carabao Cup Fourth round game against Chelsea.
· See the exclusive "Spursometer" and have your say regarding the performances of the team, individual players, manager and officials.
· Squad numbers,appearances,bookings & goalscorers
· Read the preview for this game.
· All the Spurs Stats you could hope for here! THFC6061 Sports Stats