· Last season's game - Spurs 0 Newcastle 1, 25.08.19
· Premier League Matchday 3 - last year
· See the current injury list for all Premier League Teams
· All the Spurs Stats you could hope for here! THFC6061 Sports Stats


Full Record of Spurs -v- Newcastle United
 
Prem         Pl   W   D   L    For-Ag  Pts
Home         25  14   1  10    37 -29  43
Away         25   8   5  12    35 -47  29
==========================================
Total(Prem)  50  22   6  22    72 -76  72  1.44 Pts per game
==========================================
Lge Div 1
Home         43  24   7  12    87 -48  59
Away         43  15  14  14    70 -76  45
==========================================
Total(Div 1) 86  39  21  26   157 -124 109
==========================================
Lge Div 2
Home          6   1   3   2     6 - 7   5
Away          6   3   0   3     6 - 4   6
==========================================
Total(Div 2) 12   4   3   5    12 -11  11
==========================================
Total(Prem)  50  22   6  22    72 -76  72
Total(Div 1) 86  39  21  26   157 -124 109
Total(Div 2) 12   4   3   5    12 -11  11
==========================================
Grand Total 148  65  30  53   241 -211 191
==========================================

Last Six Premier League results:-

Spurs      -    WWWDLW
           
Spurs      2-1    Arsenal
Newcastle  1-3    Spurs
Spurs      3-0    Leicester
C. Palace  1-1    Spurs
Spurs      0-1    Everton
S'hampton  2-5    Spurs

Newcastle  -    LLDLWL
           
Watford    2-1    Newcastle
Newcastle  1-3    Spurs
Brighton   0-0    Newcastle
Newcastle  1-3    Liverpool
West Ham   0-2    Newcastle
Newcastle  0-3    Brighton

Pos            P  W  D  L   F-A   GD  Pts
 6. Spurs      2  1  0  1   5-3    2    3
13. Newcastle  2  1  0  1   2-3   -1    3 

Game 5 - looking for our first home win of the season.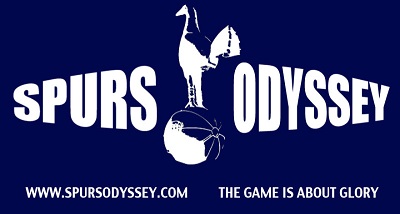 THFC would not allow me the fly the Spurs Odyssey flag in the stadium for these behind closed doors games but it will feature in my match report!
This is game number 5 of the season for both teams. Spurs are looking for their first home win, having lost to Everton two weeks ago on the opening day of this delayed season. We've won three consecutive away games. Newcastle won their opener - away to West Ham - but have yet to win a home league game. Whilst Spurs have played two European qualifying games, Newcastle have had to negotiate two Carabao Cup games.
Originally this game was not going to be covered by live TV, but it will now be shown live on SKY, kicking off at 2pm tomorrow. Newcastle fans were among those more frustrated because none of their first three games were selected for live TV coverage until the Premier League allowed all games to be shown here in the UK. Now we also know that next weekend's games will all be shown on TV, and it is anticipated that policy will continue, now that the Covid-19 ban on fans attending games has been extended.
According to a match report on Newcastle's midweek 7-0 League Cup win at League Two Morecambe this was "the Magpies" biggest win for 21 years. It was also their biggest ever competitive away win, but that 21 years stat had me thinking of a horrible 6-1 defeat for Spurs which meant that we did not even compete in the FA Cup in the year 2000. That was because the FA Cup started earlier that season.
I think the match the statistician was referring to was an 8-0 home win by Newcastle over Sheffield Wednesday. The "Toon" were rampant in those days. Managed by Bobby Robson and featuring goal-machine Shearer who scored 5 against Wednesday and just two in the 6-1 win over Spurs. Three years earlier both Shearer and Les Ferdinand had scored a brace to help Newcastle beat Spurs 7-1. Things were different then.
When Newcastle beat Spurs at our packed stadium last August I wrote "Something is seriously wrong in the state of Tottenham". The win ended a run of four consecutive wins for Spurs against the Tyneside team. It was a great day for the North-east with Durham's Ben Stokes completing a magnificent 135 not out (partnered by heroic Jack leach) to secure a one wicket win over the Aussies.
The pre-match mood at The Lane had been fabulous. As far as Spurs fans were concerned, the day was ruined by Joelinton's first Premier League goal. The Ł40 million man didn't get his second Premier League goal until post-lockdown. Even Joelinton managed two goals at Morecambe on Wednesday! Last year, Mauricio Pochettino's mood did not seem right from the start of the season, and that seemed to transmit itself to the Spurs camp. I stand by my theory that defeat in the Champions league Final was a deep psychological blow to our club.
That win against Spurs was one of Newcastle's best of last season, although they also had narrow wins over both Manchester United and Chelsea. They spent most of the season towards the top of the bottom half and by the time Joelinton got that second goal in a 3-0 win over Sheffield United, their safety was more or less assured. That was just as well because they lost four of their last six games including a home game to Spurs.
Our game played on July 15th this year was our 50th Premier League meeting with Newcastle. Both our top scorers - Harry Kane and Son Heung-min scored. In terms of wins, draws and losses the record of the two clubs over those 50 games is identical, but Newcastle have scored more goals, thanks to a couple of heavy beatings in the first 11 years of this competition.
Steve Bruce's side started this season well with a 2-0 win at The London Stadium when two of his latest signings were to the fore. Right back Manquillo lopped a cross from the right to the near post. Hendrick flicked the ball on, and Wilson scored with his raised foot with West Ham forlornly hoping for a dangerously high decision in their favour. Callum Wilson had a good start for his new team but was replaced by Almiron after 85 minutes. Almiron was instrumental in Newcastle's second goal scored with a good right-foot shot by Hendrick three minutes from the end. Another Newcastle acquisition was Norwich's left back Jamal Lewis, who got an awful eye injury in last week's game against Brighton when Bissouma was sent off for a high boot late in the game.
Newcastle were exposed badly last week by a Brighton side against whom they drew 0-0 at home and away last season. In an empty St. James Park Newcastle were undone by the pace of right wing-back Tariq Lamptey along with the scoring prowess of Maupay and Connolly. Bruce also persisted with the somewhat sluggish Andy Carroll rather than the pacy Almiron. Lamptey has captured the attention of all observers of Brighton since he signed from Chelsea.
Steve Bruce has a number of players injured including goalkeeper Martin Dubravka, centre-backs Fabian Schar and Ciaran Clark, Jamal Lewis, and Dwight Gayle. Wingman Allan Saint-Maximin, who impressed last season, was neutralised by Brighton's Lamptey last week and faces a late fitness test. We may well see another of Bruce's acquisitions - Ryan Fraser - who signed on a free from Bournemouth.
Jose Mourinho has said that Sergio Reguilon has not yet reached match fitness. We know we have to wait till after the International break to see Gareth Bale. Tanguy Ndombele faces a late fitness test after an impressive 90 minutes in Macedonia on Thursday. The chances are we will Lo Celso start in place of Ndombele in a side which will be otherwise unchanged from last week's exciting 5-2 win at Southampton. I'm predicting another three-goal margin in Spurs' favour - 3-0.
This will be referee Peter Bankes' first Premier League game of the season in the middle. The only other game he was in charge of Spurs was in our FA Cup Fourth Round draw at Southampton last season. Mr. Bankes was in the middle for plenty of Premier League games last season.