· Last season's game - Crystal Palace 1 Spurs 1, 26.07.20
· Premier League Matchday 12 - last year
· See the current injury list for all Premier League Teams
· All the Spurs Stats you could hope for here! THFC6061 Sports Stats


Full Record of Spurs -v- Crystal Palace

Prem        Pl   W   D   L  For-Ag  Pts
Home        11   6   4   1  14 - 4   22
Away        11   7   2   2  16 -10   23
=======================================
Total(Prem) 22  13   6   3  30 -14   45  2.045 Pts per game
=======================================
Football Lge
Home(Div 1)  9   5   2   2   14 -6   12
Away(Div 1)  9   5   3   1   16 -9   14
=======================================
Total(Div 1)18  10   5   3   30 -15  26
=======================================
Football Lge  
Home(Div 2)  1   0   1   0    2 -2    1
Away(Div 2)  1   1   0   0    2 -1    2
=======================================
Total(Div 2) 2   1   1   0    4 -3    3
=======================================
Total(Prem) 22  13   6   3  30 -14   45
Total(Div 1)18  10   5   3   30 -15  26
Total(Div 2) 2   1   1   0    4 -3    3
=======================================
Grand Total 42  24  12   6   64 -32  74
======================================= 

Last Six Premier League results:-

C. Palace  -    WLWLLW

Fulham     1-2    C. Palace
Wolves     2-0    C. Palace
C. Palace  4-1    Leeds
Burnley    1-0    C. Palace
C. Palace  0-2    Newcastle
West Brom  1-5    C. Palace

Spurs      -    WWWWDW
           
Burnley    0-1    Spurs
Spurs      2-1    Brighton
West Brom  0-1    Spurs
Spurs      2-0    Man City
Chelsea    0-0    Spurs
Spurs      2-0    Arsenal

Pos            P  W  D  L   F-A   GD  Pts
 1. Spurs     11  7  3  1  23-9   14   24
11. C. Palace 11  5  1  5  17-16   1   16  

This will not be a walk in the park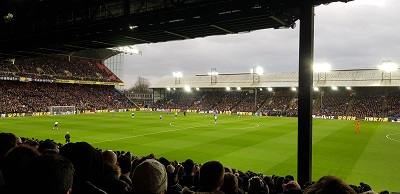 After Chelsea's defeat last night at Goodison Park, it is nice to be going into today's game in top place. However we will be battling at Selhurst Park to retain the lead in the Premier League for three days at least. Liverpool play at Craven Cottage after our game, and are likely to win, so Jose Mourinho knows that a win over Crystal Palace will be required in any case to at least travel to Anfield on Wednesday in first place for what promises to be a crunch game. Jose also knows that to win at Palace will not be a walk in the park.
Our points per game ratio against Palace after 22 Premier League games is our third best against any current opposition. We've fared better against only Brighton and Burnley, and played less games against those teams too.
Spurs and Palace first met in the Premier League at White Hart Lane on 22nd August, 1992. Palace can lay claim to having been founder members of the Premier League. No-one seems to talk about the football League history nowadays. That goes back to 1888! That August 1992 game was a 2-2 draw, and we were grateful for an 88th minute equaliser by Steve Sedgley to take a point from the game. Gordon Durie had opened the scoring in the first half, but Palace took a lead through goals by Eddie McGoldrick (who would go to Arsenal the following season) and Eric Young. Spurs were coached by Ray Clemence and Doug Livermore. Palace were led by Steve Coppell.
McGoldrick had scored the only goal of the last Division One game played by the two teams. That was at Selhurst Park. Palace have been relegated from and promoted back to the Premier League four times. Including that founding tenure, their first four stays in the Premier League lasted only one season, but now they are in their 8th consecutive season in the "elite" league. Roy Hodgson is in his fourth season at Palace, but their best finish of tenth place was achieved in the 2014-15 season when they had two primary managers - Neil Warnock and Alan Pardew. Warnock is currently at Middlesbrough (his 14th club as a manager) and Pardew recently took up a football director post in Bulgaria.
We went to Selhurst Park on the much delayed last day of last season but we didn't not find the going at all easy. of that game, I wrote:-
"At half-time Spurs were winning this game 1-0, and Chelsea were 2-0 up against Wolves. All Spurs had to do was better Wolves' points tally, so in that regard we had a three-goal advantage at half-time. Valiant Palace, decimated by injuries, who had lost their preceding seven games, had already been giving our defence a tough time, whilst not testing Hugo Lloris to any great degree. I had the distinct impression in the second half that Jose Mourinho's plan was to defend our position without over-committing. After all, his team largely unchanged in recent games, had been well-drilled in the Mourinho style. It wasn't long before Palace's pressure was rewarded, and I spent the remainder of the game worried that we might concede again and finish in seventh. That was not to be and we have secured sixth place with Europa League football guaranteed......"
It will be interesting to see what strategy Jose deploys for this game. Palace's form has been mixed and recently suffered without the presence of Wilfried Zaha. However Zaha returned last week and was in explosive form, scoring twice in a 5-1 at The Hawthorns. It had been 1-1 until West Brom's star player Pereira needlessly got himself sent off. Look out too for summer signing 22-year-old Eberechi Eze who joined from QPR for a reported deal of up to £19.5 million. Eze has been involved in all but one of Palace's games this season.
There is no dramatic injury news as far as I know. Erik Lamela is not expected to be available until later this month. Serge Aurier is having a late fitness test. Whilst the team will no doubt revert very closely to that which started against Arsenal, Jose has said that there will be rotation for our upcoming fixtures.
We are unbeaten now in our last 10 league games, having won five of the last six and we have not conceded a goal in any of six of our last seven games in league and European games. The form book has to be on our side and I'll go for a 3-1 away win!
Our match referee will be Kevin Friend. Mr Friend first had charge of Spurs in November 2009 when we beat Sunderland 2-0. This will be Mr. Friend's 30th Spurs game in the middle.
· Spurs record in recent London Derby League matches