· See the current injury list for all Premier League Teams
· All the Spurs Stats you could hope for here! THFC6061 Sports Stats

Spurs' full record against Everton in Cup competitions:-

FA CUP

Season    Rd   H/A/N  RESULT  Scorers

1903-04    1     A    W 2-1   Woodward, Balmer (o.g)
1907-08    1     A    L 0-1
1933-34    3     H    W 3-0   Howe, Hunt, W. Evans 
1936-37    5     A    D 1-1   McCormick
1936-37    5R    H    W 4-3   Meek, Morrison (3)
1949-50    5     A    L 0-1
1971-72    5     A    W 2-0   Gilzean, Peters
1982-83    5     A    L 0-2
1985-86    5     H    L 1-2   Falco
1994-95   S-F    N    L 1-4   Klinsmann (Pen)  

LEAGUE CUP

2009-10    4     H    W 2-0   Huddlestone, Keane

Thirty years of hurt. When will it end?
As the 1996 "Three Lions" song said, we've had thirty years of hurt now since our last FA Cup Final appearance in 1991. Can it end this year? Well, everybody who has ideas of an FA Cup victory this year has the currently invincible Manchester City in their way, but Spurs' first obstacle is this Fifth Round tie against an Everton side who are in decent form.
This is actually the first time we meet Everton in over 6 years when "The Toffees" have been above us in the league. Then, in November 2014, the margin was goal difference only. Now, it is only one point. In 2014 we won 2-1 at home. In 12 games since, Everton have managed to beat us only once. That was in the first game of this season, and it was their first victory over us in 15 games altogether. Indeed, Everton have managed just 9 league wins against Spurs in 57 Premier League attempts.
Currently, the gap between the two sides is very close, and on form, you'd have to fancy the home side tomorrow. Carlo Ancelotti's wealth of experience and calm know-how is turning this side into one with genuine prospects of Europe for the first time in over three years, when they finished a disappointing third in a Europa League group.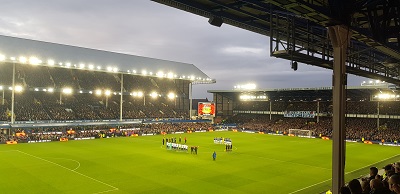 Bearing in mind the fact that both clubs have rarely been absent from the top flight over the last 60 years, it is surprising that they have met only 5 times in Cup competition over that period. It is also surprising that we last met Everton in this competition 26 years ago. One reason for that could be that the "Toffees" have not made it past Round 4 in 15 of those seasons. They did make the Final again in 2009, when they were beaten by a Guus Hiddink Chelsea side. David Moyes was Everton's manager.
Everton also reached semi-finals in 2012 and 2016, when they were beaten by Liverpool and Manchester United respectively.
I well remember the 1995 FA Cup meeting between the two sides. I managed to get tickets for the whole family, and we somehow found a space in a car park almost opposite Elland Road, reaching our seats in what was then quite a new East Stand about 10 minutes into the game. 38,222 other people made it to (the rare choice of) Elland Road for the first semi-final of the day on April 9th 1995. This had been the season of Spurs' "Famous Five"; the season that Alan Sugar successfully won an appeal against a points deduction and expulsion from the FA Cup. It was the season of Klinsmann; of Ronnie Rosenthal at The Dell; of quarter-final victory at Anfield.
Everton fans occupied three sides of Elland Road, with Spurs in the massive East Stand. Many pundits thought that Spurs' name was on the cup, but we travelled back down the M1 with our tails well between our legs as Stuart, Jackson and two-goal hero Daniel Amokachi gave "The Toffees" a 4-1 victory. Spurs had only a Klinsmann penalty to their name. Everton went on to beat Manchester United 1-0 in the Final. Amokachi was apparently sent on to replace Paul Rideout by mistake in our semi-final. Rideout went on to score the winner at Wembley. That remains Everton's last trophy success.
We have to go back a further 9 years to March 1986 for the preceding Cup meeting between the two sides. A certain Gary Lineker was one of the Everton scorers that day, with Adrian Heath scoring the other goal, whilst Falco scored for Spurs. Lineker wasn't the only Everton man to later join Spurs, as Everton included Pat Van den Hauwe.
Going back to the 1982-83 season, a depressing pattern started as Spurs lost at Goodison Park in the 5th Round of the FA Cup. Graeme Sharp and Andy King scored the goals. On a more cheerful note, Spurs won the meeting in 1972 with Gilzean and Peters the scorers.
In the 1937 5th Round replay Spurs were losing 3-1 with seven minutes remaining. The referee awarded Everton a penalty. However, the linesman had his flag raised.
After consulting with the linesman, the referee cancelled the penalty because the Everton movement which resulted in the penalty resulted from a foul throw by Everton. According to the laws of the game apparently, the penalty should have stood notwithstanding the foul throw.
Spurs then scored three goals in the last seven minutes with the winning goal coming seconds before the final whistle. Joe Mercer described this as the greatest game he had ever played in, despite finishing on the losing side.
Dominic Calvert-Lewin scored Everton's winner on opening day. He had a blistering start and has scored three goals in his last five games. Calvert-Lewin has 13 league goals and shares second place behind Mo Salah with Harry Kane, Heung-min Son and Bruno Fernandes. 29-year-old Colombian James Rodriguez is Everton's next highest scorer of league goals with 5, and he has proved a very useful acquisition.
So far in this calendar year "The Toffees" have been caught out on their home patch by West Ham and Newcastle. They are prone to inconsistency, but on Saturday came back from two goals down at old Trafford to grab a very useful and respectable draw. Ancelotti has been missing Brazilian gritty midfielder Allan for nearly two months now, and probably rings the changes more in midfield than he does up front or at the back. He has also been known to rotate Jordan Pickford two or three times this season but has had no choice in the last two games when Swedish International Robin Olsen has played. I wouldn't call Olsen convincing in his last performance, but Jordan Pickford never convinces me either!
Ancelotti will have left back Lucas Digne available and he is a danger when he comes forward, which is often. Seamus Coleman has not always been first choice when fit. The manager has shown a lot of faith in youth such as Mason Holgate and Ben Godfrey at the back with the experience of Michael Keane and Yerry Mina usually involved. Everton recently signed Bournemouth's Josh King as back-up to Calvert-Lewin. With a home game against Fulham to follow on Sunday, I see no reason for Ancelotti to field anything other than his strongest side against Spurs tomorrow.
With a Saturday tea-time appointment at The Etihad coming up, you could argue that Jose Mourinho needs to be cautious. I think he will ring the changes at the back anyway with Rodon and Dier waiting, rested, in the wings. A fit Harry Kane means that Reguilon, Dele and Lo Celso remain our injury concerns, although Dele could possibly be available tomorrow. I'm not going to second guess the team, and I cannot be confident with my prediction about the result. If we play with positivity which we saw against West Brom, there is no reason why we could not be the team represented by number 6 in Thursday night's quarter-final draw. We all want that FA Cup hurt to end!
The game kicks off at 8.15pm and is being shown in the UK on BT Sport.
Our match referee will be David Coote, who this season has been in charge of two three-goal victories for Spurs. Those were the 5-2 at Southampton and the 3-0 home win against Leeds. "Sonny" and Kane scored in both those games. More of the same would be great tomorrow! VAR will be in operation.