· Last season's game - Liverpool 2 Spurs 1, 27.10.19
· Premier League Matchday 13 - last year
· See the current injury list for all Premier League Teams
· All the Spurs Stats you could hope for here! THFC6061 Sports Stats

Full league history - Spurs v Liverpool:-

Premier     Pl   W   D   L   For-Ag  Pts
Home        28  12   7   9   38 -38  43
Away        28   2   8  18   26 -57  14
========================================
Total(Prem) 56  14  15  27   64 -95  57  1.017 Pts per game
========================================
Football Lge
Home(Div 1) 49  24  10  15   71 -58  62
Away(Div 1) 49   4  14  31   38 -95  24
========================================
Total(Div 1)98  28  24  46  109 -153 86
========================================
Total(Prem) 56  14  15  27   64 -95  57
Total(Div 1)98  28  24  46  109 -153 86
========================================
Grand Total 154 42  39  73  173 -246 143
========================================

Last Six Premier League results:-

Liverpool  -    WDWDWD

Liverpool  2-1    West Ham
Man City   1-1    Liverpool
Liverpool  3-0    Leicester
Brighton   1-1    Liverpool
Liverpool  4-0    Wolves
Fulham     1-1    Liverpool

Spurs      -    WWWDWD
           
Spurs      2-1    Brighton
West Brom  0-1    Spurs
Spurs      2-0    Man City
Chelsea    0-0    Spurs
Spurs      2-0    Arsenal
C.Palace   1-1    Spurs

Pos           P  W  D  L   F-A   GD  Pts
1. Spurs     12  7  4  1  24-10  14   25 
2. Liverpool 12  7  4  1  27-18   9   25 

Battling for top place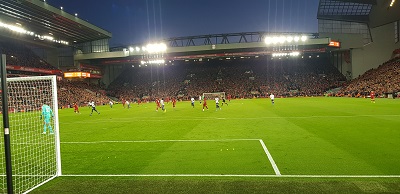 Liverpool and the football world in general will be paying homage to Gerard Houllier who sadly died this week. The Kop won't be full, but as Liverpool remains on Tier 2 they will be allowed 2,000 fans. Spurs and other London clubs have this week been put in Tier 3, so once again fans will be not be allowed at London stadia.
Houllier was a likeable man who was genuinely drawn to Liverpool, having spent a year there in 1969 as a language assistant at Alsop High School in Walton. Before he managed Liverpool he had been the French national team manager when he famously fell out with David Ginola over France's failure to qualify for the World Cup in the USA in 1994. Houllier blamed Ginola for the team's defeat to Bulgaria in a qualifier, all because a cross didn't reach its target.
Ginola would gain a revenge of sorts when he started a league cup game against Houllier's Liverpool side in November 1998. This turned out to be a rare Spurs victory at Anfield, but Ginola didn't finish the game as George Graham replaced him at half-time when Spurs were two up.
Gerard Houllier's greatest achievement with Liverpool was to lead them to a Cup treble in 2001 when they won both domestic cups and the UEFA Cup. They beat Arsenal in the FA Cup Final thanks to two goals by Michael Owen. The UEFA Cup win (over Deportivo) was a nine goal thriller. It was 4-4 at full time and Liverpool won with a "golden (own) goal" in sudden death extra time.
Last season's away game against Liverpool was the first of two consecutive away games in Liverpool with Everton to follow a week later. These were Mauricio Pochettino's last two away Premier League games in charge of Tottenham. We lost at Anfield and drew at Goodison Park. Harry Kane had given us a dream start scoring in the first minute against Liverpool, but Henderson equalised in the second half with his first Anfield goal for four years and Mane won a penalty, scored by Salah. That was our first game against Liverpool since the Champions League defeat in the summer of 2019. How the scousers loved beating us again!
That defeat at Anfield saw us drop into the bottom half. Mauricio had won his last league game against his old club Southampton at the end of September. Despite a big win away to Crvena Zvezda (Red Star Belgrade), a disappointing home draw against Sheffield United heralded Mauricio's departure.
Now, here we are, just over a year later on top of the league with Jose Mourinho the current holder of the Premier League's manager of the month award, battling Liverpool for top place. It is truly wonderful to have written that rare statement. For us to win at Anfield, where we once went 70 years without a win, and where we have only won twice in the Premier League, is a big ask. Amazon Prime have the rights to this batch of games and our game kicks off at 8pm.
Although the European calendar is on pause until February, the Christmas period and the compacted season assures us of a packed winter calendar. The return match against Liverpool will also be a midweek game at the end of January.
Our first Premier League win at Anfield was in August 1993. That was also a midweek game. Nigel Clough opened the scoring for the home side but Teddy Sheringham scored twice in the first half (once from the spot) to give us the points. Graeme Souness was the Liverpool manager. Ossie Ardiles led Spurs. How we missed Teddy between October and Aprilthat season, but luckily he was back to help us survive the drop which was not ensured until the penultimate game at Oldham.
Our other Premier League success at Anfield came in the penultimate game of the 2010-11 season. We won 2-0 with goals by Rafa van der Vaart and a Luka Modric penalty. The following week, Kenny Dalglish's side lost at Villa Park whilst we beat Birmingham to pip the "Reds" for fifth place and a place in the Europa League. Liverpool did not even get a place in Europe in the 2011-12 season as FA Cup Final losers Stoke got the place that year. Relegated Birmingham beat Arsenal in the FA Cup Final (that was a good day), so they played in Europe too.
The Premier League Champions have not been so masterful this season as they were last. They've had a number of key players injured, most famously Virgil van Dijk, after his collision with Jordan Pickford in October. Some Liverpool fans wanted Pickford banned for as long as Van Dijk was injured over that incident, but Pickford wasn't even booked, let alone sent off. Earlier in the year Dixie Dean's statue outside Goodison Park was desecrated by a flare. Wonderful fans those Liverpool folks, aren't they?
Van Dijk is out for the best part, if not the duration of the season. He did play in the amazing 7-2 loss at Villa Park, so all their woes cannot be blamed upon injury. Amongst others, ace goalkeeper Alisson and right back Trent Alexander-Arnold have been missing, but both are back now. In summer the club paid Wolves £45 million for Diogo Jota, who has been in great form, scoring 9 goals in Premier League (5) and Chgampions League (4) games. Now Jota is out for 6-8 weeks with a knee injury. Last season's front three Salah, Firmino and Mane are fit though. Joey Gomez is another long-term absentee.
At Fulham the other day centre-back Joel Matip was withdrawn at half-time with a back injury and Jordan Henderson had to be deployed as an emergency defender. Another big signing for Liverpool was 29-year-old Thiago Alcantara from Bayern Munich for a reported £20 million. Unfortunately he too has fallen victim to (knee) injury and will be absent.
You have to say this is as good a time as any for Spurs to win at Anfield. Jose Mourinho's main problem would appear to be one of selection. I don't see the team changing much for this game, with perhaps Lo Celso starting in Ndombele's place. I will be optimistic and say we will win this one 2-1!
Match referee Anthony Taylor is one of our highest profile officials currently. He has been in charge of 7 European and International games already this season. Mr. Taylor's last appointment in the middle was in Austria last Wednesday when Salzburg met Atletico Madrid. This will be Mr. Taylor's 33rd game in charge of Spurs, and his second match this season. His last game was our 6-1 win at Old Trafford. May that be a good omen for an away win tomorrow!