· Last season's game - Spurs 2 Man City 0, 02.02.20
· Premier League Matchday 9 - last year
· See the current injury list for all Premier League Teams
· All the Spurs Stats you could hope for here! THFC6061 Sports Stats

Full Record of Spurs -v- Manchester City

Prem          Pl  W  D  L   For-Ag  Pts
Home          23 14  3  6   35 -27  45
Away          23 10  4  9   30 -38  34
======================================
Total(Prem)   46 24  7 15   66 -64  79  1.71 pts per game
======================================
Football Lge
Home(Div 1)   46 21 13 12   84 -59  58
Away(Div 1)   46  7 11 28   39 -90  24
======================================
Total(Div 1)  92 28 24 40  123 -149 82
======================================
Football Lge
Home(Div 2)    2  0  1  1    2 - 3   1
Away(Div 2)    2  0  0  2    0 - 3   0
======================================
Total(Div 2)   4  0  1  3    2 - 6   1
======================================
Total(Prem)   46 24  7 15   66 -64  79
Total(Div 1)  92 28 24 40  123 -149 82
Total(Div 2)   4  0  1  3    2 - 6   1
======================================
Grand Total  142 52 32 58  190-220 162
======================================

Last Six Premier League results:-

Spurs      -    DWDWWW
           
Spurs      1-1    Newcastle
Man Utd    1-6    Spurs
Spurs      3-3    West Ham
Burnley    0-1    Spurs
Spurs      2-1    Brighton
West Brom  0-1    Spurs

Man City   -    LDWDWD

Man City   2-5    Leicester
Leeds      1-1    Man City
Man City   1-0    Arsenal
West Ham   1-1    Man City
Sheff Utd  0-1    Man City
Man City   1-1    Liverpool

Pos           P  W  D  L   F-A   GD  Pts
 2. Spurs     8  5  2  1  19-9   10   17
10. Man City  7  3  3  1  10-9    1   12

How heavy hangs the cloud of Covid-19
Spurs, and the whole of the Premier League will be remembering Ray Clemence this weekend. Both Spurs and Liverpool are at home, and once again it is a great shame that the fans of both clubs will not be allowed to applaud their former hero. Ray's last game as a Liverpool player was the 1981 European Cup Final when he kept a clean sheet and Liverpool beat Real Madrid 1-0.
In April that year (1981) Ray had played against Spurs in a game that finished 1-0 with our goal scored by Glenn Hoddle. Glenn said of Ray this week:- "I saw Clem four weeks ago with Ossie, Paul Miller and John Lacy. It was a lovely two or three hours. The way he fought this illness for 15 years just shows you his fighting spirit and what a winner he was, to overcome it and have that extra time with his loved ones, it's quite amazing. That summed Clem up, the strong mind he had as a sportsman and a person...."
A couple of weeks before Ray won that (third) European Cup medal, Spurs were engaged in their epic 1981 FA Cup victory against Manchester City, which required two games at Wembley. The story of THAT Ricky Villa goal is legend.
How heavy hangs the cloud of Covid-19. Despite the positive news about vaccines, the virus continues to prevent us from being with our families and friends; from enjoying our sporting heroes in person, and from sharing grief for a departed hero such as Ray Clemence. This week Spurs will be without right back Matt Doherty who has to self-isolate after encountering the virus on International duty. There had been fears about Son as well with stories about some of his International colleagues contracting the virus, or having tested positive, but Son managed to isolate himself from them and was seen in full training yesterday at Hotspur Way. It seems that Doherty will be our only Covid absentee from tomorrow's game.
It is still very early days in this Premier League season of course, but it is refreshing to see Spurs start a league game above City. Whatever happens in this game, we will still be above Pep Guardiola's men. The last time we were above them when we met in a league game was in January 2017 when we played at the Etihad and drew 2-2. That was a day when we came back from 2-0 down with goals by Dele Alli and Heung-min Son. We finished the 2016 season in second place above City and above them in the final table for a second consecutive season.
City won the title in the following two seasons with points totals of 100 and 98. They were runners-up last season with 81 points. Our points total of 86 when runners-up in 2016-17 was our best ever total. That was higher than the 81 which gave Leicester the 2015-16 title. The way this season has started and without the presence of potentially intimidating away crowds, 80 points or thereabouts could be a winning figure come May.
City this week confirmed that Pep has signed a new two-year extension to his contract, taking him to June 2023.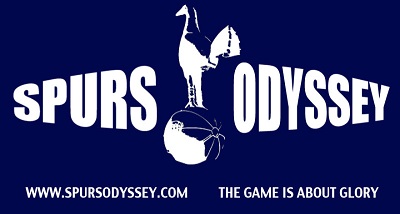 THFC would not allow me the fly the Spurs Odyssey flag in the stadium for these behind closed doors games but it will feature in my match report!
City have only scored one goal in each of their last four Premier League games. They've played a number of games with neither of their recognised strikers Sergio Aguero and Gabriel Jesus. Both have only managed two league appearances. Jesus scored in City's last game - a 1-1 draw with Liverpool. He has since played in two World Cup qualifiers for Brazil. Aguero could be available tomorrow. Raheem Sterling also played against Liverpool and has made 7 league appearances so far. There have been plenty of cynical thoughts that having missed England's games, Sterling will be available tomorrow. City have only played 7 games because their opener against Aston Villa was postponed due to City's Champions League quarter-final game against Lyon (which they lost) on August 15th.
One of City's summer signings - 20-year-old winger Ferran Torres from Valencia - has already appeared in 10 City games in all competitions. He has scored three Champions League goals and got a hat-trick on Tuesday night in Spain's 6-0 thrashing of Germany.
City have splashed out on Nathan Ake from Bournemouth (£40 million) and up to £65 million on Benfica defender Ruben Dias. Dias is already looking a stalwart, and he managed two goals for Portugal in Croatia in midweek. Dias's first game was after the surprising 5-2 home defeat against Leicester, which did involve three Leicester penalties.
As mentioned in my account of Jose Mourinho's first year at Spurs Steven Bergwijn scored on his Spurs debut against City in February. Bergwijn also scored in his next two home games to match Rafa van der Vaart in 2010. The 2-0 win over City was achieved without Harry Kane. You could also say that about our Champions league home win in April 2019 when Kane went off injured after 58 minutes. Heung-min Son scored our goal in the 78th minute, in front of a packed South Stand. We also won without Kane in October 2016 at White Hart Lane thanks to a Kolarov own goal and Dele Alli. Spurs are not necessarily the "Harry Kane team" after all!
I'm writing this before the official team news is divulged. However, I did not spot Erik Lamela in any of the footage shown of the training session yesterday. Serge Aurier was present so should be okay for the right back slot. Japhet Tanganga was also present. It is sure to be an exciting game, and I do not feel confident enough to predict a win. I'll go for a 2-2 draw.
This will be match referee Mike Dean's 71st game in charge of Spurs in all competitions. In January, Mr Dean reached the figure of 500 Premier League games. This will be our first game this season with Mr. Dean in the middle. His first Spurs game was in October 2000 when we beat Derby 3-1. Stephen Clemence (son of Ray) was in the Spurs team that day. Mike Dean's last Spurs game in the middle was our 2-0 home win against City in February!