· Last season's game - Spurs 2 Wolves 3, 01.03.20 - (This was the last pre-lockdown home league game. The crowd was 58,064)
· This season's away game - Wolves 1 Spurs 1, 27.12.20
· Premier League Matchday 36 - last year
· See the current injury list for all Premier League Teams
· All the Spurs Stats you could hope for here! THFC6061 Sports Stats

Full Record of Spurs -v- Wolverhampton Wanderers

Prem         Pl   W   D   L   For- Ag  Pts
Home          6   2   1   3   12 - 11   7
Away          7   4   2   1   13 -  8  14
==========================================
Total(Prem)  13   6   3   4   25 - 19  21  1.61 Pts per game
=========================================
Div 1
Home         31  21   6   4   76 - 40  50
Away         31   9   7  15   46 - 60  27
=========================================
Total(Div 1) 62  30  13  19  122 -100  77
=========================================
Div 2
Home          6   5   1   0   18 -  9  11
Away          6   1   0   5    6 - 16   2
=========================================
Total(Div 2) 12   6   1   5   24 - 25  13
=========================================
Total(Prem)  13   6   3   4   25 - 19  21
Total(Div 1) 62  30  13  19  122 -100  77
Total(Div 2) 12   6   1   5   24 - 25  13
=========================================
GRAND TOTAL  87  42  17  28  171 -144 111
=========================================

Last Six Premier League results:-

Spurs      -    DLDWWL
           
Newcastle  2-2    Spurs
Spurs      1-3    Man Utd
Everton    2-2    Spurs
Spurs      2-1    S'hampton
Spurs      4-0    Sheff Utd
Leeds      3-1    Spurs

Wolves     -    LWWLDW

Wolves     2-3    West Ham
Fulham     0-1    Wolves
Wolves     1-0    Sheff Utd
Wolves     0-4    Burnley
West Brom  1-1    Wolves
Wolves     2-1    Brighton

Pos          P  W  D  L   F-A   GD  Pts
 7. Spurs   35 16  8 11  61-41  20   56
12. Wolves  35 12  9 14  35-47 -12   45 

The task is clear
The task is clear for Spurs. After Everton failed to take advantage of their game in hand and only drew 0-0 against Aston Villa, we remain above "The Toffees" in seventh place. At this time, in order to guarantee that position (and hopefully manage a sixth place above West Ham) we need to win all three of our games and hope that "The Hammers" slip up against Brighton, West Brom or Southampton. The trouble is that our form over the last ten games has not been good with just three games won in that spell. Wolves' 10-game form is similar, but any team can currently offer Spurs a challenge.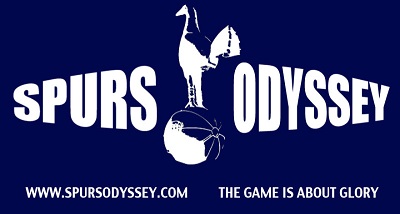 THFC would not allow me the fly the Spurs Odyssey flag in the stadium for these behind closed doors games but it will feature in my match report!
This will be our 14th Premier fixture against Wolves. A particular anomaly regarding this meeting is that over the last 8 matches the home side has failed to win. Hence our poor home Premier League record against a side which is now in its third Premier League run.
Wolves had one season in 2003-04 when we beat them at home and away and they finished bottom of the table on 33 points. The other teams relegated that season were Leeds and Leicester. Spurs didn't fare much better. Glenn Hoddle was sacked early in the season and David Pleat was (not for ther first time) our caretaker manager. Our away game against Molineux was our last game of the season and we won 2-0 with goals by former Wolves star Robbie Keane and Jermain Defoe. I well remember that game, because having driven to Wolverhampton, after the game I was herded against my will by the local police to the railway station. Such was my personal distress about the police treatment that I phoned Gary Newbon on Talksport to "report live"!
Wolves were managed by Dave Jones at the time, but he lost his job when Wolves were 18th in the Championship at the end of October. Stuart Gray covered for a while but Glenn Hoddle took over in December and Wolves did finish 8th. The following season under Glenn, Wolves finished seventh. Wolves appointed Mick McCarthy before the following season and Wolves were Glenn's last managerial appointment, although he ran a popular football academy in Spain for several years, and also worked under Harry Redknapp with QPR during the 2014-15 season. Glenn's voice is regularly heard these days on BT SPORT. I've had the pleasure of meeting Glenn a couple of times. Once was at a Spurs legends night at "Whites", which was accessed via the old Paxton Road. The other time, I had the honour of sitting next to him in the Press area at White Hart Lane when Ray Lo and I were covering a Youth Cup game and Glenn was on pundit duty.
Under Mick McCarthy Wolves were promoted again and he remained in place until February 2012, when Wolves looked doomed, and indeed were ultimately relegated in bottom place. We only managed to draw our home game in January 2012, which was Harry Redknapp's last season with Spurs. We did finish fourth, but disaster struck in the shape of a West London club managing to win the Champions league, despite finishing below us in sixth place.
Wolves' latest six-year absence from the Premier League included a year in League One which they won. Now with the heavy Portuguese influence, including manager Nuno Espirito Santo, they are in their third season in the top flight. Wolves had a great first season, qualifying for the Europa league when they lost a one-legged quarter-final last August to Sevilla. They've never got going this season, missing Diogo Jota when he went to Liverpool and his fruitful partnership with Raul Jimenez. Jimenez's return to action is being managed very carefully after his horrific head injury against Arsenal last November. Nuno signed 29-year-old Brazilian Willian Jose on loan as cover for Jimenez, but he didn't manage to score until April against Sheffield United.
Perhaps significantly Willian Jose did not start the Brighton game in which Nuno put a ittle more emphasis on his younger players such as 19-year-old left (wing) back Ait-Nouri, and right-side player Ki-Jana Hoever. Nuno also gave a start to Morgan Gibbs-White, who missed one sitter, but did score Wolves' 90th minute winner against a Brighton side who had skipper Lewis Dunk sent off when he tugged the shirt of 18-year-old Fabio Silva who would otherwise have broken clear. As always, Spurs will have to beware of the strength and pace of Adama Traore and (if he plays) 34-year-old Joao Moutinho who we once coveted and who played against us four times for Monaco in European competition.
Just over a hundred years ago (St. Georges Day 1921) we won our second FA Cup against Wolves. 49 years ago (17th May, 1972) we secured a two-legged UEFA Cup win with a home draw against a Wolves side which included the likes of Phil Parkes in goal, and McCalliog, Hibbit, Richards, Dougan and Wagstaffe in a potent attack. Today, our only chance of anything resembling glory is Harry Kane's quest for third golden boot. We can rest assured that Harry will be going all out for that accolade. He is currently joint leader on 21 goals after Mo Salah's late goal against Manchester United last night.
Whether we can be confident in the remainder of our team remains to be seen. Mathematically they do still have a sniff of Champions League (highly unlikely I know) and they should all be playing out of their skins, shouldn't they? My foolhardy prediction is for a 2-0 home win. The game kicks off at 2.05pm on Sunday and in the UK is being televised by SKY. The Spurs Odyssey match report will be written by Declan Mulcahy and is likely to be online on Monday morning.
Martin Atkinson is in charge of a Spurs game for the fourth time this season. All four have been home games. They were against Everton (lost), Arsenal (won - hooray!), and Liverpool (lost). Time then for a win methinks. I can find no record of Mr. Atkinson having charge of a Spurs-Wolves game previously. I'd better not mention that Wolves haven't won a game with this referee in charge since 27th December 2019 when they beat Manchester City. (Oops)