EUROPA LEAGUE ROUND OF 16 (2nd leg)
WEDNESDAY 24TH FEBRUARY, 2021
(5PM)
TOTTENHAM HOTSPUR 4(1) WOLFSBERGER AC 0(0)
(Aggregate score 8-1)
Scorers:-
Dele, 10
Vinicius 50, 83
Bale, 73
Attendance:- 0
Referee:- Matej Jug
Assistants:- Matej Žunic & Robert Vukan
Fourth official:- Slavko Vincic
VAR:- Marco Di Bello (ITA)
Assistant VAR:- Jure Praprotnik
(All officials except VAR from Slovenia)
Teams:-
Spurs (4-2-3-1):- Hart; Doherty (sub Lavinier, 74), Alderweireld, Dier, Davies (Capt.); Sissoko (sub John, 82), Winks; Lamela (sub Bale, 69), Dele (sub Scarlett, 81), Bergwijn (sub Lucas Moura, 69); Vinicius
Subs not used:- Lloris; Reguilon, Tanganga; Ndombele, Markanday; Son, Kane
Booked:- Doherty (foul on Scherzer), Davies (foul on Dieng), Alderweireld (Dissent)
Wolfsberger (3-5-2):- Kuttin; Baumgartner (sub Giorbelidze, 65), Henriksson, Lochoshvili; Novak (sub Pavelic, 46), Wernitznig, Liendl (Capt.), Stratznig (sub Rnic, 79), Scherzer (sub Peric, 65); Dieng, Vizinger (sub Joveljic, 46)
Subs not used:- Kofler, Skubl (GK); Rocher, Schofl, Taferner
Booked:- Baumgartner (foul on Vinicius), Wernitznig (foul on Lamela)
Dele takes centre stage as Spurs cruise to next round
Dele Alli took centre stage with a glorious goal and two assists as Spurs cruised through to the Round of 16 in the Europa League. Played on the 13th anniversary of our last trophy win, with one of that team (Jenas) in the BT commentary box, Spurs hope to pick up this trophy to enable passage to next season's Champions League. We are the first to reach the next round, as we played our game one night earlier than the other contestants, and there will be plenty of good teams in Friday's free draw.
Everything went to plan really for Jose Mourinho and the players he selected. Carlos Vinicius scored a brace, one of which was assisted by one of the three youngsters who got an outing towards the end of the game. The assistant was Dane Scarlett, who has made two previous brief appearances, but he was joined by debutants Marcel Lavinier and Nile John.
Spurs also maintained a record of never yet conceding a home goal in competition to an Austrian team.
Spurs kicked off and played towards the North Stand. They were comfortable in possession without threatening the final third in the early stages. In fact the visitors came closest to goal first when Christopher Wernitznig (celebrating his 31st birthday today) hit a right foot shot over from 22 yards after a cross from the right. Steven Bergwijn was one of several players who gave lively performances and he pulled a right foot shot wide after coming inside from the left flank where he was generally operating. Erik Lamela was also popping up in good positions and situations.
Spurs went ahead in the 10th minute with a goal engineered and sensationally scored by Dele Alli who had been given only his eight start in the 41 games played so far this season by Spurs. Dele was the fulcrum as he firstly passed to Bergwijn to his left; took the return, then fed the ball out to Matt Doherty to the right of the area. Doherty crossed low. Dele took a delectable touch, lifting the ball before an immaculate overhead kick which it the net inside goalkeeper Kuttin's right post. It was Dele's third goal of the season, each of which have been in Europe. The last two were penalty kicks, so his last goal from open play was in January last year against Norwich. Whilst of a different nature of execution, there was a similarity to his goal at crystal Palace in January 2016. This was a glorious Dele moment!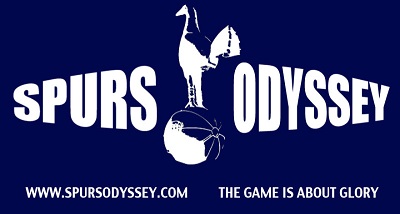 THFC would not allow me the fly the Spurs Odyssey flag in the stadium for these behind closed doors games but it will feature in my match report!
Seven Bergwijn battled for and came out with the ball towards the right and passed to Harry Winks, but his shot was well over. Spurs continued to dominate possession and pass comfortably, but the visitors had moments without penetration. Their captain Liendl sent a ball to Scherzer who was to the left of the area. He hit a shot wide back across the goalmouth.
A good long ball by Toby Alderweireld found Bergwijn who got to the edge of the box again, but had his shot well blocked. Spurs defended well against another promising Wolfsberger attack after a cross by Dieng for Wernitznig. The ball was cleared long to Dele towards the left side. Dele hit a cross with the outside of his right foot, aimed for Vinicius on the far side of the area, but hit just a bit too strongly. Kuttin came way out of his area to clear from Dele's feet after Vinicius had sent a good through ball forward.
Novak hit a cross from the right and this reached Liendl who deflected the ball goalward, but this was an easy save for Joe Hart. Toby Alderweireld got forward to help Doherty in a right-side attack. Doherty crossed but Vinicius headed the ball too high. After good strong and determined play by Lamela down the right channel and a pass to Vinicius in space on the right of the area, Carlos did well to round the keeper, but then hit his shot with insufficient power, enabling it to be cleared off the line. He had Dele and another waiting across the 6-yard area. Bergwijn had another shot from the edge of the area which Kuttin saved.
Bearing in mind Doherty had been booked in the first half, I expected an early change by Jose, but we had to wait. Wolfsberger coach Ferdinand Feldhofer did make a double change, but his side was four goals down now and he must have been resigned to exit. Eric Dier made a strong challenge upon Dieng, just outside the Spurs area but the Slovenian referee Mr. Matel Jug gave no foul, and VAR could not intervene here. That margin became five goals within minutes as Vinicius signalled for the ball and made the run to meet Dele's accurate cross and head down and past the goalkeeper inside his left post. That was his fifth European goal for Spurs, with one more to come.
After a foul on Vinicius Eric Dier took the free kick, which came off the wall and reached Doherty to the right. He passed inside and Lamela hit a goal-bound curler which was headed out of play by Lochoshvili. Lamela and Bergwijn were soon exchanging short passes as they advanced into the area before Lamela hit his shot well over the target.
Liendl offered a ball to substitute Joveljic, who headed wide. After a nice passing move by the Austrian side from right to left Scherzer crossed for Joveljic whose shot was on target but easy for Hart.
Dele had a shot on target after 66 minutes, after Bergwijn's pass from the left. Kuttin saved. Lamela and Bergwijn were then replaced by Bale and Lucas Moura. There was no sign of the youngsters yet! Gareth Bale scored a lovely goal, receiving a good ball from Dele who was left of the area. Gareth was inside the area on the right but hit his left-footed shot inside the far post for his sixth goal of the season. It was Bale's 11th European goal for Spurs.
The first of the youngsters on the permitted 12-man (and boy) bench was Marcel Lavinier who replaced Doherty for his senior Spurs debut. Lavinier came from Chelsea last summer and can play at left or right back. Lucas Moura passed inside to Winks who made quite a hash of his attempt on goal. Now it was time for Dane Scarlett (still the youngest Spurs player in the Premier League and Europe) to replace Dele who would have received rapturous applause had there been a crowd. Midfielder Nile John was also given a debut, replacing Sissoko.
Scarlett had the pleasure of stealing the ball off a poor defence to make a short advance upon the area offering the ball to Vinicius who scored with his left foot from 18 yards. Scarlett even had a chance to score himself after a good move down the right before Bale in a central position fed him the ball. Dane hit a good shot, but the goalkeeper manged to push the ball around the corner.
Those 41 games played so far this season have included 11 in Europe. We are the first team into Friday's draw, with a potential 7 games yet to play if we want to lift that trophy. That's a long and difficult path, but this win has given the squad confidence which will hopefully be found in our forthcoming Premier League games. First up will be Burnley on Sunday.
· See the exclusive "Spursometer" and have your say regarding the performances of the team, individual players, manager and officials.
· Squad numbers,appearances,bookings & goalscorers
· Read the preview for this game.
· All the Spurs Stats you could hope for here! THFC6061 Sports Stats