Let's give Danny a great reception if he plays!
Fellow ardent Spurs fan Douglas Bagley (@dougbagleyfdl on Twitter) wrote the following words this week, and has kindly allowed me to publish them along with his photo taken with Danny Rose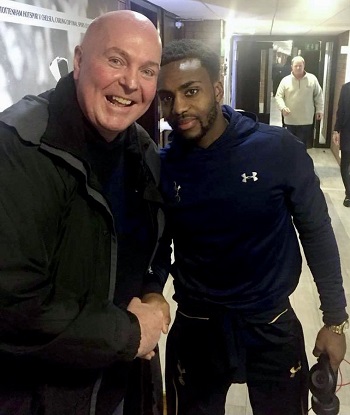 As Spurs fans I like to think that we are better behaved than some fans of some other Clubs. We appreciate good football and we remember great players and great goals fondly, even when players leave us for whatever reason.
None of us are perfect, we have all said the wrong thing at the wrong time. We are also sensible enough to not believe everything we read in the papers or edited TV clips. We were very lucky to see recently the best Spurs defence for many years in Lloris, Walker, Alderweireld, Vertonghen and Rose. I hope that in the future we have the opportunity to thank Toby Alderweireld and Jan Vertonghen and give them the great reception and send off that they deserved but have not yet received.
On Sunday we play Watford and Danny Rose will hopefully play. I should declare at this point that I donít know Danny Rose at all - but I do know his father who is a great football man. Danny Rose will always be remembered by me for that great goal on his debut against Arsenal in 2010. How high did we all jump and scream when that volley went in. He also scored against Chelsea and West Ham in 2015. Goals we all celebrated against our biggest rivals. Before becoming a regular Spurs sent Danny on loan to Watford Peterborough, Bristol City & Sunderland.
In total Danny made 214 appearances for Spurs and scored 10 goals. He also became the England full back playing in the 2018 World Cup. During the Pandemic Danny also gave some excellent support to the North Middlesex Hospital.
I personally will be cheering Danny Rose and singing his name on Sunday to thank him for all he did on the pitch for Spurs and especially for that goal against Arsenal in 2010. I hope that he gets a great reception off our fans.
Editor's note - Danny was also spotted at The Lamex Stadium, Stevenage when our U-23s played Chelsea on August 16th.
∑ Spurs v Watford Match Preview