∑ Premier League Matchday 3 - last year
∑ See the current injury list for all Premier League Teams
∑ All the Spurs Stats you could hope for here! THFC6061 Sports Stats

Full League history Spurs v Watford.


Prem         Pl W  D  L  F-A  Pts
Home         7  6  1  0 17-3  19
Away         7  2  4  1  9-6  10
================================
Total(Prem) 14  8  5  1 26-9  29  2.07 Pts per game
================================
Lge Div 1 
Home         6  3  0  3 11-11  9
Away         6  3  1  2  7-6  10
================================
Total(Div 1)12  6  1  5 18-17 19
================================
Total(Prem) 14  8  5  1 26-9  29
Total(Div 1)12  6  1  5 17-10 19
================================
Grand Total 26 14  6  6 42-19 45
================================

Last Six Premier League results:-

Spurs      -    LWLWWW
           
Leeds      3-1    Spurs
Spurs      2-0    Wolves
Spurs      1-2    A. Villa
Leicester  2-4    Spurs
Spurs      1-0    Man City
Wolves     0-1    Spurs

Watford    -    WWLWWL

(* indicates Championship game)

Norwich    0-1    Watford*
Watford    1-0    Millwall*
Brentford  2-0    Watford*
Watford    2-0    Swansea*
Watford    3-2    A. Villa
Brighton   2-0    Watford

Pos          P  W  D  L   F-A   GD  Pts
 5. Spurs    2  2  0  0   2-0    2    6
11. Watford  2  1  0  1   3-4   -1    3

Hoping for a very happy day!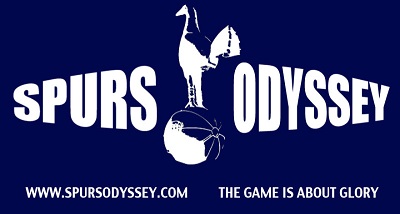 My very good friend and regular contributor to the Spurs Odyssey website Declan Mulcahy has kindly written the bulk of this preview:-
Spurs last played Watford at home in the Premier League on Saturday 19 October 2019 after an international break. The previous league fixture away to Brighton had seen Hugo Lloris injured early in the game after which Spurs suffered an unexpected and traumatic 3-0 defeat and they dropped from sixth to ninth place in the league table. After eight games their record was W3 D2 L3. Eleven points from eight games was a disappointing start to the season for Mauricio Pochettinoís team. In addition Spurs had lost 2-7 at home to Bayern Munich in the Championís League.
If Spurs start to the season was disappointing Watfordís was catastrophic. They hadnít won a match yet and had suffered five defeats and three draws. With three points from eight matches they were bottom of the table three points behind 19th place Norwich City. Javi Gracia who had taken them to the FA Cup Final had been replaced in September by former manager Quique Sanchez Flores.
With Watfordís away record after four matches being W0 D1 L3 F1 A12 this seemed like a good opportunity for Spurs to achieve a win and rack up some goals in the process.
Things didnít go according to plan. Watford had to replace Welbeck with Deulofeu after only four minutes and two minutes later Doucoure gave Watford a surprise lead scoring at the far post. The goal was set up by a 60 yard pass from Craig Cathcart which the Spurs defenders didnít deal with.
Once they had scored Watford began to waste time despite the fact that there was more than an hour to go. They did have a claim for a penalty after Jan Vertonghen mistimed a tackle on Deulofeu but referee Chris Kavanagh turned it down.
With five minutes remaining Spurs were still a goal down and it looked like the unthinkable might happen against a team who had conceded 12 goals in their last four away league games.
A minute later a lofted ball towards Kane was punched out by Ben Foster in the direction of Alli. He controlled the ball with his shoulder and scored. The Watford players appealed for a handball and the farce began. The VAR check was lengthy. The VAR officials decided that the goal stood but due to an error the screen stated that it had been disallowed. Even when Watford kicked off there was still confusion as to the outcome.
A draw at home to lowly Watford was hardly an auspicious result. Within three weeks the Pochettino regime had ended.
Watford went through three managers and a caretaker manager before being relegated.
Nuno has faced Watford four times in the Premier League winning two and losing two, one at home and one away in each case. His biggest disappointment against Watford was the exciting FA Cup semi final in 2019.
Matt Doherty gave Wolves a first half lead. When Raul Jimenez put Wolves 2-0 ahead just after the hour mark it looked as though Wolves were destined for the final. However Deulofeu reduced the deficit to one goal. Deep into time added on Watford were awarded a penalty and Troy Deeney coolly levelled the score.
The initiative switched to Watford and that man Deulofeu scored the winning goal towards the first half of extra time. Watford were humiliated in the final as Manchester City beat them 6-0.
The current manager Xisco MuŮoz (their 14th in the last 10 years) took over in December 2020 and did an excellent job to ensure they were promoted. He doesnít have much experience at this level but has a reputation for smiling.
Ben Foster who turned time-wasting into an art form has been replaced by Daniel Bachmann who was also Austriaís number one goalkeeper in Euro 2021.
Troy Deeney their stalwart goal scorer is 33 and only appeared for the final ten minutes in each of their two Premier League games to date. There are rumours that he will be sold before the transfer window closes.
They have signed Danny Rose who hadn't played a competitive game for Spurs since early 2020. He hasnít featured in the two league games so far but was selected for the Carabao Cup win over Crystal Palace. Fellow ardent Spurs fan Douglas Bagley (@dougbagleyfdl on Twitter) wrote the some words this week, and has kindly allowed me to publish them along with his photo taken with Danny Rose here.
Will Hughes isnít being selected because he is in the last year of his contract and wonít extend it.
The two main men up front are Ismaila Sarr and Emmanuel Dennis. Both scored in the 3-2 win over Aston Villa. It was Dennisís debut. Sarr has been around for a while.
Spurs have started well. The 3-0 win over Pacos de Ferreira with Harry Kane returning and scoring two goals was a huge boost for the club.
Overall the situation looks good. However there is one issue that will need to be addressed. Cristian Romero has arrived with a good reputation as a defender. However he has a very poor disciplinary record. In 102 matches in Italy he was booked 39 times and sent off three times including his second match in Italy. Thatís an average of two cards every five games. He was substituted several times last season to prevent a second booking.
In his second start for Spurs at home to Pacos de Ferreira he was booked after only 30 minutes so the problem hasnít gone away. Nuno and his staff are going to have to work on this aspect of his game.
With a rejuvenated Harry Kane and three wins out of four games so far this season Spurs have momentum going into Sundayís game. Anything other than a home win would be a major surprise. Should Spurs win and Arsenal lose at the Etihad the league table at the end of the weekend will make for good reading with Spurs at one end of the table on 9 points from three games and Arsenal at the other end having no points.
(Ed:- My prediction is for a 3-1 Spurs win! Spurs announced yesterday that they had agreed the transfer of Moussa Sissoko to Watford, but I do not believe the transfer was completed in time for Moussa to play against us. I will write more on Moussa when I round up the final arrivals and departures next week.
Another Spurs connection at Watford is centre-back William Troost-Ekong who was signed from Udinese and played in 32 Championship games last season. William is a Nigerian International. He started his career with the Spurs Academy in 2011. William has since played with various clubs including AA Gent in the 2016-17 season when the two clubs met in the Europa League Round of 32 in 2017. He did not play in either game against Tottenham who had fallen out of the Champions League and failed at the first hurdle in the offered escape route.
Andre Marriner takes charge of Spurs for the 47th time tomorrow. Mr. Marriner's first Spurs game was in February 2006. Last season he refereed us three times. Those gmes were at home and away against Sheffield United and at home to Chelsea. That February 2006 game was a 1-1 draw at Sunderland when Robbie Keane scored our goal!
∑ Spurs record in recent London Derby League matches