PREMIER LEAGUE SUNDAY 7TH NOVEMBER, 2021
(2pm)
EVERTON 0(0) TOTTENHAM HOTSPUR 0(0)
Attendance:- 39,059
Referee:- Chris Kavanagh
Assistants:- Dan Cook, Harry Lennard
Fourth official:- Anthony Taylor
VAR:- Jonathan Moss
Assistant VAR:- Marc Perry
Teams:-
Everton (4-4-1-1):- Pickford; Coleman (Capt.)., Godfrey, Keane, Digne; Gordon, Delph (sub Davies, 60), Allan (sub Holgate, 82), Gray (sub Gbamin, 90+3); Townsend; Richarlison
Subs not used:- Begovic; Kenny, Branthwaite; Iwobi; Tosun, Rondon
Booked: Delph (foul on Lucas Moura), Richarlison (unsporting conduct),
Sent off (90+2):- Holgate (serious foul play – on Hojbjerg)
Spurs (3-4-3):- Lloris (Capt.); Romero, Dier, Davies; Emerson Royal, Hojbjerg, Skipp, Reguilon (sub Doherty, 71); Lucas Moura (sub Lo Celso, 71), Kane, Son (sub Ndombele, 85)
Subs not used:- Gollini; Sanchez, Tanganga; Winks, Dele; Bergwijn
Booked:- Reguilon (foul on Townsend), Romero (unsporting conduct), Ndombele (time), Skipp (foul on Townsend)
Did Conte over-estimate Everton?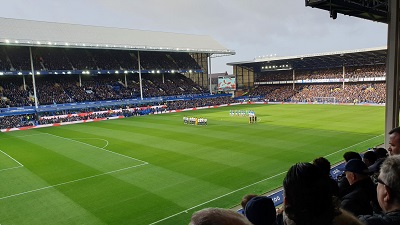 The question on my lips during and at the end of this game was – Did Antonio Conte over-estimate Everton? Some will point to the damning statistic that Spurs had no shots on target (Everton had just two) and that Spurs have now gone a total of 227 minutes in Premier League games without a shot on target. That is indeed a disgrace. Conte picked the same team and played the same formation as he did on Thursday against Vitesse. Obviously, his Spurs team is a work in the very early stages of progress, but even in the first half at times, and for a lot of the second half we were five at the back, looking like a 5-4-1 at times with Kane alone at the front. The five at the back was seen when we were defending, but we had to do too much of that in the second half. Everton are a team missing key players such as Mina, Doucoure and Calvert-Lewin – a spine you might say. Rafa Benitez packed his midfield where a lot of the game was played, and Spurs failed too often with what could have been key, penetrative passes. In the end a clean sheet and a point was an achievement, but we are losing ground on the leading group in the league. West Ham beat Liverpool today and are seven points ahead of us. That is distressing!
There was some high drama in the second half with referee Chris Kavanagh sent to review the action on the pitch-side monitor by VAR Jon Moss not once but twice. On both occasions the referee reversed initial decisions to award firstly a penalty for a foul by Lloris on Richarlison ("He got to the ball!" chanted Spurs fans. Secondly, in added time, Mr Kavanagh upgraded a yellow card shown to substitute Mason Holgate to red for a foul on Hojbjerg ("He didn't get the ball!" chanted Spurs fans). After the decisions, replays of the incidents were shown on the big screen which only served to rile the ever-partisan home fans more. What with their persistent booing of Son, over the incident with Gomes two years ago (for which he was exonerated), Everton fans really are an obnoxious bunch at times, to put it mildly. I do not recall seeing them so wound up.
Covid arrangements mean the visiting team and officials enter from beneath the away section. There were plenty of Italian flags on show and the new manager was regaled with chants of "Antonio" as he entered the arena. The game was preceded by silence for Remembrance and applause for former Everton (and of course Rangers) manager Walter Smith.
After taking the knee the football match began with Spurs kicking off and playing towards the Gwladys Street End. Kane pushed a ball through to thee advancing Hojbjerg after two minutes and when Keane tackled and Emerson tried to follow up, a Spurs throw resulted. More often than not, (I am sure this was the first occasion) such throws went backwards. Old habits are dying hard with this group. A poor pass in midfield by Oliver Skipp gave Allan a chance from distance but this was comfortable for Hugo Lloris. In fairness to Skipp, in my view he emerges from this game with as much of not more credit than others with some great tackles and interceptions. Hojbjerg's battling skills were also to the fore.
Hojbjerg was penalised for a foul on Townsend and when Delph floated in a cross after Gray's short free kick, Michael Keane had come up and headed the ball at the back of the area, thankfully headed over and across the goal. Reguilon got an early yellow card for a foul on Andros Townsend, and therefore had to watch his step for the rest of the game. He was seen pulling out of one possible challenge later in the game.
Kane received a headed clearance from Dier and sent Lucas Moura away on the right. This was the first of too many occasions when Spurs failed with key passes that should have led to key chances. This one intended for Son was cleared. Kane had a shot blocked and after the ball ran to Lucas, the Everton defence again cleared. Dier fed another ball to Lucas who passed to Kane. Harry sent the ball to Reguilon whose cross was headed over by Emerson at the back post.
Everton had the advantage on Reguilon's flank when the left back had failed with a pass and was committed to attack. Allan crossed and Richarlison's header was wide. Spurs cleared a ball to Kane whose intended pass was inaccurate and was cut out. Gray had a run all the way to our box and went down in the area. The referee gave nothing. VAR must have reviewed this action and supported the referee. In the last minute of the first half Reguilon failed at the back post after good work by Kane and Son. Kane sent the cross, but "Reggie" fired way too high.
As the Spurs fans left in our corner Everton fans roundly booed Son. Clearly this is a grudge that will not go away.
Everton kicked off and early on Lucas went down just inside the box with no reward. Again, any foul was probably outside the area. At the other end Gay got the better of Emerson and crossed but Gordon volleyed over the bar in front of the Gwladys Street Stand which roared its frustration. Lucas had the ball in the middle and sent a good pass to Reguilon, but his cross was too close to the goal and Pickford caught and held the ball with ease. Soon after that "Reggie" cut inside from the left and hit a right foot shot, but this was blocked and cleared.
After an hour Skipp passed to Ben Davies, advancing to his left. Davies tried a long-range shot, but that passed wide. The strategy of three at the back does allow for Romero and Davies alternately to take forays forward. Romero was seen more in the opposition half late in the game.
The Lloris/Richarlison incident came after 62 minutes. The ball had been crossed from the left and sent forward by substitute Tom Davies. Richarlison went down under Hugo's challenge and Mr. Kavanagh pointed to the spot. We must be thankful for the existence of VAR which sent the referee to the monitor and led to a reversal of his decision. Everton subsequently had a corner on the left which led to a melee in the middle after which Richarlison and Romero were booked. Davies had a shot blocked, but too much of the action was at the Spurs end for my liking.
Kane, Lucas Moura, and Son attacked with Lucas teeing up Son, but his shot was wide. It was another occasion when we should have done better. Lucas was replaced by Lo Celso who took up his position towards the right of midfield. However, the other substitution at this stage was right back Doherty for left back Reguilon. Overall, Doherty didn't do too badly, but of course he needed more time to switch to his right foot when approaching the Everton box. Kne overhit a cross for son after good work by Hojbjerg. Doherty and Son combined on the left, but Son's cross was always Pickford's ball.
Holgate replaced Allan after 82 minutes. Son was replaced by Ndombele, who hit a right foot shot after receiving the ball from Lo Celso. Tanguy's right foot shot was blocked and yet again, Spurs had failed to reach their target. Ndombele was booked after a free kick had been awarded against him and he kicked the ball forward, away from the location of the offence. Pickford then stole the same number of yards anyway!
Spurs built up the pressure in the closing stages, no doubt hoping to snatch a win. After good battling play in his own half Hojbjerg sent the ball forward to Lo Celso. A similar break was led by Skipp, and he passed to Lo Celso who hit a left foot shot from just outside the area which crashed against Pickford's right post and rebounded clear. Doherty crossed successfully and Everton managed to keep Emerson at bay. Romero was forward and adding to the Spurs pressure. Spurs were forced back outside the Everton box where Holgate caught Hojbjerg with a studs-up challenge. His initial yellow card was upgraded. Lo Celso had both a free kick and a corner from the left in the very last stages. His corner was hit low and quite frankly was woeful. Another Doherty cross led to an Emerson header, but that was cleared. Lo Celso went down in the box but was getting nothing for his trouble.
Conte was pleased with his team after the game, saying, "Today I saw the hearts of my players and their willingness to fight. It was a difficult moment for us and to see this kind of reaction makes me more confident for the future." Coming back to my opening question, I just feel the formation was too defensive and that Everton were there for the taking. However, that needed more application from this Spurs side which remains under-par and in mid-table.
· See the exclusive "Spursometer" and have your say regarding the performances of the team, individual players, manager and officials.
· Squad numbers,appearances,bookings & goalscorers
· Read the preview for this game.
· All the Spurs Stats you could hope for here! THFC6061 Sports Stats