· Last season's game - Everton 2 Spurs 2, 16.04.21
· Premier League Matchday 11 - last year
· See the current injury list for all Premier League Teams
· All the Spurs Stats you could hope for here! THFC6061 Sports Stats


Full Record of Spurs -v- Everton
 
Prem          Pl   W   D   L   For- Ag  Pts
Home          29  17   8   4   54 - 32  59
Away          29  10  14   5   36 - 26  44
==========================================
Total(Prem)   58  27  22   9   90 - 58 103   1.77 Pts per game
==========================================
Football Lge
Home(Div 1)   54  25  16  13  107 - 67  72
Away(Div 1)   54  10  17  27   60 - 88  38
==========================================
Total(Div 1) 108  35  33  40  167 -155 110
==========================================
Football Lge
Home(Div 2)    1   1   0   0    1 -  0   2
Away(Div 2)    1   0   0   1    2 -  4   0
==========================================
Total(Div 2)   2   1   0   1    3 -  4   2
==========================================
Total(Prem)   58  27  22   9   90 - 58 103
Total(Div 1) 108  35  33  40  167 -155 110
Total(Div 2)   2   1   0   1    3 -  4   2
==========================================
Grand Total  168  63  55  50  260 -217 215
==========================================

Last Six Premier League results:-

Everton    -    LWDLLL

A. Villa   3-0    Everton
Everton    2-0    Norwich
Man Utd    1-1    Everton
Everton    0-1    West Ham
Everton    2-5    Watford
Wolves     2-1    Everton

Spurs      -    LLWWLL
           
Spurs      0-3    Chelsea
Arsenal    3-1    Spurs
Spurs      2-1    A. Villa
Newcastle  2-3    Spurs
West Ham   1-0    Spurs
Spurs      0-3    Man Utd

Pos          P  W  D  L   F-A   GD  Pts
 9. Spurs   10  5  0  5   9-16  -7   15 
10. Everton 10  4  2  4  16-16   0   14 

Spurs record against ever-present Premier League teams:-

              P  W   D   L   F - A  Pts (Per-game)
1. Everton   58 27  22   9  90 - 58 103   1.77 Pts per game
2. Arsenal   59 14  23  22  73 - 95  65   1.1
3. Liverpool 58 14  15  29  66 -100  57   0.98
4. Man Utd   59 10  12  37  57 -101  42   0.712
5. Chelsea   59  7  20  32  55- 106  41   0.695

Can we get back to winning ways against "The Toffees"?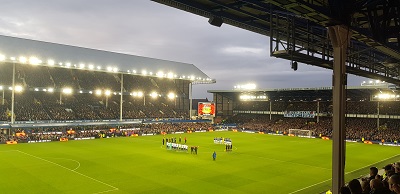 Premier League clubs will be performing acts of Remembrance again this weekend, as was the case the last time Spurs fans were allowed to visit Goodison Park. That was the day Heung-min Son was sent off for "endangering the safety of a player" and Andre Gomes suffered a horrific injury. Son's red card was rescinded on appeal, and happily Gomes made a successful return although he has not made a Premier League start this season. The match was drawn 1-1. Spurs fans chanted, "We want our football back" in relation to VAR. We had no inkling that less than a week later Mauricio Pochettino would be in charge of his last Spurs game.
Everton are still our favourite team to play among the other five ever-presents in the Premier League. However, we haven't beaten them in four meetings now. In last year's late opener at The Tottenham Hotspur Stadium Carlo Ancelotti's men beat us with a Calvert-Lewin goal. In February, we lost a crazy FA Cup Fifth Round game at Goodison Park 5-4. Then in the league in April, we drew 2-2. That was Jose Mourinho's last game as Spurs manager, since when we had Ryan Mason in temporary charge, Nuno in charge for four months and now we have Antonio Conte! We've only lost 5 Premier League games at Goodison Park and you have to hope we can get back to winning ways tomorrow!
Everton of course have had a change of manager after a bombshell was dropped on 1st June when Carlo Ancelotti accepted an offer to return to Real Madrid, where he had previously served as coach. Former Liverpool man Rafa Benitez's appointment was confirmed on 30th June, which was the same day as we appointed Nuno Espirito Santo.
Benitez's appointment did not go down too well with some Evertonians, but their mood improved after five unbeaten games at the start of the season which included a League Cup win. The wave of optimism has disappeared after a spell of seven games during which their only win has been against lowly Norwich. Benitez has been hampered by the absence of Dominic Calvert-Lewin, who once again scored in his first three games (two goals were penalties) and now midfielder Doucoure and defender Yerry Mina.
James Rodriguez was allowed to leave (for Qatar) about whom Benitez said he wanted players who "want to be here when it is cold, not just during the summer". One former Spurs player who is still on Everton's books does not get mentioned currently, but another who was out of contract with Crystal Palace and was signed on a free by Benitez was Andros Townsend. Andros has turned 30 now, amd worked with Benitez before at Newcastle. He has appeared in every Premier League game so far and scored 5 goals in all competitions. Another success for Benitez, and also from the "bargain bucket" was Demarai Gray, once of Leicester but signed from Bayer Leverkusen. Gray has been ever-present in league games so far this season.
This will be Antonio Conte's second Spurs game after the eventful 3-2 win over Vitesse on Thursday. Antonio has encountered Rafa Benitez in England and in Italy before!
Everton also signed former West Bromwich Albion and Newcastle United striker Salomon Rondon on a free transfer. He's another who previously played for Rafa. Rondon has had game time but has yet to score this season. Stand by Spurs fans!
Jimmy Gabriel, who died aged 80 in July this year, was at the heart of Harry Catterick's great Everton side of the 1960s; a hard-tackling stalwart in defence or midfield, he won the League and the FA Cup, and later enjoyed a successful career in management in the US.
The past five meetings between Everton and Tottenham at Goodison Park in all competitions have produced 26 goals (10 for Everton, 16 for Spurs), an average of 5.2 per game.
At his press conference yesterday Conte said,"This club had a great vision outside of the pitch" (He was referring to the stadium and training ground here).... "Now we have to start to have a vision also on the pitch, on the football topic. This is important if we want to win. On the pitch, we need to change many, many things."
Clearly, this is very early in the process Conte wants to impress upon his players. Both teams have plenty to prove and to improve. It will be an interesting game. Of course I hope for a Spurs win, but can I be confident? Of course not, but I do predict a Spurs win - perhaps even a 3-1. The game kicks off at 2pm, and was not chosen for TV broadcast. I shall be attending and will submit an eye-witness report later in the day.
This is referee Chris Kavanagh's tenth game in the middle with Spurs. He also refereed our home win against Aston Villa on 3rd October. Last week, he was in charge of Villa's 4-1 home defeat by West Ham when he sent off Konsa for preventing a goal-scoring opportunity.