PREMIER LEAGUE
SATURDAY 30TH OCTOBER, 2021
(5.30pm)
TOTTENHAM HOTSPUR 0(0) MANCHESTER UNITED 3(1)
Scorers:-
Ronaldo, 39
Cavani, 64
Rashford, 86
Attendance:- 60,356
Referee:- Stuart Attwell
Assistants:- Harry Lennard, Simon Long
Fourth official:- Simon Hooper
VAR:- Darren England
Assistant VAR:- Stuart Burt
Teams:-
Spurs (4-2-3-1):- Lloris (Capt.); Emerson Royal, Romero, Dier, Davies; Hojbjerg, Skipp (sub Ndombele, 66); Lucas Moura (sub Bergwijn, 54), Lo Celso (sub Dele, 73), Son; Kane
Subs not used:- Gollini; Doherty, Reguilon, Sanchez, Rodon, Tanganga
Booked:- Davies (foul on McTominay), Romero (foul on Rashford)
Man Utd (3-4-1-2):- De Gea; Lindelof, Varane, Maguire (Capt.); Wan-Bissaka, McTominay, Fred, Shaw; Fernandes (sub Matic, 76); Ronaldo (sub Rashford, 71), Cavani (sub Lingard, 82)
Subs not used:- Henderson; Bailly, Dalot; Sancho, Van de Beek; Greenwood Booked:- Shaw (foul on Lucas Moura), Maguire (foul on Lo Celso), Fred (foul on Bergwijn)
Spurs fans turn on out-of-depth Nuno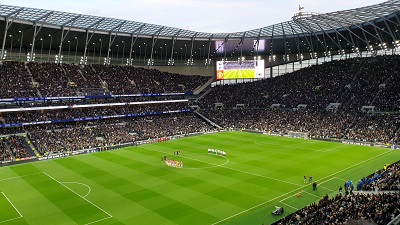 What was it Fergie used to say? "Lads, it's only Tottenham"? Spurs delivered up yet another sterile no-shot-on-goal performance which made crisis club United look good after last week's shocking home defeat to Liverpool and a prior defeat at Leicester. The Spurs fans at Turf Moor had already started to turn against Nuno with their "Nuno, Nuno make a sub" chant. Today, when he did make an early sub (of Bergwijn for Lucas Moura) he was booed for his choice of player to be withdrawn and also for the replacement. Lucas had at least been putting in the effort we require of anybody in a Spurs shirt and with his runs looked the most likely to make something happen. It's been said before but Spurs desperately need a creator. Such a player is not anywhere on Spurs' horizon.
Spurs' lack of shots on target is a damning statistic, and one that's been seen all too often in recent games for long periods of the game. Another damning statistic is the low grades being given to Harry Kane in too many games this season. Harry has still scored only one goal in domestic games, and currently has been assessed with a score of just 2.8. That is simply shocking. "One of our own" will be lucky to keep his England place on his current form.
Whatever you say about recent United results, look at their squad and look at who was unused on their bench. They had two defenders, two midfielders and Greenwood, who can score a goal or two. United have got balance in their squad. Spurs were left with Gollini and five defenders on the bench.
Solskjaer mixed his squad and played three at the back, which I cannot recall for a while. With wing-backs and Cavani playing beside Ronaldo, Nuno was probably taken by surprise by the United selection and strategy. Congratulations must go to Solskjaer and his coaching team here. That coaching team (which after all has taken and deserved stick recently) includes former Spurs men Kieran McKenna and Michael Carrick, although Carrick's major credentials are as a former United player. Nuno did switch Ben Davies for Reguilon and started with Lo Celso rather than Ndombele. Neither decision worked. Nothing worked or is working for a hapless Tottenham side which is giving its fans no hope, but despair. At least the hope can't kill us!
There was a massive 60,356 crowd here to watch game which was preceded by Remembrance and an immaculate Last Post. This was a first visit to the stadium for United fans.
United kicked off playing towards the South stand. Spurs did have an effort after 5 minutes when Lo Celso passed outside to Emerson who returned the ball to Son who hit a left foot shot. This took a deflection and was saved by De Gea. The initial shot must have been off target. Spurs had a corner on the right, after which Romero tried a shot at the back of the area. This passed wide with Kane sticking a foot out but failing to make contact. At the other end Fernandes hit a right foot shot across the goal and this too passed wide with Cavani getting a touch. Wan-Bissaka got into the Spurs area and crossed with Cavani hitting a shot which was blocked.
Ben Davies hit a powerful cross into the area and wanted a penalty for handball, but all we got was a corner. Lucas Moura and Lo Celso attacked and advanced and Maguire was booked for his foul on Lo Celso. Lo Celso's free kick was blocked. In the following play Son hit a left foot shot way over the target. Another Cavani header after a ball from Fernandes passed wide.
Spurs had the ball in the net after 27 minutes after a corner from the right and a header across the box by Dier. Romero "scored" but had been offside. Lloris made an excellent save from Fred's long-distance shot, diving to his right. Spurs were thwarted by another offside when Kane passed to Son who did get a shot which was deflected, but then the flag was raised.
Spurs had been defending against some United pressure before Ronaldo scored with an excellent volley from the right of the area, having been served up by Fernandes from the left. Spurs' spirits sagged on and off the pitch. Emerson crossed and Lo Celso hit a shot, but this was just wide. In added time Ben Davies headed too high following a corner.
Spurs kicked off the second half, but of course it wasn't long before we were passing backwards and putting ourselves under pressure. Son hit a shot wide after receiving from Lucas and Ronaldo had the ball in the net from a McTominay pass, but was offside, confirmed by VAR. Romero sent Lo Celso away, but his pass intended for Son was just behind the player and not ahead.
Spurs fans chanted "You don't know what you're doing" when Nuno relaced Lucas with Bergwijn after only 54 minutes. Hojbjerg hit a shot well wide after receiving from Son. United's second goal followed a midfield exchange where Skipp had lost possession. Ronaldo delivered a ball from the right and Cavani scored with a shot inside the left of the area. United fans lit a red smoke flare in their celebrations.
Skipp was now replaced by Ndombele, but the challenge for Spurs was already too stiff and in truth they offered little. Matic came on for Fernandes as Solskjaer sought to secure his two-goal lead. Spurs players were now being booed by the home fans as they passed backwards. Matic claimed the assist for the third goal with another swift pass to the left of the Spurs area where Rashford scored. It was all too easy for the visitors.
Spurs have won five and lost five games. They've scored just 9 goals in 10 games and conceded 16. Only the bottom three have a worse goal difference. That's another damning statistic, and we surely need somebody else at the helm of SS Tottenham.
· See the exclusive "Spursometer" and have your say regarding the performances of the team, individual players, manager and officials.
· Squad numbers,appearances,bookings & goalscorers
· Read the preview for this game.
· All the Spurs Stats you could hope for here! THFC6061 Sports Stats