· Last season's game - Spurs 1 Man Utd 3, 11.04.21
· Premier League Matchday 10 - last year
· See the current injury list for all Premier League Teams
· All the Spurs Stats you could hope for here! THFC6061 Sports Stats

Full League Record of Man Utd v Spurs

Prem          Pl   W   D   L   For-Ag  Pts
Home          29   6   9  14   34 -44  27
Away          29   4   3  22   23 -54  15
=========================================
Total (Prem)  58  10  12  36   57 -98  42  0.724 Pts per game
=========================================
Football Lge
Home (Div 1)  51  20  19  12   89 -64  63
Away (Div 1)  51   9   9  33   55 -101 28
=========================================
Total(Div 1) 102  29  28  45  144 -165 91
=========================================
Football Lge
Home (Div 2)   4   2   1   1   10 - 3   5
Away (Div 2)   4   1   2   1    3 - 3   4
=========================================
Total(Div 2)   8   3   3   2   13 - 6   9
=========================================
Total (Prem)  58  10  12  36   57 -98  42
Total (Div 1) 102 29  28  45  144 -165 91
Total (Div 2)  8   3   3   2   13 - 6   9
=========================================
Grand Total   168 42  43  83  215 -269 142
=========================================

Last Six Premier League results:-

Spurs      -    LLLWWL
           
C. Palace  3-0    Spurs
Spurs      0-3    Chelsea
Arsenal    3-1    Spurs
Spurs      2-1    A. Villa
Newcastle  2-3    Spurs
West Ham   1-0    Spurs

Man Utd    -    WWLDLL

Man Utd    4-1    Newcastle
West Ham   1-2    Man Utd
Man Utd    0-1    A. Villa
Man Utd    1-1    Everton
Leicester  4-2    Man Utd
Man Utd    0-5    Liverpool

Pos         P  W  D  L   F-A   GD  Pts
6. Spurs    9  5  0  4   9-13  -4   15 
7. Man Utd  9  4  2  3  16-15   1   14  

The stage is set for a showdown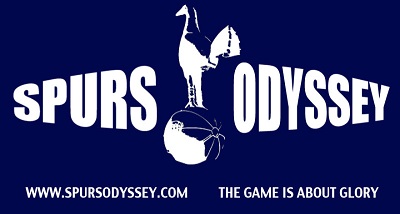 It is a full four weeks since our last game at The Tottenham Hotspur Stadium when we beat Aston Villa with what I described as a "bracing" performance. After that win we were eighth in the league. Manchester United were still in the top four (just) after a Saturday lunchtime draw at Goodison Park. United had already dropped four points in their previous two home games. In their three games since, the "Red Devils" have lost the two league games they played. They lost badly too, 4-2 at Leicester and then last week, disastrously 5-0 at home to Liverpool.
When Spurs lost 5-0 at home to Liverpool in December 2013 their manager - Andre Villas-Boas - was sacked. Ole Gunnar Solskjaer has escaped that sanction so far, but he is definitely under far more pressure to get a result tomorrow than Nuno. Nonetheless the match has been billed in some quarters as "El Sackico"! Despite our poor form since the Villa win, we did win at Newcastle, and we have progressed in the Carabao Cup. United had a night off in midweek, having been beaten at home by West Ham in the League Cup. This week "The Hammers" disposed of Man City in a penalty shoot-out. The stage is set for a showdown tomorrow and you can be sure that Sky's "Saturday Night Football" team will be in full flow before and after the game. Whether both managers remain in a job afterwards remains to be seen.
During the summer, I wrote some notes regarding Cristiano Ronaldo, before he was sensationally re-signed by United on deadline day. After that, on 1st September against The Republic of Ireland, Ronaldo scored two late, match-winning headers to become the highest ever International goal-scorer with 111 goals. That was his 180th cap. He has now gained 182 caps in total and scored 115 International goals.
Cristiano Ronaldo's amazing career began with Sporting Lisbon in 2002. At the age of 36, Ronaldo's career continues and he has scored approaching 800 goals for club and country. Ronaldo's first goal against Spurs came in a 3-0 win in March 2004 at Old Trafford. Ronaldo's last goal against Spurs was for Real Madrid when we beat them 3-1 at Wembley on 1st November, 2017. Ronaldo's first goal against Young Boys on September 14th was his 788th career goal. He's added another seven so far.
Cristiano Ronaldo scored his 10th international hat-trick as Portugal cruised past Luxembourg 5-0 in October's World Cup qualifier in Faro. It was the 58th career hat-trick for club and country for Ronaldo, who took his record tally to 115 international goals by converting two early penalty kicks and finding the net again near the end. He has registered 25 goals in his last 16 World Cup qualifying matches. Fellow Manchester United player Bruno Fernandes was also on target.
It is interesting to note that since the arrival of Ronaldo, Fernandes has scored just once for United. The chemistry and debate about free kicks must be interesting.
United's major problem though has been in defence where it is generally agreed that Harry Maguire was brought back from injury too early at Leicester. Maguire was certainly exposed by Liverpool last week, although I referred tp the whole United defence as "traffic cones" in the face of Liverpool's pace.
Another summer signing for United was that of centre-back Raphael Varane who was a team-mate of Ronaldo's at Real Madrid. Varane did not play in our meeting with Real at Wembley, but scored an own goal in our heroic draw at The Bernabeu. Varane last played for United at Goodison Park and was injured when playing for Spain against France. Varane could be back tomorrow.
It was sad to hear in August that Denis Law, the legendary former Manchester United and Scotland striker, revealed that he has been diagnosed with dementia. Denis was a contemporary of Jimmy Greaves and was born just four days after "Greavsie". Denis has been diagnosed with Alzheimer's and vascular dementia. In a statement, Law said that his condition had advanced to the point where he can no longer sign his name and outlined the anger, frustration, confusion and worry that he now feels, particularly for his family. I offer my very best wishes to Denis, and have some knowledge of the evil of Alzheimers as my late father was a victim. I have fond memories of Denis as a player and as a BBC radio co-commentator and pundit.
This is only our second Saturday game of the season so far. The last occasion was the ill-fated Saturday lunchtime fixture at Selhurst Park last month. None of Arsenal, Leicester City, Man Utd or Spurs had a Saturday 3pm kick-off in last season's Premier League - the first teams in the competition's history to go an entire campaign without one. We won't have a Saturday 3pm game before the New Year.
Jadon Sancho, signed on a five-year deal, still hasn't clicked at Old Trafford and there was a Sky Germany graphic seen this week describing him as 0-0-7 (goals-assists-appearances). Naturally, I am not confident for Spurs and I have this fear that United will click against us. However, if we attack with speed, rather than hesitation, we could expose that defence again, but not to the extent of last year's magnificent 6-1 at Old Trafford. I'l cautiously predict a 2-2 draw.
Note that my post-match survey will be posted asap after midnight tomorrow (BST) and my match report will be published on Sunday. let's hope both can reflect a good day. COME ON YOU SPURS!
Our match referee will be Stuart Attwell. This will be Mr. Attwell's second Spurs game of the season, having previously been in charge of our away league game at Molineux in August which we won. Surprisingly, considering his first Spurs game was in December 2009, this is only Mr. Attwell's 16th such game. It is also the highest profile game he has had with Spurs, although he is now firmly established on the Premier League list, and now referees European games too.