PREMIER LEAGUE
SATURDAY 26TH FEBRUARY, 2022
(12.30pm)
LEEDS UNITED 0(0) TOTTENHAM HOTSPUR 4(3)
Scorers:-
Doherty, 10
Kulusevski, 15
Kane, 27
Son, 85
Attendance:- 36,599
Referee:- Craig Pawson
Assistants:- Ian Hussin, Richard West
Fourth official:- Robert Jones
VAR:- Jarred Gillett
Assistant VAR:- Constantine Hatzidakis
Teams:-
Leeds (4-1-4-1):- Meslier; Ayling (Capt.), Llorente, Struijk (sub Klich, 46), Firpo (sub Shackleton, 79); Koch; Raphinha, Dallas, Forshaw, Harrison (sub Rodrigo, 46); James
Subs not used:- Klaesson; Cresswell; Kenneh; Summerville, Roberts, Gelhardt
Booked:- Klich (foul on Hojbjerg), Dallas (foul on Sessegnon), Firpo (Dissent - kicked ball away after James foul on Romero), Rodrigo (foul on Kane)
Spurs (3-4-3):- Lloris (Capt.); Romero, Dier, Davies; Doherty, Hojbjerg, Winks, Sessegnon (sub Emerson Royal, 78); Kulusevski (sub Bergwijn, 78), Kane, Son (sub Scarlett, 87)
Subs not used:- Austin; Reguilon, Sanchez, Rodon; White, Devine
Booked:- Sessegnon (foul on Raphinha), Davies (foul on Raphinha)
Kane and Son record-breaking goal caps big win.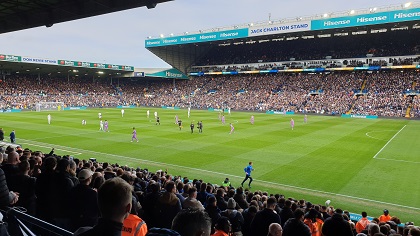 It was a glorious, sunny day in Leeds and Spurs played masterful football at times. It wasn't so good all of the time though, and Leeds did have several scoring opportunities, most of which came after Spurs were already three up. Heung-min Son and Harry Kane combined for a record breaking 37th time for the fourth goal. Marcelo Bielsa's Leeds have lost their last four games and conceded 17 goals in the process. Leeds must surely look at replacing their cult figure and seek to solidify their defence.
There were two changes to the Spurs line-up with Doherty replacing Emerson Royal, and Harry Winks starting in place of Bentancur who was injured at Burnley on Wednesday. Lucas Moura was absent from the squad and apparently suffered a knock in training. There were places on the bench for Harvey White, Alfie Devine, and Dane Scarlett. Dane is a veteran of 21 appearances on the bench this season and three starts in Europa Conference League games but has not been seen in action since a late substitution in the FA cup against Morecambe.
Spurs kicked off and played towards the Don Revie Stand away from the away fans' section in the John Charles Stand. Within two minutes though, Leeds had a free kick out on their left flank after Kulusevski fouled James. Dallas took the free kick and Struijk headed just wide of the target. Spurs responded with a corner won by Ryan Sessegnon after approach play by Kane and Winks. Both these players would have plenty of involvement n the game.
Spurs fans regaled Leeds with a chant of "Jimmy Savile, he's one of your own", which obviously would not have gone down well. Winks had a shooting opportunity after five minutes, but gave the chance to Son, whose shot was the first of many to be saved by Meslier – arguably Leeds' best player despite the scoreline. After a combination by Doherty and Kulusevski, Harry Kane tried a shot from 22 yards out, but the ball passed wide across the target.
Spurs took a 10th minute lead with a fast, snappy move and a goal of quality. It was Harry Winks who sent Sessegnon away down the left wing, and when Ryan crossed, his opposing wing-back was the man who met the ball to fire home his first Spurs goal. Spurs fans chanted repetitively, "Antonio!"
After a Spurs free kick, Sessegnon crossed for Kulusevski, but Firpo managed to block for a corner. This was taken by Son but collected by the Leeds keeper. Spurs had a second goal in the 15th minute. It followed good work by Doherty and Kulusevski again before Kulusevski came in from that right side and scored with a low left-footed shot. Already, "Kulu" has two Premier League goals both in the last week.
Leeds responded with a swift attack and an exchange of passes between Koch and Raphinha before Koch's shot hit the inside of the post, after which Spurs managed to clear. Spurs went three-up with less than half an hour gone. Dier fed the ball to Son, who in turn sent Sessegnon away again. Sessegnon crossed and after an initial half-clearance, Hojbjerg lifted a ball to Kane who volleyed back across the goal to beat Meslier and hit the net for Premier League goal number 174. Harry will be in the top five Premier League scorers' list very soon with Thierry Henry and Frank Lampard one and three goals ahead of him respectively.
Spurs fans sang a full repertoire of their play-list and "Can't Smile Without You" was given a powerful airing.
Leeds were desperate at times and a Llorente foul on Son deserved but did not result in a card from referee Craig Pawson who was the fourth official seemingly upset by our late winner at the Etihad last week! Kane took a quick free kick and Sessegnon hit a low shot from an angle on the left, but Meslier managed to save. Leeds had a free kick and a shot by Harrison was blocked. The Spurs defence was by and large resilient. Ben Davies blocked a powerful shot by Raphinha before Romero and Lloris smothered a cross, after which Hugo needed treatment. Hojbjerg managed to clear the ball.
Raphinha did get the better of Davies and burned into the box, but Sessegnon blocked further progress at the expense of a corner. Leeds had a little pressure, including three consecutive corners. A free kick by Raphinha passed wide of the target. Ayling headed wide after a Harrison-Firpo combination and cross. In first half added time Spurs broke out after good work by Son and a ball to Harry Kane who in turn had a shot blocked.
Bielsa made two changes at half-time with Rodrigo on for Harrison and Klich replacing Struijk. Sessegnon was the first player booked after a foul on Raphinha. Raphinha took the kick and Hugo held it firmly. Kane sent Kulusevski away as we broke forward, but the offside flag was raised. Harry was on top of his game. He is a real "number 10" and on top of all the goals he scores he is so often the fulcrum of our attacks as he sprays passes from the centre to either side of the field.
Leeds players started to turn nasty in the middle and took three bookings in quick succession. Mr Pawson might have missed one or two booking opportunities which I believe is what led to Antonio being shown a card for his protests towards the fourth official. Leeds began to resemble Don Revie's "Dirty Leeds" in my eyes.
There was some good play deep down the right wing from both Kulusevski and Romero. Romero's cross was blocked and cleared. After 55 minutes, Son made an excellent run from deep, but his eventual shot was comfortable for Meslier. Kane passed out to Doherty and his cross was nearly met by Sessegnon who needed treatment after colliding with the post. Kane again fed the ball to Doherty who had a shot on goal (where he might have done better). Meslier saved and an attempt by Son to follow-up was blocked and cleared.
After another foul on Son (who was a perpetual target for the Leeds players) referee Craig Pawson seemed to have "words" with skipper Luke Ayling. It was soon after this when Antonio was shown the yellow card. Sessegnon hit the side netting after another great delivery from Kane. Hugo held a shot by Klich comfortably at the other end. Kulusevski received a pass from Doherty, and he might have had a chance to pick a spot, but Meslier managed to save this one too, low to his left. Davies met Son's corner in front of the near post, but the ball flew into Meslier's hand.
I felt that Spurs generally now sought to manage the game, rather than stretch themselves to extend the lead. With twenty minutes left, this policy was understandable. Another Kulusevski shot which was on target was blocked after approach play by Son and Doherty. Spurs had three corners, but after the last of these Sessegnon gave the ball away just inside the Leeds half which allowed Dallas a run. Hugo Lloris was well forward (about 35 yards) and tried to tackle Dallas to control the ball, but Dallas won this challenge with Hugo on the floor. A Leeds goal seemed inevitable, but Ben Davies made a heroic recovery run to block and clear the shot.
Rodrigo was booked for a foul on Kane, who needed some treatment but was able to carry on as Conte swapped Sessegnon and Kulusevski for Emerson and Bergwijn . Doherty took over the left flank. Ryan Sessegnon was given a great ovation by the Spurs fans as he walked around the pitch to the dug-out.
Raphinha broke forward down the right wing and set up James, who was in a central position. The former Manchester United man fluffed his chance and hit the shot off target. Bergwijn was released by Kane and advanced upon goal, and it seemed he must score, but Meslier saved again. Another effort was cleared.
That Kane-Son 37-goal combination came in the 85th minute. Kane's pass down the right channel was sublime. Son's finish was supreme. "Sonny" ran straight back down the touchline to celebrate with Harry. Clearly that record has been etched on their minds.
Raphinha had one shot from the edge of the area go over the target and after being fouled by Davies (who was booked), Raphinha's free kick hit the post. The game was up for Leeds though, and Spurs went home with smiles on their faces. Two wins out of three games on this mini-northern tour is not a bad return. We hope for success on Tuesday at Middlesbrough in the FA Cup Fifth Round.
On Sunday, Leeds announced the departure of Marcelo Bielsa and an announcement to confirm the appointment of former Leipzig coach – American Jesse Marsch – is expected.
· See the exclusive "Spursometer" and have your say regarding the performances of the team, individual players, manager and officials.
· Squad numbers,appearances,bookings & goalscorers
· Read the preview for this game.
· All the Spurs Stats you could hope for here! THFC6061 Sports Stats