Many thanks to Declan Mulcahy for this excellent match report:-
Saturday 19 February 2022
Premier League
Manchester City (1) 2 Tottenham Hotspur (1) 3
City scorers:-
Gündogan 33, Mahrez 90+2p
Spurs scorers:-
Kulusevski 4, Kane 59, 90+5
Manchester City (4-3-3): Pep Guardiola
31 Ederson; 2 K Walker, 3 R Dias, 14 A Laporte, 27 J Cancelo; 17 K De Bruyne, 16 Rodri, 8 I Gündogan (c); 7 R Sterling (26 R Mahrez 68), 20 B Silva, 47 P Foden
Subs not Used: 33 S Carson, 5 J Stones, 6 N Ake, 11 O Zinchenko, 25 Fernandinho, 87 J McAtee, 90 R Lavia, 48 L Delap
No bookings
Tottenham Hotspur (3-4-2-1):
1 H Lloris (c); 4 C Romero, 15 E Dier, 33 B Davies; 12 Emerson Royal (2 M Doherty 83), 30 R Bentancur, 5 P-E Hojbjerg, 19 R Sessegnon (6 D Sanchez 90+4); 21 D Kulusevski, 7 H-M Son (27 Lucas Moura 80); 10 H Kane
Subs not Used: 22 P Gollini, 14 J Rodon, 8 H Winks, 42 H White, 23 S Bergwijn, 44 D Scarlett
Booked: Hojbjerg (64 foul on De Bruyne), Romero (76 unsporting conduct), Lloris (80 time-wasting)
Etihad Stadium, Attendance: 53,201
Referee: Anthony Taylor
Assistant Referees: Gary Beswick, Adam Nunn
Fourth Official: Craig Pawson
VAR: Darren England
Assistant VAR: Simon Bennett.
Superb Spurs Earn Deserved Win Over In-form Manchester City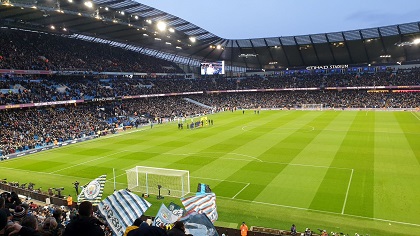 This highly entertaining game produced a most unexpected result. Spurs showed great resilience. Twice they took the lead and twice City equalised. Two major VAR decisions went City's way. However Spurs displayed the character and determination to win the match with a goal scored in time added on.
Based on form City were overwhelmingly expected to win. They had won fourteen of their previous fifteen Premier League matches drawing the other one, scoring 52 goals while conceding eight. Four days earlier they had demolished Sporting Lisbon in Lisbon 5-0 in the Champions League. Spurs league form under Antonio Conte had been satisfactory up to New Year's Day. However since then they had lost three consecutive games, the last two being home defeats against teams they would have been expected to beat. The result was a surprise but huge credit is due to Conte and his team who never gave up and produced a major upset.
Spurs made four changes from the team that lost to Wolves. The fit again Eric Dier replaced Davinson Sanchez. Emerson Royal and Pierre-Emile Hojbjerg came in for Doherty and Winks while Dejan Kulusevski made his full debut in place of Lucas Moura. Reguilon wasn't in the Spurs squad and was the unidentified player with Covid. Skipp and Tanganga were still injured.
City also made four changes from their 4-0 win against Norwich last weekend with Laporte and Cancelo coming in for Ake and Zinchenko at the back. De Bruyne and Rodro replaced Fernandinho and Mahrez.
Hugo Lloris made his 400th competitive appearance for Spurs. He was the first player to achieve this milestone since the legendary Gary Mabbutt on 28 September 1991 in a league game against Manchester United at White Hart Lane.
City dominated the early minutes. However after four minutes Kane in his own half played a nice pass to Son in the City half. Dias tried to move up leaving Son offside but got it wrong. Son accelerated down the left to the City box where he faced a City defender. Instead of trying to beat him and score a fine solo goal he unselfishly squared the ball to Kulusevski on the right. The latter scored with a shot through Cancelo's legs for a goal on his full debut. It was his second touch of the ball in the match having kicked off. It was his first goal since January when he scored for Juventus in a 4-3 win over Jose Mourinho's Roma.
City continued to dominate possession but Spurs were solid defensively. Conte had his preferred back three of Romero, Dier and Davies and they gave a good account of themselves. After 33 minutes Sterling played a ball into the Spurs box. Lloris would have been expected to gather it but under pressure from De Bruyne he dropped it. The ball fell to Gündogan who scored with a shot towards the right post.
At the interval the score was still 1-1. Each team had had one shot on target. City had recorded 11 shots off target but the Spurs goal hadn't been seriously threatened apart from Gündogan's goal and Spurs could feel well satisfied with their first half performance.
City dominated the first ten minutes of the second half having 90% of possession but against a determined Spurs defence couldn't create chances.
Just before the hour mark Kane on the right passed to Sessegnon who set up Son on the left. He sent the ball into the box from the left where he found Kane who had continued running after starting the move. Kane scored with a shot into the right corner. This was only Spurs fourth shot of the match but they had scored two goals. City meanwhile had far more of the ball but by and large Spurs defended well in their own half and City were struggling to create real chances.
Five minutes later Gündogan hit a high curving shot which would have scored at the right post but Lloris made a superb diving save.
After 73 minutes Davies played a fine diagonal pass from his own half to Kulusevski on the right in the City half. He progressed down the right before crossing into the box. Kane got the ball swivelled and put the ball in the net. VAR determined that Kulusevski had been offside when he received the ball. It was a superb move overall and showed that this Spurs team can quickly counter attack and create a good goalscoring chance.
Soon after that Lloris made a diving save from a Cancelo effort at the right post.
In the final ten minutes of normal time Romero was booked for unsporting conduct after some scuffling before a City corner. Lloris soon followed into the book for time-wasting. With about five minutes remaining Kane and Rodri had a fairly innocuous coming together but Kane went down clutching his back. When play finally stopped Kane was still down and needed treatment. Initially there was concern but after the treatment he appeared fine.
Then Dier clashed heads with one of his team mates. He too required treatment and had to be assessed for concussion before being allowed to continue.
Time was running out for City. In the final minute of normal time a City played crossed the ball from the left into the box. Romero was unbalanced and as he fell he came in contact with the ball. The City players immediately appealed for a penalty. Referee Taylor didn't react immediately and nothing happened until the ball went out of play. VAR images showed that Romero was unbalanced but as he fell his hand appeared to move towards the ball. Mr Taylor was advised to view the pitch side monitor and awarded a penalty. Some of the City players then appealed for Romero to be sent off since he had already been booked but the referee decided that the penalty was sufficient punishment.
Mahrez who had earlier com on as a substitute for Sterling took the penalty. He hit the ball high and to the right. It hit the crossbar and went in.
It was heart-breaking for Spurs to lose the lead again so close to the end of the match. How would they react now? Had they still been playing under a former recent very prominent manager they would probably have camped in their own half for the remaining minutes to try and hold on to a point. Eight minutes of time added on had been indicated.
However this is a Conte team. Spurs showed character and were prepared to be adventurous. They set up an attack. Kulusevski crossed from the right. Kane rose above his former Spurs teammate Kyle Walker and scored with a fine header.
There were five minutes of time added on remaining. However once Spurs scored you could see from the City players faces that the task was too much. City were unable to mount a major effort before the end.
This was a superb result for Spurs. On paper the City team is clearly more talented and their form coming into the match was far superior to Spurs. City dominated possession. However Spurs with Conte's preferred back three stood firm. In the end although they had less possession Spurs created the better chances and deserved to win. City didn't have the lead at any point.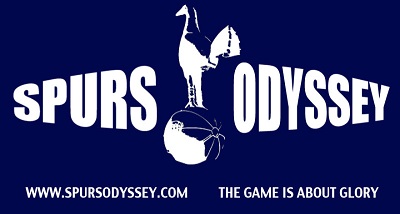 Huge credit is due to Conte who restored morale after two very dispiriting home results and created a plan to beat the in-form team in the Premier League at the moment on their own turf.
Kane was the man of the match scoring two goals and setting up the first. Kulusevski was outstanding too scoring a goal, setting up another and giving a box to box performance throughout the match. The whole team played well. Lloris was culpable from the goal but made two outstanding saves in the second half without which Spurs couldn't have own.
Other pleasing aspects included the following:
Kane had only scored two Premier League goals against Manchester City and hadn't scored in any of his nine games against Guardiola's City. Today he scored two goals. Kane and Son have now equalled Drogba and Lampard's Premier League record of 36 goals and assists combinations.
City have only lost three Premier League games this season. Two of them have been against Spurs. This was the first time that Spurs did the 'league double' against City since 2015-16.
This is only the fourth time in Guardiola's five and a half seasons in the Premier League that a team has done the double over them. The other teams were Chelsea (2016-17), Manchester United (2019-20) and Wolves (2019-20). So both Conte and Nuno Espirito Santo can claim a double and a half against Guardiola!
Spurs have now beaten Guardiola six times in his managerial career. Only Chelsea with eight wins have been more successful.
After the game Conte said. "We created chances and scored good goals against a fantastic team. This win will give us more confidence. It wasn't simple to play Manchester City after three losses in a row."
"We have a lot of space for improvement. This is one of the hardest working teams I have managed in my career."
Guardiola was generous in his comments and didn't try to suggest that Spurs were lucky. "They are clinical. They have Kane and Son and Kulusevski. Their crosses we could not defend."
The result has significant implications for both teams. City are now only six points ahead of Liverpool who have a game in hand. If Liverpool win that match on Wednesday (against Leeds who play Spurs next weekend) the gap will be three points and the goal differences are close. The championship race is back on.
This win brings Spurs back into contention for a top four and Champions League place. They need to be more consistent. However in Antonio Conte they have one of the top four managers in the Premier League. If he can produce more results like this for the remainder of the season there is hope. As we have seen in the last few weeks hope can be a fragile concept at Spurs. Nonetheless I am prepared to believe that Conte can produce a finish which if it doesn't result in a Champions League place will come close to it.
---
Webmaster's personal comments:-
I went to this game with great doubts about our ability to get a result, let alone win the game. In recent years, the games I remember most are the December, 2007 League Cup win, and of course the stand-out win was on May 5th 2010. This comes close though, and tonight we saw a very dramatic game. if it wasn't for VAR we would have won 4-1 and Harry Kane would have had a hat-trick!
Yes, there were mistakes, but today ladies and gentlemen (and boys and girls) we saw every one of our players out their bodies on the line, defending stoutly (generally) against a City side that was camped in our half most of the time. This was all part of Antonio Conte's game plan though, drawing the City side into our half before we would break away with dramatic effect. Kane, Son and Kulusevski demonstrated that within four minutes. What a debut goal for Dejan Kulusevski! What a game Harry Kane gave us! What a night we had.
This performance; this game, and this result demonstrated more than anything how you can never count on the result. All I can tell you is that being there was very, very special.
· See the exclusive "Spursometer" and have your say regarding the performances of the team, individual players, manager and officials.
· Squad numbers,appearances,bookings & goalscorers
· Read the preview for this game.
· All the Spurs Stats you could hope for here! THFC6061 Sports Stats