· Last season's game - Man City 3 Spurs 0, 13.02.21 - An onimous foreboding of this week's fixture.
· This season's home game - This season's home game - Spurs 1 Man City 0, 15.08.21
· Premier League Matchday 26 - last year
· See the current injury list for all Premier League Teams
· All the Spurs Stats you could hope for here! THFC6061 Sports Stats

Full Record of Spurs -v- Manchester City

Prem          Pl  W  D  L   For-Ag  Pts
Home          25 16  3  6   38 -27  51
Away          24 10  4 10   30 -41  34
======================================
Total(Prem)   49 26  7 16   68 -67  85  1.73 pts per game
======================================
Football Lge
Home(Div 1)   46 21 13 12   84 -59  58
Away(Div 1)   46  7 11 28   39 -90  24
======================================
Total(Div 1)  92 28 24 40  123 -149 82
======================================
Football Lge
Home(Div 2)    2  0  1  1    2 - 3   1
Away(Div 2)    2  0  0  2    0 - 3   0
======================================
Total(Div 2)   4  0  1  3    2 - 6   1
======================================
Total(Prem)   49 26  7 16   68 -67  85
Total(Div 1)  92 28 24 40  123 -149 82
Total(Div 2)   4  0  1  3    2 - 6   1
======================================
Grand Total  145 54 32 59  193-222 168
======================================

Last Six Premier League results:-

Man City   -    WWWDWW

Brentford  0-1    Man City
Arsenal    1-2    Man City
Man City   1-0    Chelsea
S'hanpton  1-1    Man City
Man City   2-0    Brentford
Norwich    0-4    Man City

Spurs      -    WDWLLL
           
S'hampton  1-1    Spurs
Watford    0-1    Spurs
Leicester  2-3    Spurs
Chelsea    2-0    Spurs
Spurs      2-3    S'hampton
Spurs      0-2    Wolves

Pos           P  W  D  L   F-A   GD  Pts
1. Man City  25 20  3  2  61-14  47   63 
8. Spurs     22 11  3  8  28-29  -1   36

Into the Etihad furnace we go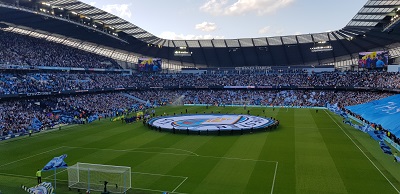 In February 1922, 100 years ago, Spurs played Manchester City in three consecutive games and never lost. In those days teams often played their home and away fixtures against individual teams in consecutive games. On February 4th, 1922, we drew 3-3 at City's Hyde Road, Ardwick venue. Bert Bliss scored two of our goals. The following week we won our home league game 3-1. Bliss was on the scoresheet again, after Arthur Grimsdell and Jimmy Dimmock. Bliss scored again on Saturday 18th February when Spurs won a home FA Cup Third Round tie 2-1. (The FA Cup First and Second Rounds had been in January) Spurs finished runners-up to Liverpool that season. City finished 10th. Spurs were knocked out of the FA Cup by Preston North End in the semi-final. Losing semi-finals happens too often these days!
This will be our 50th Premier League game against Manchester City, which means they were absent from five Premier League seasons. Those were the four seasons between 1996 and 2000, during which time City actually spent one season in the third tier, and the 2001/02 season, when under Kevin Keegan, they were promoted as champions.
Following our defeat against Wolves last week, we have a better points per game record against City in the Premier League than we do in 16 games against Wolves. Sheik Mansour acquired city in 2008 when our Premier League points per game record was 2.22. In the last 14 years that record has dipped to 1.73. Before the 2008/09 season, City had won just three of our 22 league games. They've won 13 of the last 27 such meetings. We've won 11 games in the same period.
Just three of those recent wins have been at The Etihad. These were in November, 2008 against a Mark Hughes City side which included Joe Hart, Micah Richards, and Robinho to name just three. Darren Bent scored both our goals in a 2-1 win. Mike Dean was the referee. Our next away game against City and win was the famous May 5th 2010 1-0, thanks to Peter Crouch, which gave us our first taste of Champions League Football. Roberto Mancini was the manager. Harry Redknapp was our manager for those two wins. Despite their riches, we were first to the Champions League; first to the quarter-finals, and first to the final. City reached that stage last year, and surely covet that trophy more than any other at the present time.
Our only other win at The Etihad in recent years was a 2-1 on Valentine's Day 2016, when City were managed by Manuel Pellegrini. That was Christian Eriksen's 24th birthday and he scored our winner after a Harry Kane penalty had given us the lead.
Now we go to The Etihad trying to avoid a fourth consecutive Premier League defeat. When Spurs last lost 4 consecutive league games in 2004, that run ended with a draw against Manchester City.
City lead the Premier League by 9 points and are currently on a run of 15 league games undefeated with just one draw (at Southampton) in those games. Crystal Palace won 2-0 at The Etihad on 30th October. That was City's only league defeat since we won 1-0 in August. Last week, at Norwich, Pep Guardiola stood down Stones, Laporte, Cancelo, Rodri and De Bruyne. They all played in Tuesday's Champions League game away to Sporting Lisbon. City beat Norwich 4-0 and Sporting 5-0. £100 million signing Jack Grealish was absent injured from both those games. Gabriel Jesus has yet to play for City this month. What chance Spurs?
Hugo Lloris is set to make his 400th club appearance for Spurs tomorrow. Perhaps a 5-3-2 formation whch Conte used successfully at home against Liverpool could hold back the inevitable City deluge? I am hoping that Eric Dier and Oliver Skipp will be ready, but I am not hopeful about the result. I'll say 3-1 to City. I shall be attending the game (Storm Eunice permitting). The Spurs Odyssey match report will be written by Declan Mulcahy. Tomorrow's game kicks off at 5.30pm and will be televised here in the UK by SKY Sports.
Did you know? - Manchester City reduced their stadium capacity by some 1100 to make room for more advertising space, installing double height digital advertising boards. City's biggest gate so far this season was 53,400 in their recent FA Cup win over Fulham. Spurs fans have not visited The Etihad since 17th August 2019, when we drew 2-2 and the attendance was 54,503.
Our match referee will be Anthony Taylor. By coincidence, Mr Taylor was in charge of our home win against City on the opening day of the season. The only other time we've seen him in the middle this season was at Southampton. This is Mr. Taylor's 37th Spurs game, since his first Spurs game when we beat Newcastle 2-0 in December 2010. On that game, I wrote, "...Younes Kaboul was needlessly sent off mid-way through the second half, and once again Spurs had to deal with below standard officiating that allowed some thuggish and unsporting behaviour by the visitors to go un-punished". Mr Taylor these days is a much-respected referee at home and abroad.