Sunday 22 May 2022, 4:00pm
Premier League
Norwich City (0) 0 Tottenham Hotspur (2) 5
Scorers:-
Kulusevski 16, 64
Kane 32
Son 70, 75
Norwich City (4-5-1): Dean Smith
1 T Krul; 2 M Aarons, 3 S Byram (6 C Zimmermann 36), 5 G Hanley (c), 19 J SÝrensen, 30 D Giannoulis; 10 K Dowell (45 T Springett 61) 16 M Normann, 20 P Lees-Melou (7 L Rupp 71), 17 M Rashica; 22 T Pukki
Subs not used: 28 A Gunn, 40 J Tomkinson, 11 P Placheta, 42 L Gibbs, 18 C Tzolis, 46 J Rowe
Booked: Byram (15 foul on Son), Normann (31 foul on Kulusevski), Springett (74 foul on Davies)
Tottenham Hotspur (3-4-2-1):
1 H Lloris (c); 6 D SŠnchez, 15 E Dier, 33 B Davies; 12 Emerson Royal (23 S Bergwijn 73), 5 P-E HÝjbjerg, 30 R Bentancur (8 H Winks 73), 19 R Sessegnon; 21D Kulusevski (27 Lucas Moura 68), 7 H-M Son; 10 H Kane
Subs not used: 22 P Gollini, 14 J Rodon, 42 H White, 45 A Devine, 51 Matthew Craig, 44 D Scarlett
Booked: Son (85 foul on Springett)
Carrow Road, Attendance: 27,022
Referee: Chris Kavanagh
Assistant Referees: Harry Lennard, Nick Hopton
Fourth Official: Dean Whitestone
VAR: Andy Madley
Assistant VAR: Wade Smith
Celebrations all round on a "Sonny" afternoon!
There were no kinks in Spursí quest for a sixth Champions League campaign at a sunny Carrow Road, and the cherry on the cake was a share in this seasonís Golden boot for Son Heung-min who was chaired by his team-mates as they celebrated his second (and stupendous) goal which gave him an accolade he has never before achieved. Declan Mulcahy was kind enough to write this account of the game, with his personal heading:-
Spurs gain Champions League place and Son shares Golden Boot on a wonderful afternoon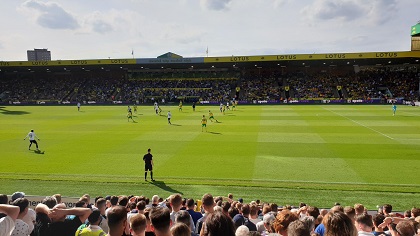 This was a perfect ending to an unpredictable season. The team continued their fine run to claim the remaining Champions League position ahead of North London rivals Arsenal. Son Heung-min capped an outstanding individual season, scoring two goals and finishing as the joint top goal scorer in the Premier League along with Liverpoolís Mohamed Salah with 23 goals.
Spurs made one change from the team which defeated Burnley last week. Kulusevski who had only started on the bench last week due to illness returned to the starting eleven replacing Lucas Moura.
Norwich made three changes from the team which gained a spirited point against Wolves at Molineux last weekend and also changed their formation from (3-4-2-1) to the more defensive (5-4-1). Tim Krul replaced Angus Gunn in goal, while Jacob SÝrensen and Milot Rashica came in for Gibson and Gilmour who were both injured.
Spurs were two points ahead of Arsenal with a superior goal difference and only needed a draw to qualify for the Champions League, against opponents who had already been relegated from the Premier League and only had pride to play for. However the team also wanted to try and help Son, who was one goal behind Salah, to win the Premier League Golden Boot
The Spurs supporters were vocal throughout the match and it sounded like Spurs were the home team.
Norwich had the first initiative when an effort from one of their players hit Davies in the midriff and felled him before deflecting for a corner. Spurs countered from the corner with Kulusevski making a fine run down the right before crossing to Hojbjerg in the box whose shot was high. Soon after Hojbjerg had another opportunity in the box but was unbalanced.
After 15 minutes Hojbjerg played a nice pass from his own half which sent Bentancur free down the inside left channel. He ran into the Norwich box before setting up Kulusevski who scored with a shot which deflected off Sorensen for a goal made in Turin.
Norwichís best opportunity at the mid-point in the half resulted from a misplaced pass by Dier following which Rashica was unmarked in the Spurs box but his shot was just wide of the left post.
Soon after the half hour mark Krul the Norwich goalkeeper tried to play the ball out from the back. Instead the ball went straight to Bentancur on the right. The latter reacted quickly and centred the ball to Kane who scored with a header. This was an unnecessary error by Krul and from this point on only one team was going to win. A minute later Spurs could have increased their lead when Hojbjerg delivered a long pass in Sonís direction. However he took the ball a little early and couldnít control it.
Spurs had a 2-0 lead at half time while Arsenal led Everton 3-1.
The second half kick off was delayed for two minutes to synchronise the restart of the Spurs and Arsenal matches.
The first ten minutes of the second half were sluggish. The Champions League qualification looked safe but Spurs needed to create chances for Son in his quest for the Golden Boot. Kane then created two chances for Son in five minutes but each time Krul was able to make a save.
Around the hour mark Kulusevski managed to get into the Norwich box whereupon he rounded Krul. Having an open goal in front of him he lost his balance and took a shot with his weaker foot. Unfortunately Aarons had enough time to clear the ball.
Kulusevski wasnít to be denied. Two minutes later he approached the box from the right, rounded Giannaopolous before unleashing a superb curling shot to the far corner for his second goal.
It was a surprise that he was then substituted as he might have had the opportunity to complete a hat-trick. He was replaced by Lucas Moura who immediately started to press the Norwich defenders. He put Son through one-on-one with Krul but the latter saved. It was starting to look like it wasnít to be Sonís day.
A minute later Kane played a ball through to Lucas Moura who could have had an effort on goal. Instead he unselfishly passed to Son who finally beat Krul and drew level with Salah on 22 goals.
Five minutes later Son produced a moment of magic. He trapped a difficult ball on the left edge of the box, then swivelled to face the goal and hit a curling shot to the far corner which was probably even better than Kulusevskiís effort.
Son now led the Premier League Golden Boot race with 23 goals and fifteen minutes of the game remaining. Salah did draw level with him at Anfield before that match ended. It could be argued that Sonís is the greater achievement since Salahís total includes a number of penalties.
Spurs won the match with a decisive 5-0 score-line which rendered Arsenalís 5-1 victory over Everton irrelevant. Spurs finished the season strongly. They beat Arsenal convincingly in the north London derby, finished two points ahead of them with a superior goal difference of 16 goals. There is no doubt which team deserved to qualify for Europeís top club competition next season.
At the end of the game the celebrating Spurs players went towards their supporters. However the Norwich stewards after a series of pitch invasions in the last week formed a solid barrier between the team and their supporters. It was disappointing that the team couldnít interact with their loyal followers but had to remain behind a human cordon.
After an uncertain first half of the season Spurs have been rejuvenated by Antonio Conte and overtook Arsenal, Manchester United and West Ham United to claim the coveted fourth position. He has brought the best out of many of the players. The front three of Kulusevski, Son and Kane are now comparable to Liverpoolís formidable front threesome.
Conte has done a wonderful job. Assuming he can agree upon a plan with the club for next season there are grounds for significant optimism. At this point the season had ended on a high note for everyone associated with the club.
∑ See the exclusive "Spursometer" with the webmaster's assessment of the performances of the team, individual players, manager and officials.
∑ Squad numbers,appearances,bookings & goalscorers
∑ Read the preview for this game.
∑ All the Spurs Stats you could hope for here! THFC6061 Sports Stats