EUROPA CONFERENCE LEAGUE GROUP G
(Matchday Two)
THURSDAY 30TH SEPTEMBER, 2021
(8pm)
TOTTENHAM HOTSPUR 5(2) NS MURA 1(0)
Spurs scorers:-
Dele (pen), 4
Lo Celso, 8
Kane, 68,77,88
Mura scorer:-
Kous, 52
Attendance:- 25,121
Referee:- Yigal Frid
Assistants:- Matityahu Yakobov & Omer Barbiro
Fourth official:- Daniel Bar Natan
(All officials from Israel)
Teams:-
Spurs (4-2-3-1):- Gollini; Doherty, Romero, Rodon, Reguilon (sub Emerson Royal, 81); Skipp (sub Hojbjerg, 69), Winks; Lo Celso, Dele (Capt.) (sub Son, 60), Gil (sub Lucas Moura, 60); Scarlett (sub Kane, 59)
(Armband to Kane)
Subs not used:- Austin; Sanchez, Dier, Tanganga, Omole; Ndombele, White
Booked:- Skipp (foul on Lorbek)
NS Mura (3-5-2):- Obradovic; Karnicnik, Marusko, Gorenc; Kous (sub Mandic, 75), Kozar(Capt.), Horvat (sub Lotric, 75), Lorbek (sub Ouro, 75), Sturm; Mulahusejnovic (sub Skoflek, 63), Marosa (sub Kai Cipot, 85)
Subs not used:- Erjavec, Zalokar (GK); Pucko, Karamarko, Mahmic; Tio Cipot; Klepac
Booked:- Obradovic (foul on Dele, conceding penalty), Marosa (foul on Lucas Moura)
Big gun sub Harry Kane seals the win with a hat-trick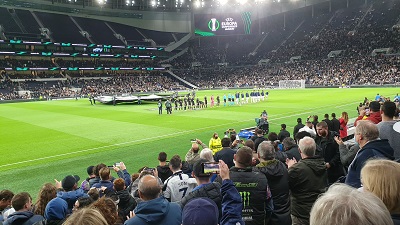 Spurs needed their big gun triple substitution of Harry Kane, Heung-min Son and Lucas Moura to seal a convincing win over moderate opposition to go top of Group G after two games. Spurs had started brightly with two goals in the first eight minutes but then failed to extend their lead. Ziga Kous took us by surprise early in the second half with a super 20-yard goal and it wasn't long before the under pressure Nuno put on his big guns in the shape of Harry Kane, Heung-min Son and Lucas Moura. The head coach, and the half-filled Spurs stadium were rewarded with a Kane hat-trick (his first since October 1st last year) scored within 20 minutes. The hat-trick took Kane's Spurs tally to 227, now just 39 behind the record of Jimmy Greaves. Now he needs to get off the mark this season in the Premier League on Sunday against Villa!
There was no sign of Ben Davies, who apparently missed training yesterday and has suffered injury. That gave Sergio Reguilon a start and he and Dele Alli were the only players who had started our defeat at Arsenal. Dele skippered the side for the first time this season, but not for the first time in his Spurs career. Dane Scarlett was given a start, but he is not a line-leader but a player who needs the ball delivered in front of him. Dane didn't get much service tonight, or much joy.
Scarlett was involved indirectly in our opening goal. Lo Celso passed forward and after a challenge upon Dane the ball ran to Dele who advanced inside the area before goalkeeper Obradovic pulled him down. The Mura captain got a booking and saw Dele hit the net with a powerful penalty hit with his right foot and hitting the net inside the keeper's right post.
It wasn't long before goal number two arrived, and this came courtesy of Lo Celso who has been much-maligned by some Spurs fans recently. Harry Winks was the provider of this chance, lifting the ball to Lo Celso who scored across the keeper from an angle to the left of goal. A cricket score was on the cards, but things did not turn out that way. Not for the first half, at least. Nardin Mulahusejnovic went close when the ball was crossed from the left and the striker glanced his header just wide across goal in front of the South Stand. He must be good for personalised shirt sales!
Dele had an exciting run down the left flank midway through the half, but after he took the ball inside he lost possession, and should have passed earlier. Bryan Gil was seeing plenty of the ball, and is an exciting player to watch. When he and others tried to give Scarlett a chance, the Mura defence was generally on top of the situation. After a period of good passing play Reguilon hit a shot over the target. Dele had a shot well saved by the keeper after taking a quick pass from Skipp. Dele's right-footer was saved by a dive to the left. Dele had another chance after Doherty just reached Skipp's adventurous pass on the right side before cutting the ball back. Dele headed on target, but Obradovic held this comfortably.
Ollie Skipp picked up a loose ball in the middle and took it forward before trying a shot which passed just wide. Harry Winks reached Gil on the left with a pass. Gil's attempted shot was solidly blocked and Spurs had a throw-in. Gil showed more skill in added time, but nothing came of this move.
Early in the second half Gil played well deep in his own half, bringing the ball away from danger. The move ended with Dele feeding Reguilon whose cross was cleared with Scarlett challenging for the ball. Then came the shock of a goal for the visitors. The goal followed a corner which reached Kous well outside the area. He hammered a shot which hit the net inside Gollini's left post, and was unstoppable.
Reguilon won a corner at the other end when a cross by Doherty reached him towards the back of the area. "Reggie"'s shot was blocked. On came the big guns, and almost immediately Kane was involved at the end of a move where Lo Celso sent Son away down the left before he delivered a cross and Kane went down as Obradovic collected the ball. Harry fed a ball to Son who delivered a poor cross, collected by the keeper. More Kane skill gave Lucas a run to the bye-line on the right, but that cross was cleared. Lucas then delivered for goal number one for Kane, crossing from the right for Harry to score with a low shot from the right of goal, and from an angle.
Kane's second goal followed 9 minutes later. This one followed an advance down the left side by Lo Celso, Reguilon and finally Son who delivered the cross, clinically finished by our maestro scorer. Reguilon got on the end of a lofted ball by Winks, and after a touch or two tried a shot which was collected by the keeper. "Reggie" was replaced by Emerson Royal, who it seems can cover left back as well!
The scoring was complete two minutes before time when Lo Celso delivered a pass with a nice touch and Harry fired home with his right foot inside the area for his 43rd European goal in 65 appearances, both of which are Spurs records.
It looks as if Spurs will be battling Rennes for the important top spot in this group which saves us two potential games, so our home game against the French side on Matchday Six could be crucial.

Europa Conference League Group G

               P  W  D  L   F-A   GD   Pts

 1. Spurs      2  1  1  0   7-3    4    4
 2. Rennes     2  1  1  0   4-3    1    4 
 3. Vitesse    2  1  0  1   3-2    1    3
 4. NS Mura    2  0  0  2   1-7   -6    0  

· See the exclusive "Spursometer" and have your say regarding the performances of the team, individual players, manager and officials.
· Squad numbers,appearances,bookings & goalscorers
· Read the preview for this game.
· All the Spurs Stats you could hope for here! THFC6061 Sports Stats