· Last season's away game - Arsenal 2 Spurs 1, 14.03.21.
Featured Lamela's Rabona goal of the season!
· Premier League Matchday 6 - last year
· See the current injury list for all Premier League Teams
· All the Spurs Stats you could hope for here! THFC6061 Sports Stats


Full Record of Spurs -v- Arsenal
 
Prem          Pl  W   D   L  For-Ag  Pts
Home          29 12  12   5  42 -35  48
Away          29  2  11  16  30 -57  17
========================================
Total(Prem)   58 14  23  21  72 -92  65 Pts per game 1.12
=======================================
Football Lge
Home(Div 1)   55 24  12  19  93 -83  63
Away(Div 1)   55 16  12  27  65 -85  46
========================================
Total(Div 1) 110 40  24  46 158 -168 109
========================================
Total(Prem)   58 14  23  21  72 -92  65
Total(Div 1) 110 40  24  46 158 -168 109
========================================
Grand Total  168 55  47  67 230 -260 174
========================================

Last Six Premier League results:-

Arsenal    -    WLLLWW

Arsenal    2-0    Brighton
Brentford  2-0    Arsenal
Arsenal    0-2    Chelsea
Man City   5-0    Arsenal
Arsenal    1-0    Norwich
Burnley    0-1    Arsenal

Spurs      -    WWWWLL
           
Leicester  2-4    Spurs
Spurs      1-0    Man City
Wolves     0-1    Spurs
Spurs      1-0    Watford
C. Palace  3-0    Spurs
Spurs      0-3    Chelsea

Pos          P  W  D  L   F-A   GD  Pts
 7. Spurs    5  3  0  2   3-6   -3    9
13. Arsenal  5  2  0  3   2-9   -7    6

Time for a derby win!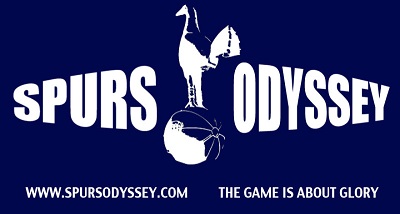 Spurs have lost two consecutive London derby matches 3-0, and the very last thing we want to see this Sunday (4.30pm SKY SPORTS) is another defeat by such a margin. Arsenal would overtake us in the table. When you consider that at the end of three matches this season, we were top of the league and they were bottom, such a turnaround would be disastrous. Even a win by two goals would put our nemesis above us on goals scored. Embarrassing thought, isn't it?
We were reliant upon a last day 4-2 win at Leicester to ensure we pipped Arsenal for the final European place this season. The "Gooners" are absent from Europe for the first time in 25 years, and by virtue of our participation in the Europa Conference League we have gone ahead of Arsenal in the official European co-efficient ratings. That is something to crow about, but we would all love to celebrate what would be only a third Premier League win away to our enemies and the first since November 2010.
One thing in our favour is the fact that our record against Arsenal is the second best against our five ever-present Premier League rivals:-

              P  W   D   L   F - A  Pts (Per-game)
1. Everton   58 27  22   9  90 - 58 103   1.77 Pts per game
2. Arsenal   58 14  23  21  72 - 92  65   1.12
3. Liverpool 58 14  15  29  66 -100  57   0.98
4. Man Utd   58 10  12  36  57 - 98  42   0.724
5. Chelsea   59  7  20  32  55- 106  41   0.695

Having said that, we do have a better record in Premier league games against 14 teams before you reach Arsenal in the table of our current 19 opponents in the top flight.
We are, of course, still grieving over the loss of Jimmy Greaves, who died last week. Jimmy scored a hat-trick on his (home) Spurs debut against Blackpool, but did not score when we played at Hghbury the following week on December 23rd, 1961. Dave Mackay did open the scoring, but goals by Mel Charles and Alan Skirton gave the points to the home side. The Arsenal side included George Eastham who was in the England 1966 World Cup Squad with Greaves. Unlike Greavsie, Eastham did not get a game. Centre-back Laurie Brown was in his first season with Arsenal and would join Spurs early in 1964. Brown's Spurs debut was as an emergency centre-forward against his former club. He didn't score, but Jimmy Greaves (pen) and Cliff Jones (2) helped us to a 3-1 win. Incidentally, on that day (22nd February, 1964), Arsenal were managed by Billy Wright.
Mikel Arteta's team were in major disarray at the start of the season with those early defeats, and without a goal to their name. In fairness, their 2-0 home defeat to Chelsea was better than we managed last week and defeat to Manchester City is inevitable for most teams, although of course we did beat the Champions on day one of this season.
Arsenal's confidence and morale has been boosted by big League Cup wins at The Hawthorns (6-0) and at home to Wimbledon on Wednesday. More importantly, they have won their last two league games. Those were both 1-0 results, and against teams currently in the bottom three, so I suspect there will be trepidation about this game. That will apply to both sides and both sets of fans, I would suggest.
Harry Kane holds the record for the highest number of goals both in North London Derbies (11) and all London Derby matches since 2012-13 (38). Other Spurs players in the list of top scorers in Arsenal-Spurs games are Bobby Smith (10), Alan Gilzean and Jimmy Greaves (7). Emmanuel Adebayor also scored 10 goals in these matches, but all bar one of these was scored for Arsenal. It was unfortunate that Harry was required to play the full 90 minutes at Molineux, but Son only played the last half-hour and we should see them in tandem on Sunday.
There have been a number of changes at Arsenal this summer. David Luiz left and Ben White was signed from Brighton for a reported £50 million fee. Goalkeeper Aaron Ramsdale was signed from Sheffield United. Ramsdale was preferred to Leno for the last two league games. Midfielder Martin Odegaard was signed from Real Madrid, after a loan spell last season. Other signings include defender Takehiro Tomiyasu from Italian club Bologna, left-side defender Nuno Tavares from Benfica and central midfielder Albert Sambi Lokonga from Anderlecht.
The Spurs squad is unlikely to include either Steven Bergwijn or Lucas Moura (although I have just seen a clip of Lucas training today!), which may leave an opening for Bryan Gil in the front three (if indeed that is our formation on Sunday). Gil impressed at Molineux. I'd suggest a team of Lloris; E. Royal, Sanchez, Dier, Reguilon; Hojbjerg and Skipp with Dele competing with Ndombele for the final place behind Gil/Lucas Moura, Kane and Son. I'd also suggest we might win 2-1, but what do I know?
Did you know?
1. None of Arsenal, Leicester City, Man Utd or Spurs had a Saturday 3pm kick-off in last season's PL - the first teams in the competition's history to go an entire campaign without one.
2. Former England International Paul Mariner, who died on 9th July aged 68, played in the Ipswich side that beat Arsenal 1-0 in the 1978 FA Cup Final. Mariner made 35 England appearances between 1977 and 1985. He played for Arsenal between 1984 and 1986. Brian Talbot also played in that Ipswich Cup Final side and moved to Arsenal during the following season. That 1978 Arsenal team was managed by former Spurs manager Terry Neill and included two former Spurs players - Pat Jennings and Willie Young.
3. Arsenal are subject of Amazon's next "All or Nothing" series. When this news was released in July, Ryanair made a joke about the fact that the series would not feature any European games.
4. Ben White was on loan at Newport in 2018 and played against Spurs in the FA Cup.
5. Heung-min Son and Arsenal goalkeeper Bernd Leno were team-mates at Bayer Leverkusen before "Sonny" signed for Spurs in 2015.
This will be referee Craig Pawson's first Spurs game of this season, and his 25th game in all. We first met Mr. Pawson on 23rd February, 2014 in a Premier league defeat at Norwich. His last Spurs game was our home defeat against Aston villa in May. This will be Mr. Pawson's first North London Derby match.
· Spurs record in recent London Derby League matches