· Last season's game - Newcastle 2 Spurs 2, 04.04.21
· Premier League Matchday 8 - last year
· See the current injury list for all Premier League Teams
· All the Spurs Stats you could hope for here! THFC6061 Sports Stats





Full Record of Spurs -v- Newcastle United
 
Prem         Pl   W   D   L    For-Ag  Pts
Home         26  14   2  10    38 -30  44
Away         26   8   6  12    37 -49  30
==========================================
Total(Prem)  52  22   8  22    75 -79  74  1.42 Pts per game
==========================================
Lge Div 1
Home         43  24   7  12    87 -48  59
Away         43  15  14  14    70 -76  45
==========================================
Total(Div 1) 86  39  21  26   157 -124 109
==========================================
Lge Div 2
Home          6   1   3   2     6 - 7   5
Away          6   3   0   3     6 - 4   6
==========================================
Total(Div 2) 12   4   3   5    12 -11  11
==========================================
Total(Prem)  52  22   8  22    75 -79  74
Total(Div 1) 86  39  21  26   157 -124 109
Total(Div 2) 12   4   3   5    12 -11  11
==========================================
Grand Total 150  65  32  53   244 -214 193
==========================================

Last Six Premier League results:-

Newcastle  -    LDLDDL

A. Villa   2-0    Newcastle
Newcastle  2-2    S'hampton
Man Utd    4-1    Newcastle
Newcastle  1-1    Leeds
Watford    1-1    Newcastle
Wolves     2-1    Newcastle

Spurs      -    WWLLLW
           
Wolves     0-1    Spurs
Spurs      1-0    Watford
C. Palace  3-0    Spurs
Spurs      0-3    Chelsea
Arsenal    3-1    Spurs
Spurs      2-1    A. Villa

Pos            P  W  D  L   F-A   GD  Pts 
 8. Spurs      7  4  0  3   6-10  -4   12 
19. Newcastle  7  0  3  4   8-16  -9    3

Bruce gets his 1000th managerial game, but can he win it?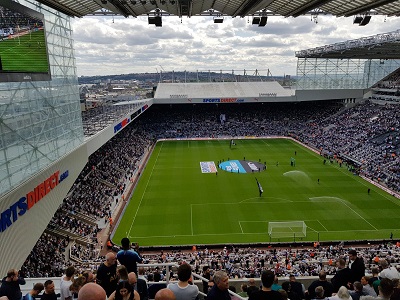 There is little I can add to what has been the major football story here, during the international break. That, of course is the takeover of Newcastle United Football Club by the Saudi Arabian backed Public Investent Fund. At a stroke "The Toon" have become the richest football club in the world (or at least they have the richest owners) to the tune of some £320 billion. The question is, how quickly can they spend some of that cash to firstly drag Newcastle out of the relegation zone, and then to become trophy contenders?
The latest information suggests Newcastle might spend only £50 million in January, despite the fact they could spend a further £140 million and not be in breach of Financial Fair Play rules. That's because of former owner Mike Ashley's lack of investment in recent years.
Speculation regarding manager Steve Bruce's position was rife as soon as the takeover news broke last week. Finally it was confirmed that Bruce will be in charge tomorrow, but the question remains, for how much longer. Tomorrow's game sold out once the City was excited about the arrival of the Saudis. The home fans are starting to realise that progress might be slower than they hoped, and that perhaps the growth of their club is indeed going to be "organic" as was suggested.
None of this is Spurs' problem, of course. Nuno Esperito Santo has enough selection problems. The latest Premier League Injuries information has no less than 8 entries regarding Spurs. Four of those relate to our South American players - Romero, Sanchez, Lo Celso, and Emerson Royal - each of whom might be available after arriving back at Spurs Lodge earlier today (Saturday). Clubs such as Liverpool were not so lucky, but they did manage a 5-0 away win against Watford today!
Ben Davies, Matt Doherty and Steven Bergwijn are subject to late assessments. Ryan Sessegnon is definitely not available. In addition we have the report of two players, who were in training on Thursday, who have tested positive for Covid-19. Their names have not officially been released but Twitter reports clearly indicate these players are Heung-min Son and Bryan Gil. Who plays tomorrow is your guess as much as mine! I suppose Lloris; Tanganga, Dier, Rodon, Reguilon; Hojbjerg, Skipp, Lucas Moura, Harry Kane are definitely fit, with a possible vacancy on the left wing!
Regarding Steve Bruce's 1000th game as a manager, 87 of those games have been as Newcastle's manager. Not all of his games have been in the Premier League. Bruce's managerial career began with Sheffield United in 1998-99. He has since worked at Huddersfield, Wigan (twice), Crystal Palace (18 games), Birmingham, Sunderland, Hull, Aston Villa and finally Sheffield Wednesday (also 18 games) before he succeeded Rafa Benitez at St. James' Park.
Newcastle's best Premier League finish in recent years was 5th place in 2011-12, giving them entry to the Europa League. Spurs had finished 4 points above the Tynesiders in fourth place, but also had to compete in the Europa League due to 6th placed Chelsea winning The Champions League. Both teams reached the quarter-finals with Newcastle losing to Benfica and Spurs losing a penalty shoot-out to Basel. Chelsea had dropped out of the Champions League and beat Benfica in the Europa League Final, with Rafa Benitez at the helm for that one season.
Joe Willock was only the second Newcastle United player to score in seven consecutive PL appearances at the end of last season, after Alan Shearer in 1996, and became the youngest of 13 players to do so in PL history at 21 years and 276 days. On 13th August Newcastle announced the permanent signing of Willock from Arsenal.
It is over three years since Spurs fans visited the Newcastle Stadium. That was on the first day of the 2018-19 season when we won 2-1 with goals by "Super" Jan Vertonghen and Dele Alli. Joselu had equalised after Vertonghen's goal, and all three goals came in the first 18 minutes.
Last season's games were both drawn, as was a game played at St. James' Park 10 years ago today (16th October)
Perhaps over-optimistically and foolishly, I made a 3-1 win prediction for Spurs tomorrow. If all the potential absences come to fruition, we might be grateful for a draw. I plan to reduce my commitment to away games in future and this is the first domestic game I will not be attending, watching on TV instead (4.30pm SKY).
Andre Marriner becomes the first referee to have charge of Spurs for a second time this season. This will be Mr. Marriner's 47th Spurs game, but he is still 26 games behind Mike Dean's record with Spurs. This will be only the fourth game in the middle for the referee this season. One of those games was our home win against Watford, after which we stood top of the league.