NORMAN GILLER'S SPURS ODYSSEY BLOG No 443
Submitted by Norman Giller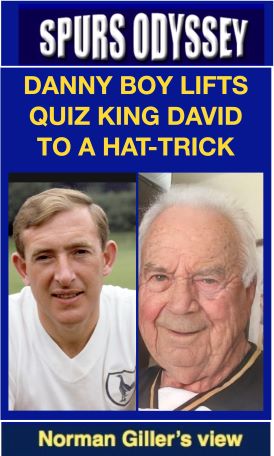 Here we go again … as if signing off the season with a crushing victory at Leeds was not enough, there is good news today for Tottenham historian David Guthrie, who wins our Spurs Odyssey Quiz League title for a third time. There should be a steward's inquiry, because he is the safety-net checker of my Tottenham-themed books and knows my Spurs preferences inside out.
David, from Wokingham via Wood Green and a fanatical Tottenham disciple since the Double days, got closest to my selection of spot-kick takers and savers in a penalty shoot-out after a log-jam finish to the first tie-break decider.
This was my preferred line-up, which many of you got to within a handful of selections:-
Penalty takers:
Harry Kane
Teddy Sheringham
Robbie Keane
Darren Anderton
Dimitar Berbatov
Penalty savers
Hugo Lloris
Huerelho Gomes
Paul Robinson
Erik Thorsvedt
Brad Friedel

Sixth penalty taker from any post-war generation
Danny Blanchflower
It was the selection of Danny, captain of our Double team and first ever British winners of a European trophy, who did for most of you. The wonderful Jimmy Greaves was the most popular choice, with Alf Ramsey and Glenn Hoddle also getting strong support.
Only three of you plumped for Danny: Clifton Melvin, Trevor Dawson and, of course, "King David" Guthrie. Danny was nearly thirty when he arrived at Spurs from Aston Villa and had already established himself as one of the most deadly of all penalty takers with Barnsley, Villa and Northern Ireland, for whom he set a record with ten successful spot-kicks.
I once interviewed Danny for an article in the Daily Express headlined: 'The Science of the Penalty Kick'. in which he explained his in-depth approach to penalty kicks. He studied the temperament, size and agility of goalkeepers, and would find out if they were left or right handed. 'Left handed goalies tend to be stronger diving to their left, and vice versa,' he explained.
I should inject right here and now the fact that Danny might easily have been winding me up, because he was a notorious leg puller. But he was a master of the penalty, concentrating on placement rather than power. 'You try to tell the goalkeeper with your eyes that you are shooting one way when you know that you intend to shoot in the opposite direction. The better the liar you are the better your chance of deceiving the keeper."
He lied well against Burnley goalkeeper Adam Blacklaw, sending him the wrong way when scoring from the spot in Tottenham's 3-1 1962 FA Cup final victory. 'As I placed the ball on the spot ready to take the kick,' Danny recalled, 'Burnley's Jimmy McIlroy, who just happened to be my best pal in football, sidled up to me and whispered, "Bet you miss." I ignored him because I was in a cocoon of concentration. After I had placed the ball into the Burnley net, I said as I ran past Jimmy back to the circle line, "Bet I don't." His little bit of gamesmanship had failed''
Ah, Danny Boy, they don't make them like that anymore.
Our new old champion David Guthrie, winner of three SOQL championships including the first in 2015, collects a third coveted framed SOQL Quiz League champion certificate, plus signed copies of my latest books on Jimmy Greaves, Bobby Smith and Muhammad Ali. Of course, you can now buy them direct from me at www.normangillerbooks.com.
And now it's time for me to close down until next season and our tenth running of the Spurs Odyssey Quiz League. Thanks to webmaster Paul H. Smith for giving me the platform and to you for bothering to read the meandering thoughts of an old bore. But I mean well.
I hope you will join me next August … and I also hope we will still be discussing the upcoming performances in a Spurs shirt of the genius Harry Kane. Will he go, or will he stay? And who will be his next manager? Lots to look forward to, despite the failure to make it into European competition for the first time since 2009. Read about the ups and downs of the new season here in Spurs Odyssey, the balanced and authoritative Tottenham website,
COYS!