PREMIER LEAGUE
SUNDAY 28TH MAY, 2023
(4.30PM)
LEEDS UNITED 1(0) TOTTENHAM HOTSPUR 4(1)
Leeds scorer:-
Harrison, 67
Spurs scorers:-
Kane, 2, 69
Pedro Porro, 47
Lucas Moura, 90+5
Attendance:- 36,871
Referee:- Anthony Taylor
Assistants:- Gary Beswick, Adam Nunn
Fourth official:- David Webb
VAR:- Michael Salisbury
Assistant VAR:- Neil Davies
Teams:-
Leeds (5-4-1):- Robles; Ayling, Kristensen, Cooper (Capt.), Wober (sub Firpo, 60), Struijk (sub Aaronson, 59); McKennnie (sub Rutter, 60), Forshaw, Koch, Harrison (sub Gnonto, 88); Rodrigo
Subs not used:- Meslier; Chilokoa-Mullen; Roca, Summerville; Greenwood
Booked:- Struijk (foul on Lenglet), Wober (foul on Kulusevksi), Cooper (foul on Son)
Spurs (4-3-3):- Forster; Emerson Royal, Sanchez, Lenglet, Davies; Pedro Porro (sub Lucas Moura, 90+1), Bissouma (sub Matthew Craig, 77), Skipp (sub Abbott, 90+1); Kulusevski (sub Sarr, 67), Kane (Capt.), Son (sub Richarlison, 76)
Subs not used:- Austin; Tanganga; Santiago (no. 58), Danjuma
No bookings
Spurs finish with a flourish, but no Europe.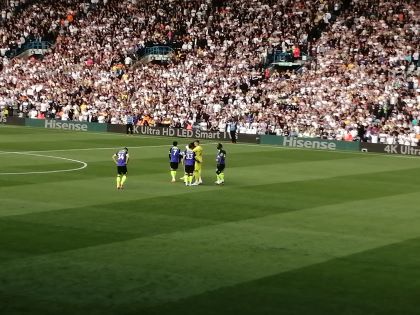 Thanks to Andy Park for capturing this image
Records were improved or broken. Harry Kane scored two and created another goal with a superb burst of strength, energy and skill. Lucas Moura came on for the five minutes of added time and finished the game with arguably his best Spurs goal of typical Brazilian style. Kane became the first player to score 30 or more goals in two 38-game Premier League seasons.
Two unwanted records are the fact that Spurs exceeded their previous highest total of Premier League goals conceded in a season by the one goal scored by Leeds. Leeds firstly needed to win (and well) and then had to hope both Everton and Leicester slipped up. They both won, so Leicester join Leeds in next year's Championship. The other occurrence was Villa's win over Brighton, thus ensuring that they and not Tottenham enter next season's Europa Conference League. Perhaps Spurs can have a real crack at a domestic cup for a change?
Leeds fans did their best to crank up the atmosphere, but they would soon be deflated. Their team was missing injured striker Patrick Bamford, and with a win required the fans were probably bemused with Sam Allardyce's selection which left attacking players Summerville, Gnonto, Greenwood and record signing Rutter on the bench. Two of them did eventually get on, but all too late. Leeds' defensive frailties were all too evident and the "Whites" trumped Spurs in terms of goals conceded this season with fifteen more – totalling 78.
Cristian Romero and Eric Dier were known to have joined Hugo Lloris, Bentancur and Sessegnon on the long-term injured list, but neither Hojbjerg or Perisic made today's eighteen.
The game was preceded by Leeds' traditional memoriam for those fans and connections who have passed away in the last year.
Leeds kicked off and played towards the Elland Road "Norman Hunter" stand. How they could do with the "bites yer legs" midfielder now. They were soon defending, and not very well, as Spurs attacked the right flank with Emerson sending a good pass to Pedro Porro, who crossed to the centre where Son slipped the ball to his left to Harry Kane, who had been left unmarked as Kristensen had been drawn towards Son. Harry made no mistake with his right-footed finish.
In last year's game, when Spurs also scored four here, Kane and Son had broken the record for goal combinations, which then reached 37 and now stands at 47. It is such a shame that Spurs have nothing to show for our fine scoring records achieved primarily by Kane, but also by "Sonny".
VAR didn't take long to ratify the goal after confirmation that Pedro Porro had not been offside when he received the ball from Emerson. Away fans chose the moment to chant "We want Levy out" for the first of several occasions. Kane needed treatment for what looked like a groin strain, but he soon recovered.
Striker Rodrigo was turning up on the flanks and not in the middle, but he delivered a great cross from the right, which was met by Koch, who headed wide. Big Sam's hands went to his head.
The Spurs defence was not looking too convincing and after a long throw by McKennie, Struijk put a good chance over the target, although he did win a corner, because of a slight deflection. Around this time (8 minutes) we learned that Villa had scored, so we needed Brighton to at least equalise. They never did. After all, they had already achieved their Europa League place.
Leeds took two bookings in quick succession for desperate fouls as Spurs sought to break out. Kulusevski had been one of the victims, but he led another break and fed the ball to Son, whose attempt was blocked by Kristensen.
A powerfully driven shot by Forshaw was deflected by Sanchez and led to a Leeds corner. Bissouma started another swift attack, and the move continued through Son, then Kulusevski, but Harry Kan's shot took a deflection and ran to the goalkeeper.
Villa were soon 2-0 up and both Brighton and Spurs had an uphill task. Spurs had a free kick towards the right of the box after Harrison fouled Emerson Royal. Son took the kick and Sanchez very nearly got onto the end of it, but the ball ran to Robles.
Leicester were beating West Ham, and at this stage, Everton were destined to go down.
McKennie hit a shot wide and after a Leeds corner a header by Wober was tipped over the bar by Forster for another corner.
Bissouma passed to Kane in a good shooting position, but Harry uncharacteristically failed to get power on his effort. Koch headed wide again at the other end, this time from a cross by Forshaw. In added time Rodrigo headed wide after Ayling had risen to head on another corner, and Kristensen put another shot wide.
Leeds had failed to convert their chances and were booed off by some of their fans at half-time. Surprisingly, Allardyce made no immediate changes and within two minutes of the restart Leeds had a two-goal deficit. The goal came following brilliant midfield play by Kane who got the better of a defender and referee Anthony Taylor before advancing and sending an excellent pass to Pedro Porro who scored with a right-footed shot across the goalkeeper. Leeds were looking doomed, and their fans were downhearted.
Kane's next playing victory was to outrun Kristensen down the left flank before winning a throw. After that, Ben Davies hit a good low cross, but Pedro Porro lifted this shot over the target.
Ayling had a big chance at short range near the back post after a long high ball. Lenglet defended well here, conceding a corner.
Everton had scored and Leeds' case now looked absolutely hopeless before Allardyce introduced three substitutes. Spurs were having to defend now, and Kulusevski was replaced by Sarr.
Leeds got a goal back in the 67th minute after a poor defensive ball by Lenglet across the edge of his area, gifting Harrison a shot which he fired low past Forster's right hand.
Leeds fans hopes were lifted, but within two minutes they were two down as they left themselves open and Pedro Porro fed the ball to Kane who had too much space towards the left. Harry advanced, and of course he scored club goal number 280. Will we see number 281 next season?
Ryan Mason felt confident enough to give Matthew Craig his senior debut. Matthew has a twin brother Michael, who was also on Spurs' books until recently. Matthew had a competent cameo.
Leeds' sub-Rutter, who has been largely ignored since his January signing, had a chance, but fired over from inside the box. Richarlison had replaced Son and after a nice ball by Kane, had a shot on goal which Robles saved then grabbed with his hand behind his body.
Leeds fans chanted "Sack the board" – a bit too late, I think. Spurs fans repeated their "We want Levy out" mantra.
Richarlison had another chance after a long ball forward, but Robles saved again, this time with his right hand. Ryan Mason gave another youngster a debut. This was 17-year-old defensive midfielder George Abbott, who made a crucial tackle inside the Spurs area before Forster saved near his right post.
The other late sub was Lucas Moura, who made his home farewell last week. We all know Lucas's most memorable Spurs performance was the hat-trick against Ajax four years ago, but he scored as good a goal as you could hope to see when he collected a pass from Sarr just inside the Leeds half on the right wing. Lucas clearly had one intention only and made a bee-line for goal racing inside the open Leeds defence before passing into the box through three defenders and beating Robles with a brilliant and nonchalant prod of the ball to the keeper's left. Think John Barnes against Brazil or even Jimmy Greaves against Leicester on 5th October, 1968 if you like. Lucas was deservedly chaired and paraded in front of the travelling fans, who had at least been entertained today.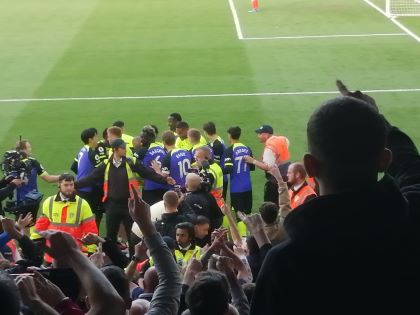 Thanks to Andy Park for capturing this image
We have been in a period of uncertainty regarding the club we love for too long and we must hope for better times next season. Try and have a great summer.
· Squad numbers,appearances,bookings & goalscorers
· Read the preview for this game.
· All the Spurs Stats you could hope for here! THFC6061 Sports Stats