· Last season's game - Leeds 0 Spurs 4, 26.02.22
· This season's home game - Spurs 4 Leeds 3, 12.11.22
· Premier League Matchday 38 - last year
· See the current injury list for all Premier League Teams
· All the Spurs Stats you could hope for here! THFC6061 Sports Stats

Full League Record of Spurs -v- Leeds United

Premier         Pl  W  D  L  For- Ag  Pts
Home            15  9  3  3  29 - 17  30
Away            14  3  3  8  16 - 24  12
========================================
Total (Premier) 29 12  6 11  45 - 41  42  1.45 Pts per game
========================================
Football Lge
Home (Div 1)    28 14  8  6  47 - 34  37
Away (Div 1)    28  6 10 12  32 - 42  23
========================================
Total (Div 1)   56 20 18 18  79 - 76  60
========================================
Football Lge
Home (Div 2)     4  3  1  0  10 -  4   7
Away (Div 2)     4  1  1  2   3 -  5   3
========================================
Total (Div 2)    8  4  2  2  13 -  9  10
========================================
Total (Premier) 29 12  6 11  45 - 41  42
Total (Div 1)   56 20 18 18  79 - 76  60
Total (Div 2)    8  4  2  2  13 -  9  10
========================================
Grand Total     93 36 26 31 136 -126 112
========================================

Last Six Premier League results:-

Leeds      -    LDLLDL

Fulham     2-1    Leeds
Leeds      1-1    Leicester
B'mouth    4-1    Leeds
Man City   2-1    Leeds
Leeds      2-2    Newcastle
West Ham   3-1    Leeds

Spurs      -    LDDWLL
           
Newcastle  6-1    Spurs
Spurs      2-2    Man Utd
Liverpool  4-3    Spurs
Spurs      1-0    C. Palace
A. Villa   2-1    Spurs
Spurs      1-3    Brentford

Pos          P  W  D  L   F-A   GD  Pts
 8. Spurs   37 17  6 14  66-62   4   57
19. Leeds   37  7 10 20  47-74 -27   31 

It's come to this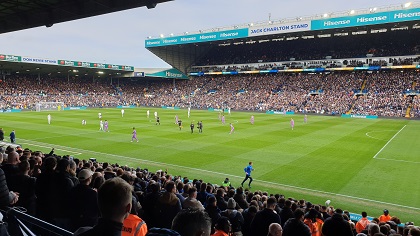 The last day of the 2022/23 season has arrived and the main issues to be resolved are at the bottom end of the table. Leeds need to beat Spurs by a convincing scoreline and must hope that Everton do not win at home to Bournemouth, and that Leicester fail to beat West Ham at home. Leeds are favourites for the drop after just three seasons back in the top flight. All three games are being televised and our game will be shown by BT SPORT. All Sunday's games kick off at 4.30pm.
Incredibly, despite their shocking end of season form, Spurs can still make seventh place and gain entry to the Europa Conference League if Aston Villa fail to beat Brighton. We need to win, with Brentford hosting Champions Manchester City, and able to overtake us should they beat City.
Leeds escaped the drop on the last day last season when they beat Brentford away and Burnley lost at home to Newcastle. The two sides are likely to be passing in the opposite direction as Burnley won the Championship convincingly with Vincent Kompany at the helm.
On Monday 6th February, after a 1-0 defeat to Nottingham Forest, at which time Leeds were fourth from bottom, Jesse Marsch was sacked after less than a year in post.
Two weeks later, former Watford manager Javi Gracia was appointed as coach. After leaving Watford, Gracia had charge of Valencia before his last job with Qatari club Al Sadd.
On May 3rd, with only four games left to play, Gracia was sacked, and Sam Allardyce was appointed. Leeds' had lost four of their five preceding games, including massive home defeats to Crystal Palace and Liverpool. Their remaining opponents were Manchester City (A), Newcastle (H), West Ham (A) and Spurs (H). At the time of the change, Leeds were only out of the relegation zone on goal difference.
Allardyce's only success was to gain a point at home to Newcastle and Leeds have gained just two points in their last eight games.
Sam Allardyce's coaching team includes former Leeds and Spurs striker Robbie Keane, along with Karl Robinson who has been the coach at MK Dons and Oxford United.
One of Leeds' last-day goals last year was scored by star player Raphinha who went to Barcelona. This season, Leeds have missed the killer touch in front of goal and both Rodrigo Moreno and Patrick Bamford are doubts for Sunday's game.
Luis Sinisterra had been an exciting addition to the Leeds team this season, but he is out with an ankle injury. In January paid a club record fee of (up to) £36 million for Hoffenheim forward Giorgio Rutter who is a French U-21 International, but he has made only one start and has been ignored by Allardyce. Juventus midfielder Weston McKennie signed on loan at the same time and has had plenty of game time.
Leeds have conceded 74 goals this season and 79 last year. It goes without saying that they have not had a decent defence in this two-year term.
I remember when Leeds were last relegated from the Premier League in 2004, Robbie Keane scored our goal at Elland Road in February and Spurs fans taunted their counterparts in front of the Bremner statue with chants of "Going down with your balance". Eddie Gray was Leeds' caretaker manager and the Leeds team included future Spur Paul Robinson and former Spur Nick Barmby. Barmby was replaced by a young James Milner. Eddie Gray and another former player Gary McAllister have been called in this week to inspire the current squad. Coincidentally, Leicester were one of the other teams relegated that season (all with 33 points) and Everton finished fourth from bottom.
The atmosphere on Sunday could become poisonous and I would urge Spurs fans to stay safe on their travels. Elland Road is a tough place to go at the best of times.
Our 4-0 win at Elland Road last year heralded a magnificent run-in for Conte's Spurs, who won 11 of their last 15 games to pip Arsenal for the last Champions League slot. It was the day Kane and Son broke the Premier League record for combined goal involvement. The figure stood at 37 then and has currently reached 46.
Our 4-3 win last November was only the third 4-3 result in all 101 meetings with Leeds, including cup matches. Leeds won the other two games. The first was in May 1935. The second was in September 2000.
Rodrigo Bentancur scored two late goals to secure our November win and has been much missed since February.
Eric Dier, who has not featured in our last two games, has undergone groin surgery and will not play now till the new season. He is expected to be fit for the pre-season, when the club will play in Perth, Bangkok and Singapore. In his press conference, Ryan Mason has said that Cristian Romero is still injured, but Pierre-Emile Hojbjerg has trained and could play a part in the game.
I don't hold too much hope for Spurs but have predicted a 2-1 away win. Leeds must win and will surely leave gaps for us to exploit. Knowing our luck, Villa will win anyway, and we'll finish eighth.
Our match referee (for the 43rd time since December 2010) will be Anthony Taylor who is in charge of Spurs for the fifth time this season. We've drawn two, lost one and only managed to win one of those games, which was away to Bournemouth. Simon Hooper is the only other official to referee Spurs five times this season.
Did you know? - Andre Marriner refereed our first game of the season and has not been in the middle with Spurs since. Mr. Marriner has had charge of 12 games this season. He was at Newcastle last Monday night and is scheduled to referee Arsenal v Wolves this weekend. ( Subsequently, Mr. Marriner announced his retirement)