Many thanks to John Ellis for his eye-witness account (and pictures) of the game and visit to Frankfurt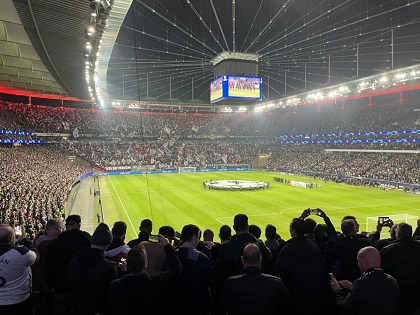 Eintracht Frankfurt 0-0 Tottenham Hotspur
Before the game, this felt a "must not lose" match but by the end it felt a sense of two points dropped. Tottenham dominated for large spells but their creativity and passing in the final third was profligate.
Son is still not playing at anywhere near his best. He seemed to snatch at the rare opportunities that came his way and his first touch was often poor. Kane also had an off night and has rarely given the ball away so often. Richarlison undoubtedly brings an X factor to the team but his first touch is looking increasingly inadequate.
Bryan Gil sadly looked lightweight and almost akin to a schoolboy playing in a man's game during his brief time on as a substitute. Kulusevski feels a big miss from the side. He has the ability to retain possession, transition from box to box and also has an eye for an assist or goal in most games he plays.
The surprising earlier result gave both sides an opportunity to go level at the top of what is now an extremely tight Group. At the halfway stage, all four teams still have a good opportunity to qualify for the knock out stages but also the possibility of finishing bottom and being eliminated from Europe altogether.
In truth, Spurs should now be home and hosed but lost at least a point in Lisbon and two more here tonight in Frankfurt. With two successive home games ahead, Spurs have a great opportunity to qualify and go into their final game top of the table. Alas, it is rarely that simple…
The home fans on all four sides of this impressive stadium sang in unison for the whole match. It was impossible for the Spurs fans to make themselves heard. Rarely have we felt so helpless. Weirdly though, the melodic nature of the home fans songs created an almost boring rhythm which wouldn't have felt at all intimidating for our players.
It felt a strange experience to be able to drink a beer standing on an open terrace during a football match. Not quite like the days on a packed Shelf where it was a struggle to hold on to your glass let alone not spill any beer but nevertheless an almost unique experience in today's world.
The organisation inside and outside the stadium was appalling. There wasn't any segregation outside the stadium or signs indicating where away fans should go and once inside, home and away fans queued at the same bars to buy their beers! All the ingredients were there for trouble but there wasn't a hint of any problems and it was quite refreshing to see. Germany remains one of the best countries to visit as an away fan in Europe.
Having written all of the above, there were some minutes of absolute stupidity just before kick off. Having gone through search routines to get into the stadium, the fans enjoyed a drink on the concourse in the lead up to the game.
About ten minutes before kick off, our fans tried to enter the away section of the stadium to be blocked from doing so by an army of stewards who carried out a further body search. This created a big crush, frustration and anger. It was an unnecessary and for some a disturbing experience. The travelling Tottenham stewards saw the issues and it is to be hoped their feedback will enable lessons to be learned by the German authorities.
After the game, the Spurs fans were taken on a midnight nature trail through the woods. The mind boggles…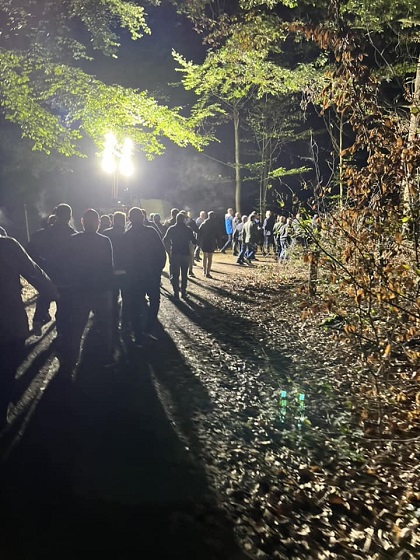 And so we move on to our third successive away game on Saturday which promises to be yet another chaotic day for our fanbase to endure. During a train strike, there can't be a worse ground in the country to visit than the Amex which is why the Brighton v Palace match was recently called off. Saturday's game goes ahead though. The logic is as inconsistent and incomprehensible as VAR…
All park and ride facilities are sold out for Saturday and there are no other parking facilities within a considerable distance of the stadium for our evening kick off…
Throughout Covid when matches were played in empty stadiums, the footballing world seemed to recognise the value of having fans in the stadium. When will the same football authorities start to show some consideration towards these paying fans…?
· Declan Mulcahy's match report.