Many thanks to Declan Mulcahy for his account of the game.
Tuesday 4 October 2022
9:00pm local time, 8:00pm UK time
Champions League, Group D, Matchday 3
Eintracht Frankfurt 0 (0) Tottenham Hotspur (0) 0
Eintracht Frankfurt (3-4-2-1): Oliver Glasner
1 K Trapp; 35 Tuta, 20 M Hasebe; 2 E N'Dicka; 6 K Jakic, 17 S Rode (c) (33 L Pellegrini 71), 8 D Sow, 36 A Knauff; 29 J Lindstrřm (26 E-J Dina Ebimbe 87), 15 D Kamada; 9 R Kolo Muani (19 R Borré 57)
(Armband to Trapp)
Subs not used: 31 J Grahl (GK), 40 D Ramaj (GK), 5 H Smolcic, 11 F Alidou, 21 L Alario, 22 T Chandler, 25 C Lenz
No bookings
Tottenham Hotspur (3-4-3):
1 H Lloris (c); 17 C Romero, 15 E Dier, 34 C Lenglet (33 B Davies 78); 12 Emerson Royal, 5 P-E Hřjbjerg, 30 R Bentancur, 14 I Perišic (19 R Sessegnon 71); 9 Richarlison (11 B Gil 78), 10 H Kane, 7 H-M Son
Subs not used: 20 F Forster (GK), 40 B Austin (GK), 2 M Doherty, 24 D Spence, 6 D Sánchez, 4 O Skipp, 29 P Sarr, 38 Y Bissouma, 42 H White
Booked: Hřjbjerg (44 foul on Kolo Muani), Lenglet (74 foul on Lindstrom), Kane (84 tussle with Hasebe)
Frankfurt Stadion (Deutsche Bank Park ), Attendance: 50,500
Referee: Daniele Orsato
Assistant Referees: Ciro Carbone, Alessandro Giallatini
Fourth Official: Rosario Abisso
VAR: Massimiliano Irrati
Assistant VAR: Marco Di Bello (all officials from Italy)
A frustrating match – a missed opportunity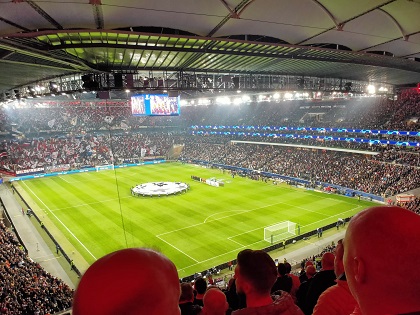 Thanks to Eugene Gasper for the picture
The result of the other game in the group was known before this match began. Both teams knew that if they won they would be level on points with Sporting at the top of the table and thus well-placed at the half-way point in the group. However neither team could convert possession into goals and it was a frustrating game to watch.
Spurs fielded the same starting XI which began against Arsenal. Both teams included a player who had been sent off in the domestic league at the weekend; Emerson for Spurs and Kolo Muani for Frankfurt. The latter were missing Mario Götze who was out injured. He will always be remembered for scoring the only goal in the 2014 World Cup final when Germany beat Argentina 1-0.
Spurs wore their all white kit which formed a contrast with Frankfurt who wore all black.
There was a minute of silence before the start of the game in memory of the victims of the accident at the Kanjuruhan Stadium, in Malang Regency, East Java, Indonesia, on 1 October 2022.
Immediately after the kick off Eric Dier suffered a slight strain after clearing the ball but was soon able to resume. He initiated the first Spurs attack playing a long cross field ball from the left to Emerson on the opposite side but the latter's shot was too high.
Spurs had the better of the first half. They created a number of good opportunities but failed to have a shot on target.
Around the ten-minute mark Knauff fouled Emerson. From the free kick Son crossed from the right to the far post but Kane narrowly failed to connect with the ball.
Frankfurt had a period of dominance after 20 minutes. Knauff took the ball into the box on the left but Roda's shot deflected over.Frankfurt had three consecutive corners but Spurs withstood the pressure including efforts by Kolo Muani and Lindstrom.
Around the middle of the half Son created a similar chance to the earlier one from the right to the far post with the same result Kane narrowly failing to connect. Then Kane unleashed a shot from the edge of the box which went just wide of the left post.
About five minutes before the interval it was Kane's turn to set Son up in the D which resulted in another effort just past the right post. Then there was a movement on the left started by Richarlison, then to Emerson Royal followed by Perišic but his shot ricocheted wide.
The last act of the first half saw Richarlison going down in the box but the referee waved away any penalty claims.
A few minutes after the restart Frankfurt had the clearest opportunity of the match. A nice through pass set up Knauff with only Lloris to beat but the latter made a fine save. Then Richarlison in the box played a pass back to Son on the edge of the box but his shot was too high.
Frankfurt had a period of sustained pressure around the hour mark. Their closest effort came when Lindstrom hit a shot too high after Romero and Dier had both lost possession of the ball in quick succession in the box.
Spurs finally had a shot on target after 80 minutes (Frankfurt had only two), when Kane's deflected shot was stopped by Trapp. Kane was later booked after a tussle with Hasebe.
Dejan Kulusevski was missing with a calf injury and this impacted on Conte's ability to make changes up front in the second half. His only attacking substitute was Bryan Gil. His appearance was fairly typical of Gil, full of energy but having very little impact on the game.
Spurs created chances but failed to direct shots on target. This was a missed opportunity given that Frankfurt have already conceded 11 goals at home this season. For Spurs, this was the seventh successive Champions League away game without a win.
At the half way point in the group the table is as follows

Champions League Group D

                        P  W  D  L  F-A  GD  Pts
1. Sporting             3  2  0  1  6-4   2   6  
2. Spurs                3  1  1  1  2-2   0   4   
3. Eintracht Frankfurt  3  1  1  1  1-3  -2   4        
4. Marseille            3  1  0  2  4-4   0   3

Spurs will feel better about the result since they have two home games out of the three remaining whereas Frankfurt have to visit both Spurs and Sporting. The group is still open with all four teams having a chance to qualify. Spurs need to win their two home games against Frankfurt and Sporting to give themselves a good chance of qualifying.
· John Ellis's eye-witness account.
· Squad numbers,appearances,bookings & goalscorers
· Read the preview for this game.
· All the Spurs Stats you could hope for here! THFC6061 Sports Stats