Many thanks to John Ellis for his eye-witness account (and pictures) of the game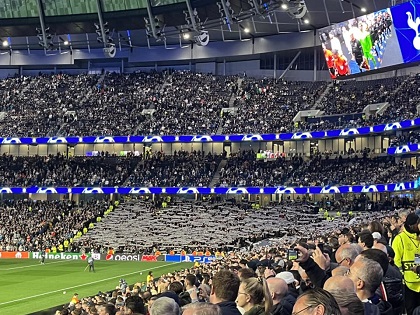 Tottenham Hotspur 3-2 Eintracht Frankfurt
A big thank you to the players who ensured we got absolute value for money until the very end! Not many teams winning 3-1 at home against ten men would create such a drama that the fans would be screaming for the final whistle. Oh my… Tottenham Hotspur…
Before the game the club provided a fine tribute to one of our most clinical marksmen, John Duncan whose goals changed the course of our history by helping us win promotion and sign Osvaldo Ardiles and and Ricardo Villa. For fans of a certain age, he was as important as Harry Kane is today. The pictures of the players with Gian Ventrone were very emotional and moving. There was clearly a very strong connection with the players but the strongest connection was with Antonio Conte with whom he shared many a memory.
The diving save by Hugo Lloris in stoppage time might have seemed comfortable but it had the collective in the stadium holding its breath.
Spurs were by far a better team than Frankfurt but… whether it was complacency or whatever, they contrived to lose the second half 0-1 against a ten-man team which they in truth thrashed in the first half.
Only a litany of errors kept Frankfurt in the game… firstly a ghastly error by Eric Dier which was reminiscent of his errors of the past gifted Eintracht an early lead.
Spurs fought back with two Son goals and a Kane penalty to secure what seemed an unassailable 3-1 half time lead. Son's second goal was as clean a strike let alone volley imaginable.
The very impressive leader Hojbjerg seemed to have had enough of Royal's inept crossing and took it upon himself to drive down the right wing and put in an inch perfect cross which Son gleefully hammered home. Conte obviously sees a lot more in Royal than the fanbase. His first pass even when on the break always seems to be backwards.
The second half seemed as if Spurs had decided to conserve their energy for Saturday and especially when Frankfurt were reduced to ten men which surely should have been nine…
Sessegnon seemed to lack conviction at the far post but overall justified his manager's faith in keeping Perisic on the bench. Conte seemed to send a message to Perisic in his pre-match interview which will hopefully motivate him to reach for the top of his game.
Momentum however is such a powerful force and as Spurs slowed down the pace, Frankfurt, backed by their amazing fans, stole the initiative.
Spurs went on the defensive and having identified Spurs weakest link, Eintracht ploughed forward. They scored a second goal which not only put tonight's match on a knife edge but Spurs' whole Champions League campaign.
Gil, who seems to link up well with Kane, won a penalty in added time to seemingly give Spurs the much needed breathing space but oh no… Kane blazed over the bar to miss his second penalty of the season. After scoring his first penalty with aplomb it was somewhat of a shock and hopefully not a worrying trend ahead not only for club but also country ahead of the forthcoming World Cup. Even for someone as self confident as Kane, it must surely create a modicum of doubt in his mind going forwards…
Kane then made matters worse when he had the opportunity to slip in Gil but his cross was inexplicably overhit and in the air. These few moments to some extent summed up Spurs season.. too many final balls going astray and Kane unable to convert a free kick.
A game which Spurs should have won comfortably ended with the team hanging on and the fans screaming for the final whistle.
Marseilles with two victories over Sporting Lisbon have completely turned the group on its head to such an extent Spurs, having taken one point from their last two games are now top of the group.
Victory in their next game at home to Sporting Lisbon will guarantee progression to the knock out stages. In spite of the media criticism, Antonio Conte has guided Spurs to third place in the Premier League with only one defeat and top of our Champions League group.
Imagine how good it will be when we finally click!
· Declan Mulcahy's match report.