My thanksgo to Declan Mulcahy for this excellent match report.
Wednesday 12 October 2022, 8:00pm
Champions League, Group D, Matchday 4
Tottenham Hotspur (3) 3 Eintracht Frankfurt (1) 2
Spurs scorers:-
Son 20, 36
Kane 28 (pen)
Eintracht scorers:-
Kamada, 14
Alidou 87
Tottenham Hotspur (3-4-3):
1 H Lloris (c); 17 C Romero; 15 E Dier (6 D Sánchez 78), 34 C Lenglet; 12 Emerson Royal, 5 P-E Hřjbjerg (11 B Gil 85), 30 R Bentancur (38 Y Bissouma 67), 19 R Sessegnon; 9 Richarlison (4 O Skipp 67), 10 H Kane, 7 H-M Son (27 Lucas Moura 85)
Subs not used: 20 F Forster, 2 M Doherty, 14 I Perišic, 24 D Spence, 29 P Sarr, 33 B Davies, 42 H White
Booked: Dier (15 foul on Kolo Muani), Bentancur (40 foul on Rode), Sessegnon (84 foul on Dina Ebimbe))
Penalty missed: Kane (90+2, over bar)
Eintracht Frankfurt (3-4-2-1): Oliver Glasner
1 K Trapp; 35 Tuta, 20 M Hasebe (26 E-J Dina Ebimbe), 2 E N'Dicka; 6 K Jakic, 17 S Rode (c) (5 H Smolcic 69), 8 D Sow, 25 C Lenz (11 F Alidou 69); 29 J Lindstrřm, 15 D Kamada (27 M Götze 78), 9 R Kolo Muani (19 R Borré 69)
Captain's Armband: Rode (Trapp 69)
Subs not used: 31 J Grahl (GK), 40 D Ramaj (GK), 21 L Alario, 22 T Chandler
Booked: Tute (57 foul on Son), Hasebe (60 dissent), Smolcic (90+1, foul on Gil resulting in penalty)
Sent Off: Tute (60 second booking, foul on Son)
Tottenham Hotspur Stadium, Attendance: 55,180
Referee:- Carlos Del Cerro Grande
Assistants:- Diego Barbero, Guadalupe Porras Ayuso
Fourth official:- Guillermo Cuadra Fernández
VAR:- Juan Martinez Munuera (all from Spain)
Assistant VAR: Tiago Martins (Portugal))
A satisfactory outcome after Spurs wobble a little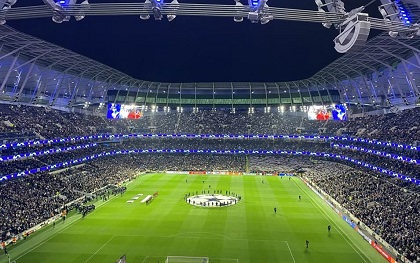 Thanks to John McLelland for this picture
Spurs needed to win this home game to stay in contention for the round of sixteen. They did prevail in an entertaining game though there were times at the beginning and end of the match when it looked like Eintracht might gain at least a point.
Spurs made one change from the team in Frankfurt eight days ago with Sessegnon replacing Perišic. They also made one change from the win over Brighton with Emerson Royal who is serving a Premier League suspension replacing Matt Doherty. Frankfurt made one change from the match last week with Lenz replacing the injured Knauff.
Frankfurt came to London with a good away record having won ten of their last 15 away games in European competitions. Spurs meanwhile had won their last five home games in Europe.
The officials with the exception of the Assistant VAR were all from Spain. It was pleasing to see that there was a female assistant referee in Guadalupe Porras Ayuso. We have seen Sian Massey Ellis on quite a few occasions in the Premier League but this may be the first time there has been a female assistant referee in a European match in which Spurs have been involved.
Before the match started there was a minutes applause for Gian Piero Ventrone, until recently Spurs fitness coach and John Duncan, a Scottish striker, who played for Spurs from October 1974 to September 1978, both of whom died recently. The Spurs players wore black armbands.
Spurs as is usually the case played towards the north end in the first half.
Frankfurt made the better start. Kolo Muani made a run down the right and crossed to the far post where Kamada was unable to connect with the ball (not unlike Spurs in Frankfurt last week). Lenz had a shot charged down by Romero.
Dier then had a few catastrophic moments. He made a heavy body check on Kolo Muani by the right touchline and was justifiably booked for the foul. Shortly after that he had possession of the ball in his own box but lost control of it while under no pressure. Lindstrom gathered it on the right and he crossed the ball towards Lloris. He pushed it out where it fell to Roda who set up Kamada who scored quite easily with a shot.
After eighteen minutes Frankfurt had had four attempts with one, the goal, on target while Spurs had yet to register a shot.
Suddenly against the run of play Kane found himself in possession of the ball in the centre of the pitch just inside the Frankfurt half. He played one of his trademark long passes to Son in the left channel. The latter ran as far as the box before unleashing a shot into the opposite (right) corner of the net. Son then performed a moving celebration, removing his black armband, kissing it and holding it up high in tribute to Gian Piero Ventrone with whom he had had a close relationship.
This was the 50th goal that the Kane-Son combination has scored in all competitions.
Spurs now gained the ascendancy. They were awarded a free kick. Kane took it and as often happens he lifted it over the bar. He soon made amends by making a run into the box. He cut inside Jakic who made a challenge upon him and Kane tumbled. Senor Del Cerro Grande initially indicated that it wasn't a penalty. He was then advised by the VAR referee to view the incident on the pitch-side monitor. When he had done so he awarded the penalty. Kane duly stepped up and directed his shot to the right. Trapp dived the right way but was unable to stop Kane from scoring. Harry has been fairly prolific in the Premier League this season but this was his first goal so far in the Champions League.
Frankfurt had an opportunity when Lindstrom on the right had a shot on target towards the near post but Lloris diverted the ball out for a corner.
Hojbjerg found himself in possession of the ball on the right near the touchline. He produced a high cross and Son met it perfectly with a spectacular volley which rocketed into the centre of the net. Spurs had now scored three goals in 17 minutes to totally change the character of the game with two of them coming from Son.
They had further opportunities in the final minutes of the first half but couldn't extend their lead. Son on the left of the box had a shot on target which Trapp diverted with his left leg to deny Son a hat-trick. Emerson Royal burst into the box on the right but his cross was deflected for a corner. In the final minute of time added on Trapp saved a header from Romero.
Spurs began the second half as they left off. Sessegnon made a run to the left of the box but Hasebe cleared the ball. Son almost got into the box but was stopped. Richarlison set up Sessegnon but Trapp saved his effort.
Son set off on another run down the left. Just outside the box he was fouled by Tute who was booked. Three minutes later Tute again found himself confronting Son a little further out. Having just been booked he should have known that he couldn't take a risk. However he committed another rash tackle. The referee immediately brandished a yellow card. He didn't appear to realise that he had just booked the same player a few minutes ago. However a number of Spurs players pointed this out to him. He checked his notes on the card and the red card was duly brandished. Hasebe was then booked for dissent.
With a 3-1 lead and the opposing team reduced to ten men the prospects looked good for Spurs but of course you can never be certain. Son had an effort at the near (left) post which brought a diving save from Trapp. The next free kick was taken by Dier but was deflected for a corner.
At the three-quarter mark a large number of substitutions took place. First of all Spurs replaced Bentancur and Richarlison with Bissouma and Skipp. Then Eintracht made four substitutions simultaneously.
The substitutions brought Frankfurt back into the game despite being a man down. Lindstrom hit a rising shot which Lloris tipped over. Sow saw his effort pass narrowly wide of the post. Borre then had a shot which Lloris pushed round the post. From the corner on the left, Alidou, one of the quartet of earlier subs rose to head the ball into the net – his first goal for Frankfurt.
There were four minutes left. Could the ten men equalise?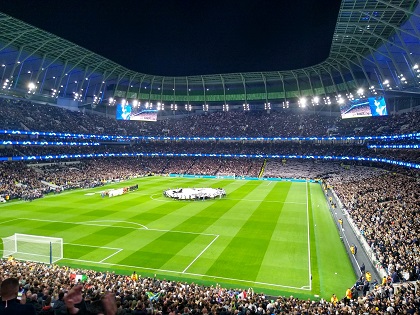 Thanks to Cassim Patel for this picture
In the last minute of normal time Kane received the ball in the Frankfurt half and set Gil on his way. It looked promising but Gil frustratingly lost the ball to Jakic. The latter instead of clearing the ball tried a back heel which presented the ball back to Gil who ran into the box. Smolcic was out-manoeuvred and had no option but to foul him. The referee awarded a penalty and booked Smolcic for his pains.
The normally reliable Kane stepped up to take the penalty and would surely make the game safe for Spurs. By his standards it was an awful penalty. He blasted the ball high over the bar and Eintracht were still in with a chance.
In time added on Kane on the left tried to set up Gil but the latter couldn't reach the ball. The final action saw Alidou who had scored Frankfurt's second goal have a shot which was saved by Lloris. The game then ended to the relief of Spurs supporters.
Spurs dominated the game for a considerable period and should have scored more goals. Frankfurt looked dangerous at the beginning. After they were reduced to ten men Spurs should have been able to control the game and win in comfortable fashion. However they allowed Frankfurt back into the game and the latter reduced the deficit. Even in the final minutes Spurs should have put the game out of reach but they spurned the penalty. This meant the final few minutes were uncomfortable too.
The win leaves Spurs in a good position as Sporting surprisingly lost at home to Marseille. The table now reads:

Champions League Group D

                        P  W  D  L  F-A  GD  Pts
1. Spurs                4  2  1  1  5-4   1   7  
2. Marseille            4  2  0  2  6-4   2   6
3. Sporting             4  2  0  2  6-6   0   6   
4. Eintracht Frankfurt  4  1  1  2  3-6  -3   4 

If Spurs beat Sporting in London in their next fixture they will qualify for the round of sixteen. It is too early to predict whether they will finish first or second. The outcome of the Frankfurt v Marseille game could have a significant effect on that.
Thus an exciting and somewhat unpredictable game produced a satisfactory outcome in the end. Son was Spurs best player on the night.
In his press conference Conte said. "We could have scored many, many goals. Instead, until the end we suffered. For sure, we have to try to learn about this situation and understand the game is never ended.
"When we missed the penalty honestly, I was a bit scared, because I thought everything can happen."
· John Ellis's eye-witness account.
· Squad numbers,appearances,bookings & goalscorers
· Read the preview for this game.
· All the Spurs Stats you could hope for here! THFC6061 Sports Stats