Thanks to John Ellis for his eye-witness comments, plus picture
Sporting Lisbon 2-0 Tottenham Hotspur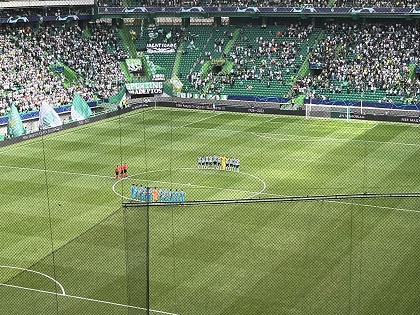 Thanks to John Ellis for the picture which shows a typical away fan's view at this game
Having ridden our luck several times already this season, we finally come unstuck in a match which for large parts, we seemed to control. As has often been the case, another set piece goal proved to be our undoing. It is difficult to question Antonio Conte but his reluctance to bring substitutes on is somewhat baffling.
Kulusevski is a fantastic box to box player who gives the team so much balance and yet he was starved of any action until the the game was into the final 20 minutes.
Holjberg was badly at fault in the build up to the corner from which Sporting scored their first goal. With players of the quality of Skipp and Bissouma on the bench, it is surprising we donít see fresh legs in the engine room and especially on such a wide pitch as tonight.
For many years we had high hopes of seeing Marcus Edwards break through but a combination of Pochettinoís infamous Messi comparison, attitude and immaturity led to him exiting the club. In the first half tonight, we had glimpses of the player we hoped he would become. One run from the halfway line but for Lloris was reminiscent of Maradonaís goal against England in the 1986 World Cup. It was a fantastic run which ended with a clever one two before Lloris stopped what looked like was going to be a sensational opening goal.
Lloris came to Spurs rescue several times during the course of the match not least with a full length diving save which sadly was in vain as Sporting scored from the resultant corner.
However, for large parts of the match, Spurs looked comfortably in control but couldnít find that elusive first goal. Richarlison was caught offside too many times which on one occasion was costly with his effort being ruled out for offside. As good as he is, there isnít the same confidence, the ball will stick and possession retained as when the ball is played to Kulusevski.
Kane had an off night and gave the ball away more than for many a match. Having said that he still brought a good save from the keeper.
Son is still lacking in confidence. He desperately needs a goal but the dilemma for Conte is whether to rest him or continue to play through this barren spell.
The ball fizzed across the Sporting box a few times without the final decisive touch being made. In the first 15 minutes of the second half, Spurs were completely on top with two chances falling to Royal who didnít have the requisite quality at this level to find the net. With all the signings made in the summer, it is strange this one position in the first eleven wasnít upgraded
An away defeat in the Champions League is certainly not a disaster but it is hopefully grounds for a wake up call. The two late goals conceded tonight mean the next two two matches versus Eintract Frankfurt now assume much greater importance than they would have had tonight ended goalless.
So onto Saturday and letís hope Spurs can go into the international break with three more points at home to Leicester.
∑ Squad numbers,appearances,bookings & goalscorers
∑ Read the preview for this game.
∑ All the Spurs Stats you could hope for here! THFC6061 Sports Stats