UEFA CHAMPIONS LEAGUE GROUP D
Matchday 6
TUESDAY 1ST NOVEMBER, 2022
(8pm GMT)
OLYMPIQUE DE MARSEILLE 1(1) TOTTENHAM HOTSPUR 2(0)
Marseille scorer:-
Mbemba, 45+2
Spurs scorers:-
Lenglet, 54
Hojbjerg, 90+5
Attendance:- 50,768
Referee:- Szymon Marciniak
Assistants:- Pawel Sokolnicki & Tomasz Listkiewicz
Fourth official:- Tomasz Musial
VAR:- Tomasz Kwiatkowski
Assistant VAR:- Bartosz Frankowski
(All officials from Poland)
Teams:-
Marseille (3-4-3):- Lopez; Mbemba, Bailly (sub Gigot,9) (sub Kolasinac, 73), Balerdi; Clauss (sub Kabore, 74), Rongier (Capt.) (sub Suarez,83), Veretout (sub Under, 74), Tavares; Guendouzi, Sanchez, Harit
Subs not used:- Ngapandouetnbu, Blanco (GKs); Gerson, Payet
Booked:- Balerdi (unsporting conduct)
Spurs (3-4-3):- Lloris (Capt.); Dier, Lenglet, Davies; Sessegnon (sub Emerson Royal,46), Hojbjerg, Bentancur (sub Skipp, 84), Perisic; Lucas Moura (sub Gil, 90+3), Kane, Son (sub Bissouma, 29)
Subs not used:- Forster; Sanchez, Tanganga; Doherty, Spence, White, Sarr
Booked:- Lenglet (foul), Hojbjerg (foul on Harit)
Spurs coach Christian Stellini was also shown a yellow card
Spurs win Group D with last-kick goal!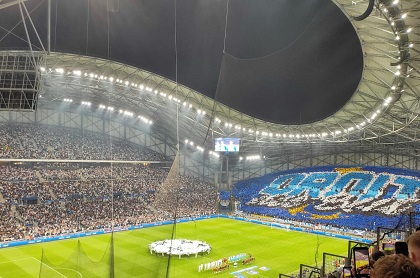 Thanks to Eugene Gasper for the picture
In the end, it was a heroic win for Spurs, who secured top place and a favourable draw in the Champions League Round of 16 with virtually the very last kick of the game. Going into this final match of a very tight Group D, any one team could have finished top. Any two teams might have qualified for the next phase. Spurs needed a point to ensure qualification. The worst that could happen to them was to finish third and have to play on Thursday nights in the New Year. At various stages during the evening, three of the four teams held top place "as things stood", and each of them held a qualifying place at some time. Spurs held top place at the start of the game; when they equalised, and finally when heroic Hojbjerg scored what was his fourth goal of the season, and his first Champions League goal.
Spurs were missing three key injured players – Kulusevski, Richarlison and Romero. Eric Dier occupied Romero's place on the right of the back three with Clement Lenglet in the middle. Ben Davies was to his left. Antonio Conte was suspended from involvement in the technical area and in the dressing room, but of course the team followed his instructions and selection with Sessegnon playing on the right and Perisic on the left. Sessegnon had some potentially disastrous moments, despite switching sides with Ivan Perisic during the half. At half-time, Ryan was replaced by one of the three right side wingbacks on the bench – Emerson Royal, who gave a very good performance, despite the great criticism thrown in his direction by many Spurs fans.
Conte sat and watched nervously in the stand. I think he had a line of communication with his deputy Christian Stellini who was in charge at ground level. Lucas Moura started and operated on the right side of the front three. However, in what was a turgid first half for Spurs, they hardly got out of their half, and had very little possession, and very few shots on goal, or even touches in the final third. If the plan was to withstand the onslaught by a Marseille team which included three players with Arsenal connections (and another on the bench), it failed in added time of the first half when Marseille took the lead.
Despite one stand being unoccupied next to the away fans' section, the 50,000 crowd offered a hot atmosphere. The team hotel had been subject to night-time fireworks on Monday night and the fans, and the team coach were subject to more pyrotechnics on their route to the ground. Spurs fans were in the stadium very early.
Spurs kicked off and played away from their fans in the first half. Those fans did their very best to be heard in the face of the hostile home atmosphere. After only two minutes Alexis Sanchez met Harit's short cross and headed wide across Lloris's goal with the keeper probably beaten. Spurs had five across the back when defending.
Guendouzi's flowing locks were often to be seen towards the right flank and after his pass Clauss got the bye-line and tested Lloris with a cross, which was collected by Hugo. Son had tried to carry the ball forward, but then had no release. Marseille returned and Sanchez tried an ambitious shot which passed wide.
Manchester United centre-back Eric Bailly is on loan with Marseille, but he needed early treatment and was replaced by Gigot. Nuno Tavares is an Arsenal loanee and he was getting the better of Sessegnon, who escaped a card after two fouls in quick succession, despite Marseille players urging referee Szymon Marciniak to take disciplinary action. Marseille's free kick was headed clear, but the ball soon came back our way.
Spurs did manage an attack when Ben Davies carried the ball forward and tried a pass to Perisic who had made ground ahead of him. The pass was too long and ran out for a goal kick. Similarly, Dier advanced, but his cross ran to the goalkeeper.
Sanchez had a shot well saved by Lloris after a Tavares pass. A shot from the right by Clauss passed wide across goal. Son needed lengthy treatment after an aerial challenge with Mbemba in the middle. Son had been struck by Mbemba's shoulder but had also been hit in the face by the ball in the first place. Clearly dazed, Son had to be assisted off and escorted down the tunnel. He was able to take part in post-match celebrations, but he must be a concern for Sunday's game against Liverpool. Bissouma replaced him, giving Lucas Moura more freedom to move forward – not that that was too evident in the first half.
After Sessegnon failed to effectively clear a cross, Lloris was called into action to save well from Veretout. Spurs did respond with an attack when Lucas put the ball out to Perisic who crossed into the danger zone. Lucas had been offside in the first place. Bissouma found Kane with a good pass, and he won a corner on the left. This was taken by Perisic, but Marseille were awarded a free kick as Dier challenged Lopez unfairly in the eyes of the referee.
Sessegnon and Perisic switched with about ten minutes of the first half remaining. We learned that Sporting had taken the lead against Frankfurt. That put Sporting on top of the group. Gigot put a header over the Spurs goal after a cross by Veretout. Spurs fell under more pressure after a poor clearance by Davies.
There were seven minutes of added time and Sessegnon felt aggrieved when he shepherded a ball out of play but saw the referee award a corner. The referee had correctly spotted a last touch on the ball by Bissouma. The corner was taken by Veretout and Mbemba rose like a salmon and powerfully headed into the net. Big and powerful, Mbemba was on Newcastle's books between 2015 and 2018. Now Sporting were second in the group and Spurs were looking at Europa League football.
Sessegnon did tee up Harry Kane for a right foot shot which was tipped over by Lopez, just before the end of the first half.
On came Emerson and Spurs approached the second half with new vigour and urgency. Bentancur's cross was cleared after he took on Perisic's pass. After another Bentancur cross from the right (Emerson had passed forward) goalkeeper Lopez just got enough of a touch on the ball to prevent Kane from scoring.
I thought I saw the referee preparing to show a yellow card to Alexis Sanchez for a midfield foul on Emerson, but he appeared to change his mind. Harry Kane was fouled on the left and Perisic took the free kick where Christian Lenglet rose and headed in for his first Spurs goal. Spurs were back in second place.
Marseille needed a win to qualify, and Spurs would have plenty of defending to do. Uncomfortably at times, it seemed they were seeking to hold onto their point, rather than get the win. A cross/shot by Lucas passed through the area and ran out of play for a throw-in.
Lenglet received a retrospective booking for a foul on the right flank when Marseille attacked. Lloris held the free kick. Harit latched onto a poor clearance by Perisic, but his shot passed just over the bar. Bentancur fed the ball to Emerson and when the goalkeeper parried the cross. Harry Kane could not quite manage the killer touch, but Spurs had another corner. Harry subsequently had the ball in the net following a cross by Lucas Moura, but Harry had clearly been offside.
Marseille won a corner on the left after a good move which began with Harit cleverly turning and beating Davies when 40 yards from goal. Marseille coach Igor Tudor soon made three changes, one of which was Cengiz Under for Veretout. Under had a curling left-footed shot held by Lloris.
Balerdi was booked for barging Emerson after the ball had gone out for a Spurs throw in midfield. The home side were now feeling the tension and their crowd had quietened, knowing they needed a win. With ten minutes remaining Bentancur over-hit a pass to Emerson, who otherwise would have been able to take quicker advantage. Emerson did manage a pass inside to Hojbjerg who rattled the bar with his shot! Kane went down in the area after Lucas passed forward, but the referee saw no foul.
Perisic made a vital block at the other end of an otherwise goal-bound shot by Sanchez. Bentancur seemed to have overstretched at some point and was replaced by Skipp. Bentancur could be another injury concern for the Liverpool game.
Former Arsenal man Kolasinac missed a great opportunity to score a winning goal when he met a cross from the right but headed down and wide at the back post. We entered five minutes of added time. Tavares fired over with a left foot shot. Hojbjerg was booked for a midfield foul on Harit, and as a result will miss our first Round of 16 game.
Pierre-Emile was the Spurs hero though at the very end of added time. Marseille had ploughed forward in search of a winner and left themselves exposed when Spurs broke away down the left flank where Harry Kane passed inside to Hojbjerg who headed for goal and hit the net with a rasping right-footed shot. Cue massive celebrations in the away corner!
Thus Spurs finished top of the group and Frankfurt (who had come back and beat Sporting 2-1) finished second. Sporting will play in the Europa League and poor old Marseille finished bottom of the group. It was a night of true drama.

Champions League Group D

                        P  W  D  L  F-A  GD  Pts
1. Spurs                6  3  2  1  8-6   2  11  
2. Eintracht Frankfurt  6  3  1  2  7-8  -1  10 
3. Sporting             6  2  1  3  8-9  -1   7
4. Marseille            6  2  0  4  8-8   0   6

Where Spurs might have had to face the likes of Napoli, Bayern Munich, Real Madrid, or PSG their opponents might now be Club Brugge, Inter (there's a tie!), Borussia Dortmund or Benfica. Some places still have to be settled tonight, but the draw takes place next Monday.
· Squad numbers,appearances,bookings & goalscorers
· Read the preview for this game.
· All the Spurs Stats you could hope for here! THFC6061 Sports Stats