· Group D Matchday 1 - Spurs 2 Marseille 0, 07.09.22
· Spurs v Marseille home match preview
· See the current injury list for all Premier League Teams
· All the Spurs Stats you could hope for here! THFC6061 Sports Stats


Spurs' record in Europe:-

U.E.F.A Champions League
 
 P  W   D   L   F - A
50 21  11  18  88 - 73

(Finalists 2019)
 
European Cup
P   W   D   L   F - A
8   4   1   3  21 - 13
 
(Semi-Finalists 1962)
 
European Cup Winners Cup
 
P   W   D   L   F - A
33  20  5   8  65 - 34
 
(Winners 1963)
 
UEFA Cup/Europa League
 P    W   D   L   F - A
153  88  37  28  313-134 

(Winners 1972, 1984
 Finalists 1974)

Europa Conference League
 P    W   D   L   F - A
 7    3   1   3  14 - 9  
+ Forfeited one game due to Covid - 09/12/21)

Total
 P   W   D   L   F - A
251 136 55  60  501-263

Champions League Group D

                        P  W  D  L  F-A  GD  Pts
1. Spurs                5  2  2  1  6-5   1   8  
2. Sporting             5  2  1  2  7-7   0   7
3. Eintracht Frankfurt  5  2  1  2  5-7  -2   7 
4. Marseille            5  2  0  3  7-6   1   6

Spurs need to be heroes on All Saints Day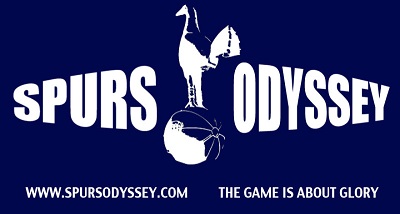 If the pre-match blurb is to be believed, we must expect the horrors of Halloween to continue in and around The Velodrome Stadium tomorrow as the Marseille team and its supporters do their very best to prevent Spurs' team and their ardent travelling fans getting the result they require to guarantee a passage to the Champions League Round of 16. Spurs fans have been advised not to visit certain areas; not to park in certain locations (if they have a car, of course) and not to be identified as Spurs fans. Having recently hit 70, and with creaky knees, my travelling days are all but over, and I will be biting my fingernails on my settee at home in front of BT SPORT'S coverage.
Since we beat Marseille 2-0 at home on Matchday One we have gathered five more points from four more games to somehow still be topping the group as the four teams play simultaneously to decide what must be one of the tightest Champions League groups ever. Just two points separate the four teams, and any two of the four teams could yet qualify. Any one of those teams could win the group, which would be the ideal, considering the formidable group leaders that could await the team who finishes second. Whatever happens, Spurs will have European football in the New Year as they cannot finish worse than third. We don't want to be playing on a Thursday night though. It is All Saints Day tomorrow and we need Spurs to play like heroes to ensure our safe passage to the next phase of the elite European club competition.
Here are the possibilities:-
01/11: Sporting CP (7) vs Frankfurt (7), Marseille (6) vs Tottenham (8)
Tottenham will be through to the round of 16 if they avoid defeat. They will finish first if they win, or if both games are drawn. Spurs cannot finish fourth.
Sporting will be through to the round of 16 if they avoid defeat. They will finish first if they win and Tottenham do not. Sporting will finish third and reach the Europa League knockout round play-offs if both they and Marseille lose.
Frankfurt will be through to the round of 16 if they win. They will finish first if they win and Spurs do not. Frankfurt will finish third if both games are drawn, or if both they and Marseille lose.
Marseille will be through to the round of 16 if they win. They will finish first if they win and the other game is drawn. They will finish third and reach the Europa League knockout round play-offs if they draw and Sporting lose.
That's straightforward, isn't it?
It is a full year now since Antonio Conte was appointed. His first Spurs appointment was a home Europa Conference League game against Vitesse which we managed to win 3-2. That put us second in the group, but when we had to forfeit the last game due to Covid, we were out of Europe. Antonio has not only given us Champions League football but made us contenders for more Champions League games as we currently sit third in a competitive top 6 in the Premier League. Unfortunately, due to his red card at the end of last week's draw against Sporting when we were denied a win by a drawn-out VAR review, Antonio will not be allowed on the bench, or to address his team before the game or at half-time in the stadium. He has travelled, but his assistant Christian Stellini has said that Antonio "will struggle a lot" because "he cannot communicate with us" .
Stellini said at today's press conference that Spurs "have prepared all the strategies and our strategies are clear."
Richarlison, who scored both our goals against Marseille in September, is still absent, along with Kulusevski and Romero. The absence of "Cuti" is significant. I think Eric Dier would be preferable in the middle of a back three, so we are going to see either Sanchez, or Tanganga beside him - or perhaps a team resembling that which finished our 3-2 win at Bournemouth on Saturday.
Marseille have a Sanchez in their team, of course – Alexis – once of Arsenal, Manchester United and Conte's Inter. Sanchez has scored seven times in all games so far this season, including one in each of Marseille's home and away wins against Sporting. Those wins, rather than otherwise recent mixed form, should make us very wary of a team which beat Sporting, who seem to have had the hex over us in our two games. Another former Arsenal man - Guendouzi – also scored (a penalty) in the 2-0 win away to Sporting, and in Marseille's 2-1 defeat in Frankfurt last week. Guendouzi impressed at "New" White Hart Lane.
Marseille's recent league form has not been too good. They have lost two and drawn their last game. The first of the defeats was a respectable 1-0 away to PSG. Their draw on Saturday was a 2-2 at home to fourth from bottom club Strasbourg.
A Spurs win would be a massive result, but I think will be a big ask. I'll hope for a draw and at least a place in the Round of 16 draw when it takes place next Monday 7th November at 11am GMT.
Match referee Szymon Marciniak and his officials are from Poland. Mr. Marciniak is a top-line official who has been in the middle twice before for Spurs games. These were both Champions League games in the 2017/18 season. Firstly, he was in charge of our 1-1 draw in The Bernebeu when two current Manchester United players scored. Ronaldo scored a penalty and Varane scored an own goal! Mr. Marciniak's other game was our home defeat and elimination in the Round of 16 by Juventus. On that occasion Rodrigo Bentancur was an unused substitute on the Juventus bench. Rodri had played against us in the 2-2 draw in Turin.